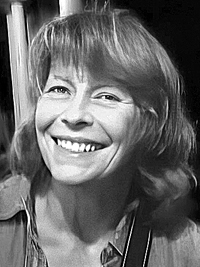 Gina Marie Cruise Schrader, of Charleston and Hillsboro, died Friday, January 13, of injuries sustained in a fall on January 2 in Charleston.
Born April 14, 1945, Gina packed several lives' worth of living into her 77 youthful years. A tiny sprite with an outsize personality and warm, engaging smile, Gina was a resourceful woman who made her own way throughout her life, supporting herself by her wits, energy and sales talents.
She successfully raised a daughter as a young, single mother in a time when such a feat was rare. She earned a BS degree in geography and sociology from the University of Charleston where she was introduced to arts, crafts and her life-long passion, West Virginia traditional music. For several years, she worked as an agent for top West Virginia bands, co-founded a bluegrass and traditional music booking agency, initiated a hugely successful bluegrass festival featuring John Hartford and Bela Fleck, and learned firsthand the difficulties of making a living as a music promoter.
In the span of her long and varied career, Gina worked as an advertising sales rep for WTIP/WTIO FM Radio in Charleston, then made friends of business owners in Parkersburg and the greater Charleston metro area through her work with the direct mail company Val-Pak. After selling her West Virginia Val-Pak franchise, she took on the job of developing partnerships for the Midland Trail Scenic By-Way Association. Described as "a hummingbird" by members of the association of business operators along the 189-mile federal scenic highway, Gina worked tirelessly to make the organization a success.
She got her first 35mm camera in the early 1970s and began taking photographs for fun. She could capture the brightest, best spirit of her friends in images, many of whom were working musicians, so her photographs sometimes were used on album covers and promotional posters.
She loved organizing and painting, and never hesitated to jump in to help friends downsize and refurbish. She was a certified master gardener, and was quick with advice and often with labor, and generously shared plants. She loved presenting friends with thrift store treasures, and she was famous for her yearly Saturday night parties following official Memorial Weekend Vandalia Gathering activities.
The last 15 years of her life were her happiest, as she shared them with her great love, photographer Doug Chadwick. She assisted him with his panoramic photography business, and they traveled together throughout the United States, Central and South America, Europe and Australia. She died 13 days after his January 1 death.
Friends and family were of utmost importance to her. She cultivated them as carefully as a garden. As a result, she had a wide network of people who were always happy to see her, whom she popped in to visit whenever she was in their neighborhood, and who came to her aid when she suffered two life-threatening health crises. The FOGgers, Friends of Gina, took shifts sitting by her bedside around the clock during a month-long ordeal in 2015, following surgery for a second ruptured brain aneurism.
Gina is survived by her daughter, Michelle Schrader, and grandson, Corey Hardie, of Palm Beach Gardens, Florida; cousins in West Virginia, Virginia, Florida and New York City; her childhood pal, Judy Galloway, with whom she shared many an adventure; longtime friend, Pam Hutton; Doug Chadwick's sister, Deborah Clearman, of New York City; and a host of dear friends from here to Australia.
She made everybody feel special. At the end, the people in the room were Judy, Pam and Michelle. Holding the long vigil were Kate Long, Cheryl and Scott Williams, Becky and Bill Kimmons, Alice Hypes, Paul and Becky Flaherty, Carter Zerbe and Maureen Conley, Ginger and Bob Must, and by long distance, Sallie Sublette and Beccy Wilfinger. Her beloved Anton Shelepov and his wife, Irena, were among the many who were there for her, in person and in spirit.
She will be remembered as a generous, energetic peacemaker who loyally and enthusiastically supported her friends through thick and thin.
Gina's family and friends wish to thank the staff in the Surgical-Trauma ICU at Charleston General Hospital who showed visitors unusual kindness during Gina's stay, and those who came forward to help defray travel expenses for Michelle.
A memorial gathering will be announced at a later date.
Friends wishing to memorialize Gina may send donations to The Greenbrier River Watershed Association, greenbrier.org; Friends of Old Time Music and Dance, FOOTMAD.org; or Manna Meal, mannameal.org in Charleston.
Memories and condolences may be shared by visiting snodgrassfuneral.com  and selecting the obituary.
Snodgrass Funeral Home of South Charleston is honored to be assisting the family with arrangements.