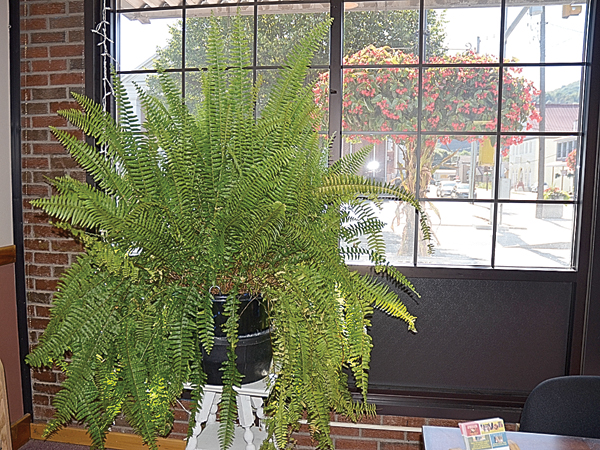 This beautiful specimen of monilophyte isn't just any fern.
And the story of how it, and its twin, came to reside in the Pocahontas County Convention and Visitors Bureau isn't just any story.
It wasn't easy for Sally Rose Ribeiro to part with the two ferns, as they were practically members of her family and had been since they were transplanted from Cranberry Glades in the late 1800s by her great uncle, Clawson McNeill.
He led an interesting life and had a distinguished career.
Born in 1865 at Swago in Buckeye, McNeill was the first person from Pocahontas County to go to West Virginia University.
He was one of the first lawyers in Marlinton, and he was president of the Pocahontas County Bar Association.  
McNeill was also an amateur botanist and would often collect samples of interesting flora from around the county.
These ferns are direct descendants of the original plants McNeill collected more than 100 years ago.
When Ribeiro moved to Richmond, it didn't seem right to take the ferns away from their natural home, so she reluctantly left them behind to be faithfully tended to by her friend, Nancy Burks.
But when the beautiful Victorian home on 10th Avenue was recently sold "to a very nice young couple from Florida," the ferns were in need of a new permanent home, and the CVB stepped up to provide one.
"I'm so glad that the ferns will have another good home," Ribeiro said. "They're special because they are from the original plants that Uncle Clawson brought home all those years ago.
"And each has its own personality.
"I loved having them hanging on the porch; we always got a lot of compliments about them.
"It was always my favorite thing in the summer – to sit on our porch, watch the kids playing in the yard and visit with everyone who'd stop by – family, the mailman and the neighbors.
"That's what those ferns signify to me – small town life, good friends and family gathered around and just visiting on front porches like ours."