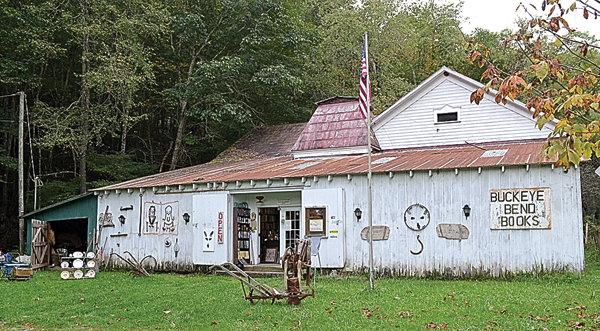 Suzanne Stewart
Staff Writer
"I cannot live without books." ~ Thomas Jefferson
Anyone who has traveled Rt. 219 through Buckeye has seen it – a large white building with a rust-colored roof and decorated with antique farm tools. Located between two of the many turns in the highway, Buckeye Bend Books is an escape into the world of books, magazines and knick-knacks of Gerald Burnett.
By the time Burnett bought the building in 2001, it already had quite a history. It first served as Buckeye School – sometimes referred to as Rush Run School. It opened in the 1880s and closed in 1960.
"When it closed, Bea Gladwell and her husband bought the building," Burnett said. "Bea had been a teacher here, and she lived right around the corner.
"They wanted the bell and the bell tower, so they took that off and put it in their yard."
The Gladwells used the building as a community center – holding 4-H meetings and other activities there.
The building went through a couple more hands and had several rooms built onto it by the time Burnett purchased it. He spent five years fixing up the building and moving in his book collection, and, in 2006, Buckeye Bend Books was ready to open.
"My daughter convinced me to go ahead and open up the bookstore," Burnett said. "She said I would never get it open if I didn't go ahead and do it."
Burnett is originally from Virginia, where he was an elementary school teacher. He always had a dream to open a bookstore, but thought he would run his farm after retiring from the school system.
"When I retired from teaching in 1998, I thought I was going to farm, but after three years of that, my arthritis wouldn't let me," he said.
The farm became his son's responsibility, and Burnett went on his search for another retirement project.
Burnett bought a house in Buckeye 15 years ago and spends his time here in the county between April and October, when he has the bookstore open.
"I had always had the idea of having a bookstore," he said. "I've collected books all my life. It's in the course of collecting things, that you get lots of stuff you didn't plan to collect. You go to an auction and you want two books – and you end up buying two boxes to get two books."
Every corner of the store is filled with books, periodicals and collectible knick-knacks. For the true bibliophile, the store even has that old book smell that brings back memories of seeking out that specific book among the thousands stacked up in the school library.
It may seem like the books are just randomly piled and stacked among rows and rows of bookshelves full of books, but there is a method to the madness. To the right of the entrance is the fiction and humor section. To the left, a collection of more than 3,000 cookbooks.
Up the stairs to the original entrance of the school – on either side is the West Virginia history section.
If there is a subject worthy of a book, there is a section for it at Buckeye Bend Books.
"I have a lot of very unusual books," Burnett said. "Lots of old stuff and very peculiar subjects. I've got philosophy, religion. I've got a tremendous number of outdoor books. I've got history. A lot of collectible, older literature stuff. I have a children's room with lots of books."
Burnett also has several books signed by the authors. One case in particular, the author – Stephen Coonts – came to the bookstore, then sent signed copies of his book to Burnett to add to his collection. 
Burnett has had a love of books his whole life and when there aren't any customers in the store, he can often be found reading in a comfortable chair near his desk.
"I had books all my life," he said. "My daughter gave me a plaque one time with a [Thomas] Jefferson quote – 'I cannot live without books.' I enjoy books, and I really love the whole publishing thing. I've got a lot of different interests, too.
"There are certain authors I like," he continued. "I really like history – especially colonial – the period when West Virginia was still Virginia. I tell people that if they don't know Virginia history, then they don't know most of West Virginia history. West Virginia has only been West Virginia for a short time. It had three hundred years of being Virginia."
History is very important to Burnett, and he enjoys sharing the history of the building itself, regaling visitors with its history as a school and the famous alumna who not only attended school there, but taught, as well.
"Louise McNeill – she went to school here, and she taught school here," Burnett said. "She was only fifteen. Her parents wouldn't let her go to college, so she taught school here for two years before she went to college.
"The book she wrote, 'Milkweed Ladies,' there's about one or two chapters about the school," he continued. "Buckeye was a pretty big deal back then."
Louise McNeill Pease went on to become a professor of history and English at West Virginia University and was named West Virginia's poet laureate in 1979 by Governor Jay Rockefeller.
The history of the building is evident to visitors as they enter and see original chalkboards and desks among the bookshelves and hundreds of books.
Along with the vast book collection, there's also a variety of historical periodicals including Life, The Saturday Evening Post and Time. 
Those interested in shopping at Buckeye Bend Books may do so between April and October, Thursday through Saturday, 10 a.m. to 6 p.m.
It's best to set aside an afternoon – this is not a quick trip to the store.