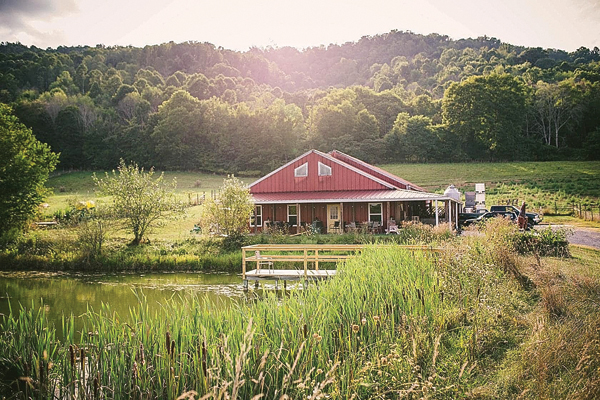 Suzanne Stewart
Staff Writer
While most men recall riding bikes, playing video games and hanging out with friends when they were 12 years old, Josh Bennett remembers making his first batch of hard cider on his family farm.
"I like to tell folks, growing up where I did, if you were old enough to chop wood and make hay, you were old enough to make and drink hard cider," he said.
Bennett grew up on the border of Pendleton County, West Virginia and Highland County, Virginia. His house was in one county, and his stomping ground was in the other.
Hard cider making has a long history in Appalachia and, under the tutelage of his family, Bennett learned the secrets of the craft which would lead him to found Hawk Knob Cidery and Meadery in 2014.
"Cider making had some pretty long standing traditions in that region," Bennett said. "That area was far enough out of Uncle Sam's eye during prohibition that they never stopped making cider. Really, it's one of the few regions of the country that continued to make cider before, during and after prohibition, even though it became more of a farmstead kind of thing.
"It's passed down generationally, and that's where I started making cider," he added.
Bennett attended West Virginia University on the GI bill and studied wine making. The cider industry was making a comeback around that time, and Bennett realized the market was in need of a good cider steeped in history.
"Most of the ciders that I've tried were so sweet you could put them on your pancakes, and they didn't taste anything like the traditional cider I had grown up making," he said. "That was really the impetus for Hawk Knob. That's kind of where it started."
Although Bennett lives on his own farm in Hillsboro, Hawk Knob is located in a former winery in Lewisburg.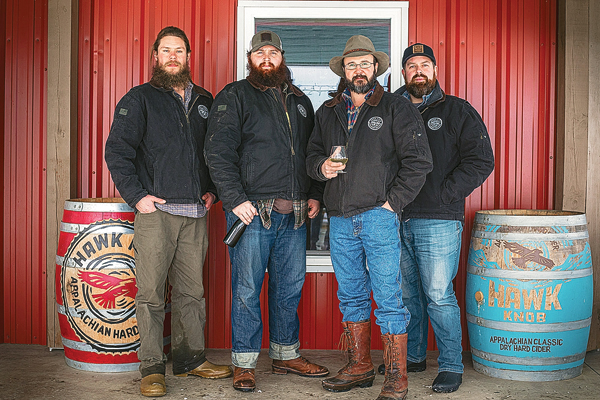 The cozy cidery is located next to a pond and has indoor and outdoor seating for visitors. Slinging cider in the tasting room is Chris Neil, who started on the production side in 2016. Now he serves up tales along with the variety of ciders fermented in the adjacent room.
The fermentation room may look similar to a brewery with its stainless steel conical fermenters, but cider goes through a different process than beer.
"What we do is really based on these old traditional Appalachian style ciders, being that we have a pretty strong focus on this heritage variety of apples," Bennett said. "Apples that were used for cider making back in the 1800s – then really long, slow, cool fermentations. They're unfiltered, so it's a really traditional style.
"The big part of that, too, is our barrel aging," he continued. "Most of the ciders you find in the market today are not barrel aged, and all of the ciders I grew up making were barrel fermented and barrel aged. That's how I grew up doing it, and that's a major part of what we do here."
Sales director Jason Nerenberg is eager to take visitors on a tour of the fermentation room and explain the process of making Hawk Knob cider.
Of course, it all starts with the apples. Hawk Knob uses all West Virginia-grown heritage varieties, including those Bennett grows in his orchard in Hillsboro. A mixture of varieties are combined to make the signature taste of Hawk Knob.
"When I first started here at Hawk Knob five years ago, the list of apples that went into our blend blew my mind," Nerenberg said. "York, Whitney, Stayman, Mutsu, Jonagold, Gold Rush, Granny Smith, Albemarle Pippin, Virginia Hewes Crab, Black Twig, Father Abraham, Sheep Nose, Winter Banana – all these crazy made up sounding apples."
A lot of these varieties of apples are known as spitters because that's exactly what you did when you bit into one – you spit it out.
Once the apples are selected, the process is ready to begin.
"The process is really, embarrassingly simple," Nerenberg said. "We bring in apples in these bins. Each bin holds somewhere in the neighborhood of about eight hundred pounds of apples, give or take. Last pressing that we did – myself and two others – we pressed about 285,000 pounds of apples."
Each bin is placed in a water bath, and the apples are closely inspected by the makers.
"Each apple gets inspected," he continued. "If it has a bad spot, we cut it out with our pocket knives. It is a very hands-on, intimate process."
The apples are then fed into a hopper and press where they are ground into a fine pomace. All parts of the apples – skin, stems, seeds, flesh – are used in the cider.
"We're incorporating all that natural yeast on the skin of the apple, so whatever is out in the orchard, on the apple itself, that's all being incorporated into this fresh pressed juice," Nerenberg said. "All of our cider goes through at least a couple of weeks of wild, spontaneous fermentation from that natural yeast."
After the natural fermentation process is over, the cidery sometimes incorporates commercial yeast to over pitch the cider, which speeds up the process. This can take about two months of the fermentation process.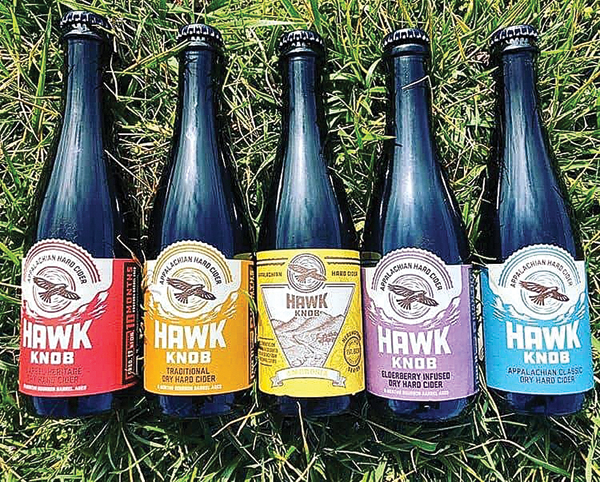 "The fastest cider that we make – and I should say that with air quotes – is Appalachian Classic and even that – from apple on the tree to in the bottle on the shelf downtown at the grocery store or restaurant, is an eight-month process," Nerenberg said. "We're aging that at least six months in these stainless steel tanks."
All the ciders also go through the barrel aging process, using whiskey barrels from Smooth Ambler Spirits Company, which is a 15-minute drive from Hawk Knob.
"We've partnered up with Smooth Ambler," Nerenberg said. "We use those barrels exclusively to age our main flagship ciders and when we have those stacked to the ceiling, our ciders are aging in there upwards of ten months to a year – sometimes even longer."
Using used bourbon barrels adds even more flavor to the cider and keeps an Appalachian tradition alive.
"That's part of the tradition of Appalachian cider making that Josh grew up with," Nerenberg said. "If you look back throughout history – back in the 1800s or beyond – here in America, we didn't have stainless steel. Let's face it, being a bunch of poor farmers here in the mountains of Appalachia – especially two hundred years ago – we didn't have access to glass. It was terribly expensive. We had whiskey barrels. This is a nation built on whiskey and back then, of course, those whiskey barrels served the function of storing everything. So naturally, the cider went into the barrel."
Now with the West Virginia Great Barrel Company in operation in White Sulphur Springs, it won't be long before locally made barrels – using locally harvested timber – will be used by Smooth Ambler and then, in turn, used by Hawk Knob.
"I'm really excited about this," Nerenberg said. "That is the final piece of the puzzle for us. We have West Virginia grown apples, we will soon have barrels from timber here in West Virginia, made in White Sulphur Springs, that are going to hold whiskey at Smooth Ambler made with local corn and local wheat and then it's going to come to us. Now we're talking ten, twelve years down the road. It's a slow process."
While the main flavor of cider is apple, there are occasions when Hawk Knob dabbles with the addition of other flavors.
"We do have what we call our elderberry-infused cider," Nerenberg said. "We've taken dried organic elderberries and actually infused that into the cider. So it's an apple cider with a real complexity from that dried fruit. It drinks very much like a nice, light, fruitful red wine. You get the tannin, the structure. Flavor wise, I taste dried fig and big juicy ripe plums, a lot of dark bittersweet chocolate and coffee on the finish. It has a nose of pipe tobacco and leather. It is really wild what those elderberries can do."
The cidery has also created a spruced juniper cider which uses fresh spruce tips and juniper berries to make a bright, tart cider. For the fall and winter season, there is the bitter winter cider, which is a traditional mulled cider featuring cardamom, orange peel, cloves and star anise.
Hawk Knob also makes mead, the oldest, intentionally fermented beverage in the world, according to Nerenberg.
"It's a honey wine so you start with honey, of course," he said. "In our instance, we're using a West Virginia produced wildflower honey and then a lot of what we do is blending that with fresh pressed apple juice. Typically you might use water, but again, keeping with the theme of what we do, we figured we'd blend in some apple juice."
All the ciders and mead can be enjoyed in the tasting room along with a charcuterie plate filled with a variety of meats and cheeses sourced from West Virginia, as well.
"We try to keep it close to home," Nerenberg said. "We like to offer some charcuterie made locally here with Swift Level Fine Meats down in Fairlea. Then we bring in some West Virginia made cheese and some smoked trout and salmon. The trout is local, too. That's from Mountain State Trout Hatchery [in Franklin]. We wanted to offer something for people to be able to snack on while they drink our ciders and meads.
"We always encourage people – if you want to pack a picnic lunch and make an afternoon of it, you're welcome to."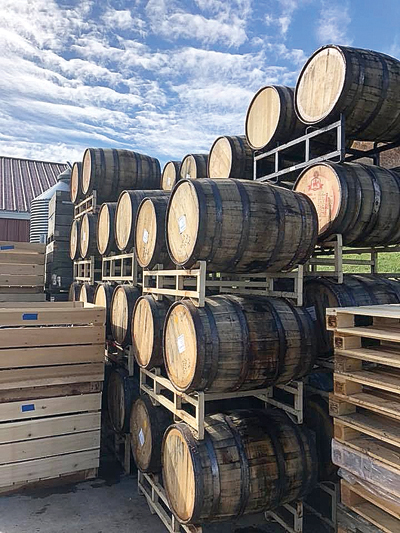 Hawk Knob is located on Blue Sulphur Pike just a couple miles outside of downtown Lewisburg. The tasting room is open Thursdays and Fridays, 3 p.m. to 7 p.m. and Saturdays and Sundays, 12 p.m. to 7 p.m.
For more information, visit hawkknob.com
What's in a name The funny tale of how Hawk Knob was named
As told by Josh Bennett, founder
"There's a mountain called Hawk Knob behind my farm in Pocahontas and so we came up with that name. Actually, originally, it was Hawk's Knob and everybody thought we were saying Hawk Snob, so I made sure to change that back to Hawk Knob.
"Then, it was a couple years in, I finally saw an old survey map, and the name of that mountain was Hock, like a ham hock. That said, it doesn't matter. I've talked to plenty of people. There are a lot of misspelled words on those old survey maps."