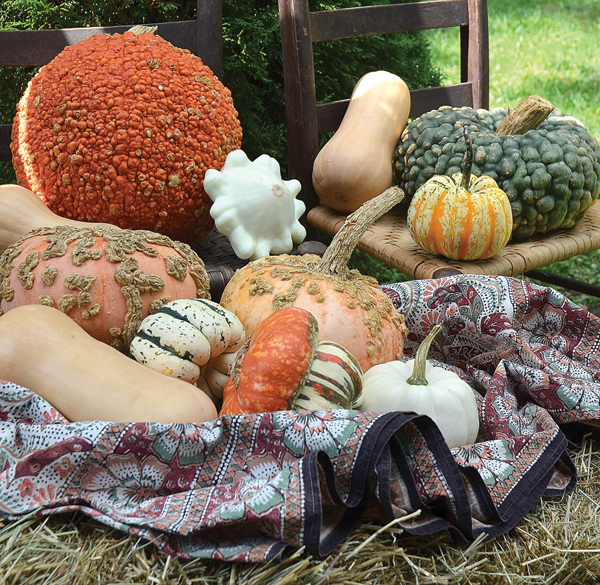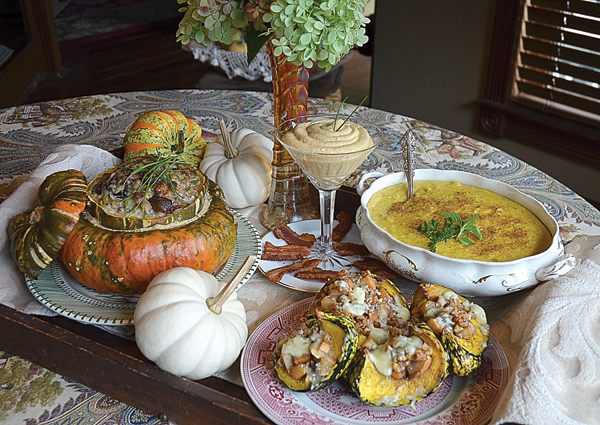 Laura Dean Bennett
Staff Writer
The pumpkin is one of the oldest known cultivated foods in the world.
Well, some say pumpkins are really fruit, but we use them as both a vegetable in side dishes and as a fruit in pies and sweet recipes.
Seeds dating back to 7,000 – 5,500 B.C. have been found in Mexico, and there's evidence that several varieties were being cultivated in tropical and subtropical areas of the Americas as far back as 3,000 BC.
The Spanish carried the pumpkin back to Europe in the 16th century, where the cooler climate prevented it from flourishing as it had in the new world.
It was used as animal fodder for centuries until finally coming into its own internationally in the past 100 years.
From harvest time to Halloween, and Thanksgiving through Christmas and the long, snowy season that follows, pumpkins and winter squashes wait in their infinite variety to delight us with their nutritious flesh and seeds.
Cooked pumpkin or squash has a high water content, so it is naturally low in calories – only about 75 calories per serving.
While they are low in calories – they are high in nutrition. Pumpkin and squash are rich in vitamin A and vitamin C and are good sources of potassium.
Roasted with a little oil, salt and spices, their seeds make an excellent snack, as well. They are high in protein, Vitamin A, phosphorous, potassium, iron and zinc.
Almost as though nature intended us to use them through the winter, pumpkins and squash, like potatoes, stored properly, keep longer than many other vegetables.
There are at least 700 hundred varieties of pumpkin and squash, and most are not only edible, but delicious.
Pumpkin and squash flesh can be boiled, steamed or baked, and used as the base of soups, soufflés and hearty casseroles.
But first, let's take a fresh look at these versatile vegetables.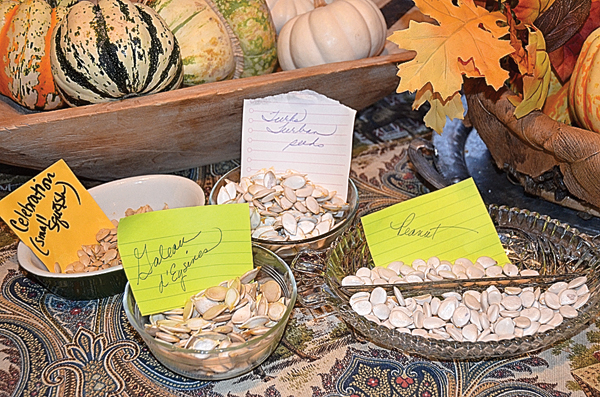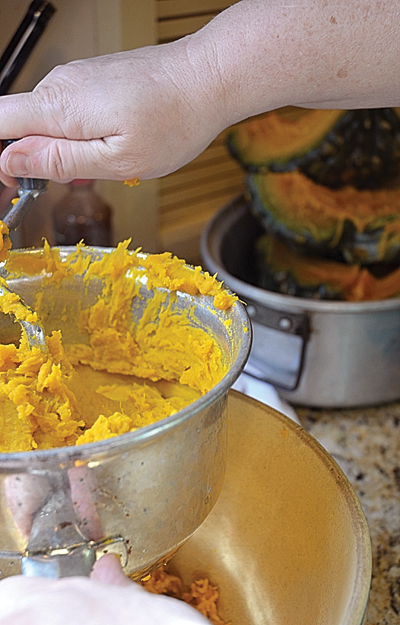 The infinite variety in the shapes, sizes and colors of pumpkins and squashes make them a decorator's dream – which is why so many end up as centerpieces and on porches this time of year.
This plant family includes gourds, melons, cucumbers and both summer and winter squashes.
The name pumpkin originated with the Greek word for large melon, peopon. The French transformed the name into "pompon" and it was known as pumpion in Britain.
In America, we changed it to pumpkin, and promptly decided to include it in all our fall baked goods.
Our familiarity with the pumpkin and our affinity for pumpkin pie has perhaps led us to take it for granted.
This does the humble pumpkin a great disservice.
And as for squash – there are more than just the acorn and butternut that we usually reach for, and there are many recipes which call for more exotic ingredients than the standard butter, brown sugar and cinnamon that are often used.
There's so much more that we could, and should, be doing with the abundance of pumpkin and squash choices presented to us at farm stands and grocery stores these days.
For decades in America, we have known and loved our pumpkin pies and look forward to seeing them on our Thanksgiving tables.
It would be a shame not to bring at least a few pumpkins and squashes into the kitchen and cook up some of the myriad of savory – and sweet – recipes that are now available for these venerable members of the curcurbitacea family.
This fall, choose a few unusual, edible pumpkins and squashes and then choose some innovative ways to cook them. You can decide for yourself which you like best.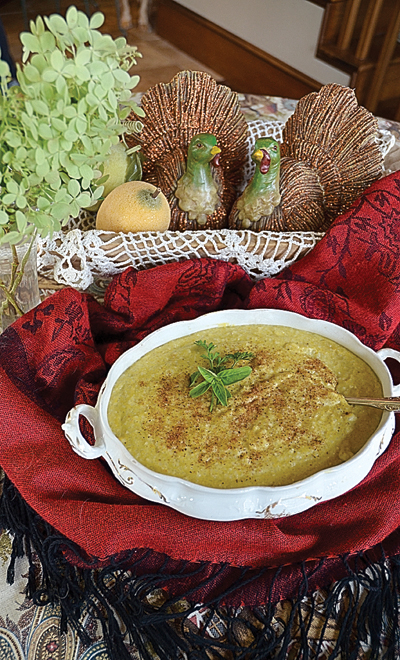 Pumpkin Grits
Use any sweet pumpkin or squash to make this tasty grits recipe.
In a medium pot, bring 2 cups water to a rolling boil and add grits. Stir vigorously, then reduce heat to low and cover. Allow grits to simmer for 10 minutes, stirring occasionally. Once the grits absorb the water, add heavy cream, pumpkin puree, salt, and garlic powder. Continue to cook on lowest setting for 5-10 minutes. Stir in cheese and serve piping hot! Keeps in fridge for a week. You may want to stir in a little water if they stiffen too much after storage. Yield 5-10 servings.
Turban squash is a winter squash that looks like a pumpkin wearing a stri-ped green turban. The texture is similar to pumpkin and butternut squash. It's unusual shape makes it a natural serving vessel, which, when cut carefully, also has its own lid.
Shrimp in Pumpkin
Ingredients
1 large pumpkin
3 garlic cloves, minced
1 1/2 onions, minced
Pepper to taste
Salt to taste
3 Tbsp. olive oil
1 lb. shrimp, cleaned and fresh
2 tomatoes, minced
1/2 cup tomato purée
1Tbsp.  fresh cilantro, chopped
2 seedless chili peppers, hand-chopped
1 cup heavy cream
1 cup Oaxaca cheese, melted
1 cup mozzarella cheese, grated
1 lemon, for seasoning
Olive oil, for cooking
Preheat oven to 350º.
Cut off the top of the pumpkin, around a 2 to 4-inch opening depending on the size of the pumpkin. Scoop out the seeds and stringy pulp. Set aside.
In a mortar, grind the 2 garlic cloves with half the onion, pepper, salt, and oil.
Rub this mixture on the inside of the pumpkin, and cover.
Place in the oven for 30 minutes.
Season the shrimp with salt, pepper, and lemon juice.
In a hot frying pan with oil, sauté the shrimp until browned. Add more salt and pepper for taste if needed. Set aside.
In the same frying pan, add the remaining onion and garlic, and then add the tomatoes. Cook for 10 minutes. Add in half cup of tomato purée. Mix together, and then add in the cilantro and chili peppers. Next, add in the heavy cream, melted cheese, shrimp, and mix together. Season with pepper.
Pour the shrimp mixture inside the pumpkin. Cover with grated mozzarella cheese.
Place in the oven for 20 minutes, or until golden brown on top. Allow to cool before serving. Serve beside rice.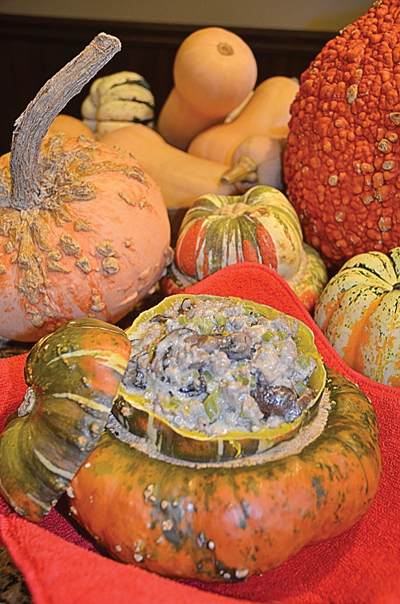 Sausage Stuffed Turban Squash
3 pounds turban squash
Salt, to taste
1lb. pork sausage
1 cup chopped celery
1/2 cup sliced fresh mushrooms
1/4 cup chopped onion
1/2 cup sour cream
1/4 cup grated Parmesan cheese
1 egg, slightly beaten
1/4 tsp. salt 
Preheat oven to 375º. Line a baking sheet with aluminum foil and lightly grease foil.
Cut the top off of the squash using a serrated knife and scoop out seeds. Lightly salt the inside of the squash. Place squash, cut-side down, onto the prepared baking sheet. Bake in the preheated oven until tender, about an hour.
Cook and stir sausage, celery, mushrooms, and onion in a skillet over medium heat until sausage is browned and vegetables are tender, 10 to 15 minutes; drain excess grease. Combine sour cream, Parmesan cheese, egg, and 1/4 teaspoon salt in a bowl. Stir sausage mixture into sour cream mixture.
Scoop the meat from the inside of squash, being careful not to tear the skin. Mash squash meat in a bowl.
Spoon some of the sausage mixture into the hollowed squash, making a ring. Spoon a ring of mashed squash over sausage mixture. Continue layering until all the sausage mixture and mashed squash are used.
Bake in the oven until heated through, 20 to 25 minutes. Serve immediately, or cool and reheat to serve later. Makes 6 servings.
Thai Curry
Pumpkin Seeds
Try this twist on your usual roasted pumpkin or squash seeds.
Ingredients (for one serving)
1/2 cup fresh pumpkin seeds
1 Tbsp. coconut oil
1 tsp. red curry paste 
1/4 tsp. salt
1 tsp. brown sugar
Preheat oven to 350º.
Melt coconut oil in the microwave. It should only take about 30 seconds or so.
Add the curry paste and sweetener and mix well.
Place pumpkin seeds on a sprayed cookie sheet and pour the oil mixture over top.
Try to incorporate the oil with the seeds as best you can – using a spoon.
Sprinkle salt over seeds.
Roast for 30 minutes or until the seeds are crispy brown.
 
Cheesecake Pumpkin Dip with Bacon Chips
Serve this dip in individual martini glasses or small, hollowed-out pumpkins or squashes. You can even put a large ramekin inside so you won't have to fill the whole pumpkin with dip. 
8 oz. thick cut bacon cut into 2" pieces
8 oz. cream cheese, softened
1/2 cup sugar
1 cup fresh pumpkin
1 tsp. pumpkin spice
1/2 tsp. cinnamon
1/4 tsp. vanilla
1 cup heavy cream
Preheat oven to 350º.
Make bacon "chips" using 1 1/2  lbs. of thick cut bacon (to make 36 chips) cooked in the oven. Arrange bacon slices on a cookie sheet to keep them nice and flat to make good, sturdy chips. The secret to these bacon chips is to buy thick cut bacon and cut through the whole pack (3 cuts per slice) while it's raw.
You don't want to cut individual slices as it is much harder to cut. Then bake it in the oven for about 40 minutes until crispy.
The thick cut bacon will ensure it's nice and sturdy to dunk into the dip.
In the meantime add cream cheese, vanilla, sugar and spices to a mixer and whip until well combined. Then add the pumpkin and mix well. Add in the heavy cream and whip for a few minutes until light and fluffy. Keep refrigerated until ready to use.
Roasted Squash with Pear and Blue Cheese Streusel
Serves 12
Ingredients
3 squash (try carnival, celebration or acorn squash)
2 Tbsp. olive oil
1 ripe pear any variety
1/2 cup chopped walnuts
2 Tbsp. brown sugar
1/8 tsp. ground cumin
2/3 cup crumbled blue cheese
Coarse salt and pepper
Instructions:
Preheat oven to 400º. Cut each squash into quarters and scoop out the seeds. Then place the squash pieces on a rimmed baking sheet and drizzle with olive oil. Salt and pepper liberally.
Roast the squash for 40-45 minutes, until fork tender. Meanwhile, dice the pear and mix it with the walnuts, brown sugar, 3/4 tsp. coarse salt, and cumin. Once the squash is tender, scoop the pear mixture into the cavity of each squash wedge and top with blue cheese.
Bake again for 10-15 minutes to soften and toast the cheese. Serve warm.