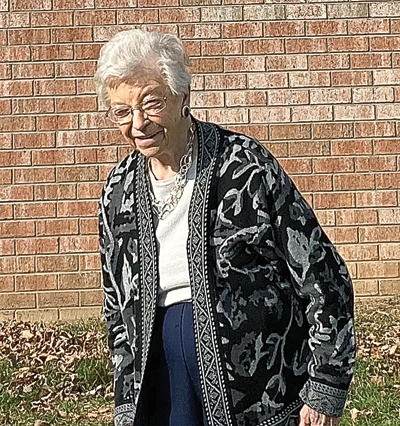 Suzanne Stewart
Staff Writer
Dorothy Shinaberry, who will celebrate her 95th birthday in May, now calls the small town of Alvon, outside of White Sulphur Springs, home. When she was growing up, the third house on the first row of company housing in Cass was her home.
Dorothy was the middle of three daughters born in Cass to Robert and Bertha Mick. Robert worked as an edgerman at the sawmill and the three girls – Dorothy, Joyce and Gladys – enjoyed life in the logging town.
Living on the only paved street in town, Dorothy remembers a childhood of exploring the wares at the Company Store and dancing with friends at the local restaurant.
"Like I said, that was the only cement street in town and so everybody that had roller skates – and got a broken arm – they got it on my street," she said. "You could skate the boardwalk, but it had cracks, you know. It wasn't like cement.
"To grow up in the town of Cass was wonderful," she continued. "We had a lot of people there. Of course, the Company Store was the highlight place of town. We had one restaurant there called the Greasy Spoon, and that's where the teenagers – young people – hung out because we had a place to dance. On Saturday night, you would almost have to buy a place to get in there because they just had two booths and the counter with stools. That was the gathering place on Saturday night."
On Sundays, the young people would walk on the railroad tracks, knowing there wouldn't be a train coming into town. 
"We made our own entertainment in Cass," Dorothy said. "That was a good part. We could walk up the tracks when the mill wasn't operating. That was a Sunday afternoon, to walk on the railroad tracks because there was no danger of a train.
"We had our swimming hole there where the track ran along the river," she added. "We didn't have too much rough stuff at Cass. It was like a country town."
On the days the train did run, the kids would sometimes take rides to visit family in Greenbrier County. The train transported passengers, in addition to delivering mail and packages to the towns in Pocahontas and Greenbrier counties.
"It was a passenger train that ran from Ronceverte to Durbin every day," Dorothy said. "It carried the mail up to the depot in Cass and the post office picked it up at the depot. At that time, if you lived close to the railroad track and you wanted to go to Cass or Durbin, when the train came up the track, you came out and flagged it and it stopped and picked you up.
"I rode the train a number of times from Cass down to Anthony," she continued. "You could get off in what I called downtown Anthony, and my cousin would pick me up when I was just a little girl. Mother would put me on the train and I was safe to ride – I guess I would ride for an hour and a half, two hours – down to Anthony."
Dorothy and her sisters attended Cass school and all graduated from Green Bank High School. Dorothy met her future husband, John Shinaberry, in school and at Cass United Methodist Church where they both attended. John was the age of her older sister, Gladys. 
The couple married in 1951 and settled in White Sulphur Springs. 
"He was a Great Lakes engineer on the oil freighters," Dorothy explained. "He worked there about thirty years on the water. He was gone nine months out of the year. We bought [a house] in White Sulphur. He was off during the winter because the lakes freeze. He went from Lake Erie all the way up to Lake Superior. He never went on Lake Ontario, but he did the other four lakes."
John served in World War II for three years, then returned to his job on the lakes until he retired at age 50.
The Shinaberrys never had children, but they did have two beloved dogs who were strays looking for a home.
"One came here to where I'm living now and was just a pup," Dorothy said. "They had to have dropped it in the yard. I said, 'what are you – trouble?' and, of course, the name Trouble stuck."
Trouble was a good girl who could tell Dorothy when she got phone calls or had messages on the answering machine. When Dorothy returned home from town, she would ask Trouble if she got any calls. Trouble would bark to signify yes. Then Dorothy would list names and Trouble would bark when she got to the name of the person who called.
The second stray came to the couple at their camp, Paradise Campground. 
After John retired from the lakes, they weren't quite ready to be an old retired couple, so instead, they bought a parcel of land and turned it into a campground.
"We opened in 1972, July 1," Dorothy said. "With thirty-eight sites. Then we added more. We have sixty-three now. We added through the years. It will be fifty years for my campground.
"We wanted to do something, but didn't know what," she explained. "This land was for sale and we bought it, just for an investment. We called around and looked at different campgrounds and we thought that would be good to do."
The campground has yearly and daily rentals for individuals with RVs and campers.
"We had people to rent as soon as we opened almost," Dorothy said. "We're only nine miles out from White Sulphur. It's only a mile from our camp to Blue Bend State Park, so there was a lot of traffic on what they called the Big Draft Road."
The camp has water and electric for the campers, as well as a bathhouse. The renters who leave their RVs or campers year round show up in the spring soon after the water is turned back on in the spring.
When they first opened the camp, the Shinaberrys also had a store that served as a one-stop shop for visitors.
"I had the first 'Walmart' in Alvon," Dorothy said, laughing. "I had all fishing equipment, from poles up. I had live bait. The kids would bring our worms to us every weekend. We would separate them into cups of a dozen or two dozen and we sold bait like you wouldn't believe.
"I had a line of groceries," she added. "You could buy almost anything at my store that you could buy in town. We had anything people would ask for."
After John passed away in 2007, Dorothy closed the store because she couldn't run the camp and the store on her own.
She continues to operate the campground with the help of friends who she lovingly calls "my boys."
"They go to church with me," she said. "They said as long as I could get to camp, they could get to camp. I call them my boys, but they're retired. They are in their sixties and seventies. 
"I told them they don't have anything to do, but fight with their wives, so they could help me," she added, laughing.
"They're a lot of beautiful men here, because all I have to do is pick up the phone and they're at my door."
The soon to be 95-year-old continues to care for her campground and lives close by in the home and on the farm where her mother was raised.
"She was born on this land in 1900, and she passed away at the age of ninety-five," Dorothy said.
Dorothy's sister, Joyce, lived with their mother and passed away three years after her. Then Gladys moved into the house and after she passed away, Dorothy moved in.
"It's always been mother's house," she said. "I'm happy they saved the farm. I guess it will always be mother's house. Everybody calls it mother's house because that's what I call it."
In the nearly 50 years of operating Paradise Campground, Dorothy has seen a lot of people come and go, and has welcomed generation after generation of the same families back each spring.
"I have campers here now that we've had since we opened," she said. "I have children now of couples that came when we first opened, and I have grandchildren that are here now from the young couples when we first opened.
"My campers said I chose the right name," she added. "It really is paradise."