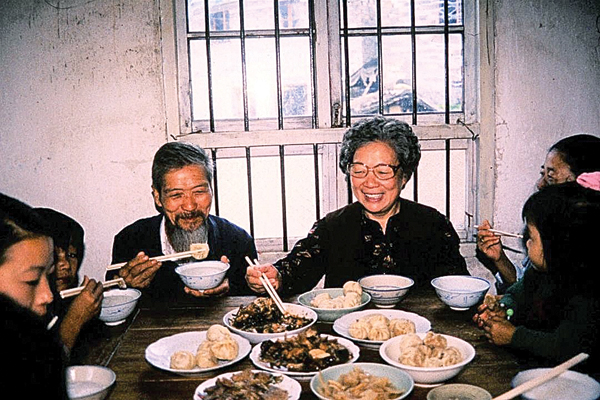 Finding Xiao Ming
The Reunion
"The relationship between parents and children, but especially between mothers and daughters, is tremendously powerful, scarcely to be comprehended in a rational way." Joyce Carol Oates.
Before leaving Beijing, I attempted to purchase a map of Zhejiang Province from a government bookstore. Upon requesting the map, the clerk went to the back of the shop, presumably to talk to another person whom I assume was her supervisor.
Sure enough, the officious supervisor returned with the clerk and demanded to know why I wanted this map. But before I could answer, she asked for my documents. I immediately left the store.
Lao Taitai and I would have to make our way into the backcountry of Zhejiang Province on our own and without a map.
After the horrendous bus ride – in which we were forced to clean rock-fall off the narrow mountain road, we were stopped at a military checkpoint, and saw no fewer than three dead bodies at different locations, presumably accident victims – we arrived in Hangzhou.
Until arriving, I had a real love/hate relationship with the People's Republic of China. Respect and admiration required getting out of Beijing, its dirty air, surly government workers, and its mind-numbing bureaucracy.
Hangzhou's description as one of two heavenly cities goes back to ancient China, over 4,700 years ago.
"There is paradise in Heaven, and then there are Suzhou and Hangzhou," is etched in stone and calligraphy throughout China.
Known to early traders as a source of quality porcelain, silk and tea, it is now known for its unrivaled beauty. Chinese restaurants in America often adorn their walls with images of Hangzhou, its many pagodas rising from the mists of the city's numerous lakes.
Hangzhou is as different from Beijing as Paris is from Cleveland. One can breathe its air without coughing, there is beautiful architecture all around you, and people even smile here – Hangzhou is the antithesis of Beijing.
Hangzhou also served as the gateway to our further adventures in Zhejiang Province. Despite the temptation to stay here in paradise, Lao Taitai and I would remain for only one night.
Yet, before our departure, we dined on a delicacy typical in this part of China – Jiaozi. The delicate steamed dumplings stuffed with pork, garlic, and mushrooms are a culinary tradition throughout Asia. And Hangzhou is the epicenter of Jiaozi culture.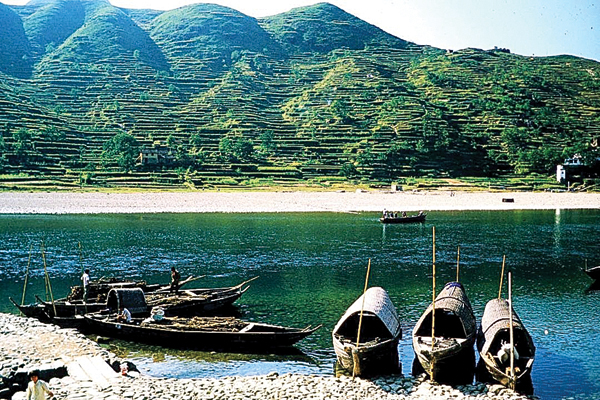 Although we didn't have the convenience of a map, our plan for locating Xiao Ming was simple. Lao Taitai initiated conversations with bus drivers, salesmen, and other people familiar with an area of the country that had changed considerably since 1949.
Additionally, we avoided drawing any attention to ourselves from the police and military. This meant that there would be occasions when I would stay out of sight, usually hiding under tatami mats and blankets.
We left Hangzhou on another bumpy, dusty bus ride, while my heart and stomach stayed in Hangzhou for some time afterward.
The mountains came into view shortly after leaving the bus station. Vast stands of bamboo covered entire mountainsides, some as large as 12 inches in diameter.
On the eight-hour bus ride to Qingtian, we were spared the specter of highway fatalities but not the incessant combination of tobacco smoke and granite dust that threatened to destroy our lungs.
The roads were riddled with potholes large enough to bury a good-sized dog, and the driver exerted no effort to avoid them.
We made only one stop for food and a bathroom break in a dirty roadside shack. We dubbed the filthy diner the Ptomaine Palace when passengers who ate there began throwing up an hour or so down the road. Fortunately, Lao Taitai and I had lunched on a bag of Baozi we brought from Hangzhou.
Author's note: Baozi is a delicious steamed bun filled with meat and vegetables. I still make this savory pastry whenever I find the proper rice flour. It's gluten-free for you unfortunate glutenphobes.
It is important to note that China, like many large countries, including the U.S., has numerous distinct cultures residing within its borders. This diversity results in different languages and areas where accents and word usage vary.
Such was the case in Zhejiang Province, where the language was more regional than the Mandarin I studied. In listening to any conversation here, I could only pick up a portion of what was said.
This lack of fluency was to cause me a bit of a problem in another week, to put it mildly.  
We arrived in Qingtian, a small city situated on a river that flows to Wenzhou, a much larger port city. We would not be going in the direction of Wenzhou, though. Instead, we would be going upriver in a sampan stopping at villages along the way.
It occurred to me later that Lao Taitai was informing various people in these tiny hamlets that she was from this area and was looking for her daughter. Somehow, her intentions moved faster upriver than our actual travels.
Remember, there were no telephones, let alone cell phones, in this region of China in 1988. Lao Taitai would later tell me that word travels fast in mountain communities.
I guess living here in Pocahontas County has verified the truth of her statement. Kill a fourteen-point buck up near Cass, and they'll be talking about it over lunch at the Levels Depot before you field dress it and return home to Seebert.
We spent the night in an old granite-block hotel in Qingtian, located on a ridge high above the river. In the predawn darkness of the following morning, I was stuffed into the back of a popular form of Chinese transportation, the pedicab.  
After covering me with our luggage we were delivered to a landing on the river about 30 minutes later. The ride was rough on cobblestone streets, and I had to unfold my contorted body to get out of the pedicab. Even my kidneys hurt after that ride.
The sampan is a narrow flat-bottomed boat with a partial cover of tatami. In the upstream mode, the boatman poles the craft. Conversely, going downstream, a rudder was attached to the stern to control the watercraft.
Sampans transport people and some farm animals like chickens, ducks, and pigs. In contrast, many downstream boats were carrying bamboo poles destined for building scaffolds in the port city of Wenzhou.
For the first couple hours of the ride, I was once again in hiding. But, this time, it was under the boat's tatami cover, yet I could see out.
Once past the larger villages, I was allowed to come out into the glorious sunshine. By early afternoon it was searing sunshine, and I retreated back under the tatami cover, as did most of the other passengers.
We stopped for a shore lunch of fish retrieved from a pail of water onboard the sampan. The local tea, rice, fish and vegetables tasted heavenly. The heartbreak of leaving Hangzhou slowly evaporated.
Other passengers assured me we were well upstream from the prying eyes of the government officials and even local party bosses. I could now breathe easy.
I sat in the stern with my two Nikon cameras, both working overtime to get photos of the astounding scenery.
It was as if I had walked into a Chinese calendar. Stone pagodas were perched precariously on terraced mountainsides where taro and rice grew in long narrow fields irrigated by rainfall diverted through bamboo pipes.
One thing that would soon become obvious to me was that since the Japanese were there in the Manchurian Campaign of the late 1930s, most Chinese people I was about to encounter had never seen a foreigner in their entire lives.
This fact would account for some interesting experiences for me. I have always been among the majority race in most of my travels. Now, an extreme minority, I felt much like an animal in a zoo.
Unabashed stares and gawking would be commonplace for the next couple of weeks. This is the only time in my life I regretted not being handsome, or at the very least, possessing a more moderately sized schnoz.
"Da Bizi" was something I would repeatedly hear; it means "big nose." I would use this term often to get a laugh out of the kids when entering a village; it also broke the ice for the adults.
The river became more narrow, and the mountainsides closed in as we progressed upriver. We were getting into faster current, too fast for the boatman to pole the loaded boat upstream.
The pole was placed inside the boat, and a wooden yoke was quickly attached to the starboard gunwale. Sliding into the water, he put his chest against the yoke, pushing the boat upstream by sheer force.
The amazing thing about this method is that the boatman was barefoot, and the river bottom was comprised of stones of all sizes and shapes. He allowed me to photograph his feet that were calloused not only on the ball and heel but the thick callous extended around the entire edge of his feet.
After a day on the river, one that was anything but boring, we arrived at a small village named Nutou, meaning "head of the ox." The boat was deftly brought to shore by a whitewater boating maneuver called ferrying.
After disembarking the boat, we walked up a narrow cobblestone path that led into the village, a hundred yards or so above the riverbank. We were led into a large stone building entirely open on one side.
It took a moment after walking out of the sunlight and into the dim interior for our eyes to adjust. I noticed that the floor was dirt and that the occasional chicken and pig would pop in for a look at the visitors, then go about their usual business of foraging – neither found my nose particularly interesting.
The villagers were now walking in from all directions. In a few minutes, a dense crowd extended down the hill for 100 feet or more. The chatter echoing off the stone buildings suddenly fell silent.
Lao Taitai and I stood together at the back of the room. She suddenly grabbed my hand, and for the first time on our journey, this stoic and capable woman had a look on her face that fell somewhere between fear and joy.
I tensed up as it slowly occurred to me what was about to happen.
Looking over the heads of the villagers, I could see that they were opening their ranks to allow someone to pass through. Lao Taitai saw it, too, grasping my hand even harder. I could only imagine what she must be feeling at that moment.
Even though well over 60 people occupied that small area afforded by the narrow space between buildings, the silence was palpable.
Finally, the knot of people just outside our room opened to reveal a slight woman, who, upon seeing Lao Taitai stopped dead in her tracks. The eyes of both mother and daughter locked together. Both just stood in place as if suddenly frozen in a visual embrace.
The villagers said nothing but looked from one woman to the other. The spell was broken when Xiao Ming stepped slowly toward her mother, asking several times, "Mama?"
I nearly lost my balance as Lao Taitai pushed away my hand and rushed to her daughter. Their long and silent embrace was nearly 40 years in the coming. The air was rich with a heightened sense of emotion that few ever experience.
Tears flooded from their eyes and those of the village women looking on. I choked back my tears and told myself that this was a singular moment in my life. One that will follow me to the grave every bit as vivid as it was 35 years ago.
I would love for this to be how the story ended. But that is not what fate had in store. The conclusion to this account is just a week away in the next issue of The Pocahontas Times.
Until then,
Ken Springer
Ken1949bongo@gmail.com