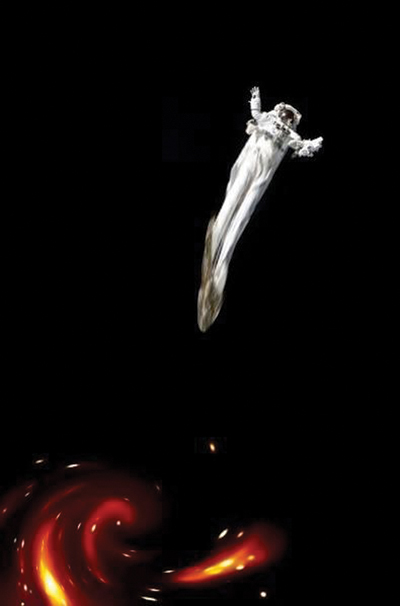 Black Holes, Spaghettification, and a Campfire Story
"Mmmmm, there's cream in the center." ~Homer J. Simpson
This article is the final installment on the Science of Falling and takes a peek inside a black hole, speculating what it might be like to fall into one, among other things.
"You know those Hostess Sno Balls?"
There were six of us on a 10-day canoe trip in Arkansas back in 1977. We would be paddling the beautiful Buffalo River, famous for being the country's first designated National River.
Our tight-knit group was a mixed bag of personalities, but all were competent paddlers and loved being outdoors.
Most days, we arose early, had breakfast, and promptly broke camp afterward. We all wanted to get on the river as soon as possible to see what was around the next bend.
This schedule allowed us to find a suitable campsite for the evening by four or five in the afternoon. After setting up camp, we explored the area, fished for trout and smallmouth bass, and made dinner over a fire.
When darkness overtook the steep-walled canyon that bordered the Buffalo River, we assembled around the campfire. Fueled with a Nalgene bottle of Wild Turkey – passed from hand to hand – we would invariably begin a group discussion about the stunning night sky.
This was a perfect setting for pondering the mysteries of the heavens above us. Most of us were not prepared to expound on much beyond what was known by the general public.
One of our group, we'll call him Bob, was probably the most erudite, if not eccentric, of the whole bunch. Bob would generally kick off the evening's discussion by bringing up a scientific topic on which we all felt compelled to weigh in.
There was one member of our group, Walt, who, for whatever reason, always elected to pass on the opportunity to add his two-cents' worth. 
On one starry evening about a week into the journey, Bob brought up the topic of black holes. He seemed to be knowledgeable about the various theories on these mysterious phenomena.
His knowledge of black holes probably came from books and legitimate articles on the subject. In contrast, the rest of us were only vaguely aware of the existence of these mysterious gravity sumps.
If we did know a twit about them, it likely came from Popular Mechanics or Penthouse magazine.
We were all on our backs, feet to the fire, looking up at the heavens that evening. Seen from above, we would look like the spokes of a wagon wheel radiating out from a fiery hub.
Bob cleared his throat to break the silence and advanced the idea that black holes had so much gravitational pull that even light could not escape them.
I was next to Bob that evening and gave in to the pressure to provide my own comment. I said something to the effect that I had heard that if a spaceship was to go into a black hole, it could only get out if it had nuclear-powered rockets.
I was relieved that Bob and the rest of the group seemed to be mulling over my inane statement. The torch was passed on to the next guy, who made another equally absurd speculation – and on it went.
A think tank we were not, but we gave it our best shot at keeping the conversation on topic.
The various postulations about black holes went on around the campfire, and the torch finally came to Walt. He chose to break his weeklong silence at that moment, but decided to deviate from the topic at hand.
Walt would tackle his own more practical enigma.
This got our attention, and we immediately sat up and looked straight at Walt. Finally, we thought, he would illuminate us all on black holes and other mysteries of our universe.
Beware those quiet fellows, I always say; their rivers run deep.
Looking up at the stars for several moments as if formulating a serious intellectual thought, Walt said, "You know those Hostess Sno balls?" (pauses for effect). "How do they get the cream inside them?"
Well, we all managed to restrain our chuckling for a moment or two until one of the guys, pretending at first to cough, let out a howl of laughter. From there, the contagion spread all around the campfire.
Even after we retired to our own tents, there could be heard, from time to time, a stifled giggle. We finally all fell off to sleep, none the wiser about black holes, but we did learn how the cream got into the Hostess Sno Balls.
Bob explained it to us.
What would happen if we fell into a black hole?
I don't recall us talking about this around the campfire. Still, as the public's knowledge about black holes has grown, it has become a common question.
However, our fall into a black hole can only be a hypothetical plunge for two crucial reasons. First, we measure the distance to black holes in light-years, and light travels at 186,000 miles per second. So, in a year, light travels about six trillion miles.
Let's say we decided to visit the supermassive black hole located in the center of our Milky Way Galaxy. Sagittarius A, as it is called, is 26,000 light-years away. Considering that we are currently capable of traveling only a very minute fraction of the speed of light, Sagittarius A is too far even to consider visiting.
By the way, Sagittarius A was discovered in 1974 by the scientists at Green Bank Observatory right here in Pocahontas County.
Then there is another consideration one must address before jumping into a black hole. Once you go in, it is like the Hotel California, "You can check out any time you like, but you can never leave."
Your plunge into Sagittarius A, or any other black hole, will be a one-way trip because of something we are all familiar with – GRAVITY!
No discussion on black holes can commence without a brief refresher on gravity. 
Isaac Newton enlightened us on predicting the effects of gravity, but he was clueless about the nature of gravity.
Then Einstein came along and was also puzzled by this invisible force we call gravity. Compared to electromagnetic forces, gravity is a real weakling. Yet, gravity is responsible for the structure of our solar systems and galaxies.
Our wild-haired genius then set about developing thought experiments as a way to analogize the effects of gravity. He imagined stretching a giant rubber mat out so that the surface is very taut – similar to a trampoline, only the size of our universe.
Albert then imagined placing a steel ball on the mat, which would deform the mat. And that deformation is what mass does to the structure of space and time.
Furthermore, suppose we placed an even larger steel ball near the first ball. In that case, our rubber mat's even more significant deformation will cause the smaller steel ball to move toward the larger steel ball having greater mass.
Einstein's analogy allows us to visualize gravity.
I am currently sitting on a chair at my workstation. The force causing me to feel my chair pushing up against my derriere is gravity. The sagging skin on various parts of my aging body is caused over time by gravity.
Gravity is not necessarily our friend, although without it, we, and our atmosphere, would float away into the vacuum of deep space.
We cannot escape the effects of gravity, but do we even know its very nature?
No, there are theories about the substance of gravity. Still, we only know its influences on our lives and the universe as a whole.
Back to black holes.
A black hole forms when a massive star dies and collapses into a much smaller and denser object called a singularity. This singularity exerts an incredible gravitational force on anything near it, including light.
In the case of Sagittarius A, the collapsed star that created the supermassive black hole was four million times the size (and mass) of our sun.
We don't know much about a singularity. We probably never will because everything we know about physics breaks down inside a black hole.
The only thing we can understand about it is by observing its effects on objects and light outside the black hole. It's as though the singularity exists outside our universe.
There are interesting theories about black holes that we do not have space for in this article. One theory suggests that black holes are birthing centers for new universes.
I also suggest you investigate Hawking Radiation which explains how black holes lose mass.
The takeaway is that we can only observe those things that are outside the event horizon. We cannot see the bizarre things going on in a black hole. Anything that crosses the event horizon will be reduced to a minuscule part of the singularity.
So, suppose we did manage to overcome the obstacles of traveling to a black hole and decided to jump in. In that case, we could expect to be stretched and compressed into our constituent atoms by the intense gravitational pull.
And even those atoms are comprised of 99 percent space. That, too, would be compressed into the singularity.
The term "spaghettification," coined by Stephen Hawking, describes what would happen if you went into a black hole feet first.
There is significantly more gravitational pull on your feet than your head. So much so that the body is stretched out like a strand of spaghetti while being compressed simultaneously.
This stretching results in the body snapping apart at the waist. And then, each succeeding portion of the body is stretched and avulsed until practically nothing remains that is you.
Even stranger, because time and space switch roles inside a black hole, time has no relevance as you approach the singularity. But, those back in the spacecraft observing will see the faller slowing down and freezing in place at the event horizon as though time had stopped.
Weird, huh? 
Although we don't know much about the inside of a black hole, we know a lot about what is inside a Hostess Sno Ball – the delectable cream. Did you know that these snacks were first introduced in 1947, but didn't have cream in the center until 1950?
But why?
Now there's something to think about today that won't hurt your brain.
Until next week,
Ken Springer
Ken1949bongo@gmail.com