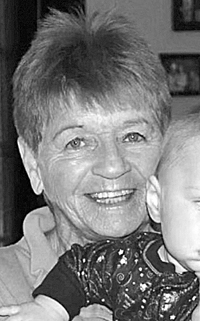 Peggy Carpenter, of Dunmore, age 75, passed away Wednesday, May 11, 2022.
She was affectionately known as "Nanny" to her grandchildren and many others in her family.
Peggy retired from the school system after serving the county's children for many years as a custodian, preschool aide and cook. She remained active throughout her life in the Dunmore community and the Baxter Presbyterian Church. When she wasn't doting on her grandchildren –and grand-nieces and grand-nephews – or helping others in their times of need, Peggy enjoyed planting flowers and working in her yard.
She was preceded in death by her parents, Luther and Geneva Campbell; her husband, James Carpenter; and a grand-niece, Bree Eberbaugh.
She is survived by her son, Josh Carpenter, his wife, Nora, and their children, Garek, Zander and Lyra; step-son, Bill Carpenter, his wife, Hope, and their children, Eli and Luke; her siblings, Bess Eberbaugh and Ben Campbell; and many nieces, nephews, grand-nieces, and grand-nephews whom Peggy dearly loved.
A memorial service celebrating her life will be held at Baxter Presbyterian Church in Dunmore Saturday, May 28, 2022, at 11 a.m.
The family will greet friends an hour before the service.
Peggy's ashes will be buried at the Dunmore cemetery.
In lieu of flowers, please consider a donation in Peggy's honor to St. Jude's Children's Hospital or any other charitable organization that serves children.