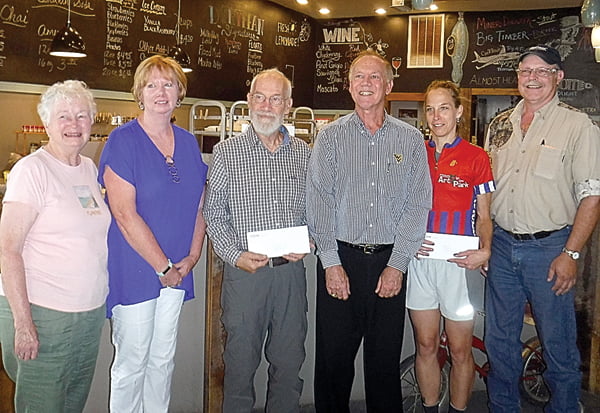 Jaynell Graham
Editor
John Norman, First Energy/Mon Power Manager of External Affairs, visited Marlinton Thursday to deliver some financial support to the Art in the Park project as well as a donation to the Watoga Foundation.
"I am very proud of this work," Norman said. "We have been strong partners with the community for many years. We help sponsor the Possum Trot 5k. We have worked with Brynn [Kusic] at the opera house, and with the Meals on Wheels program with John Simmons."
First Energy/Mon Power employees are encouraged to be involved in their communities, and to keep an eye out for projects and programs that contribute to the betterment of their area.
Thursday's donations came about as a result of Wayne Pollard's work with the Watoga Foundation.
Pollard is a meter reader for Mon Power, and a member of the board of directors for the Watoga Foundation.
"There are good guys in the company who stand up for their communities," Norman said. "Wayne did that."
Kristy Lanier, as president of Art in the Park, accepted the $2,000 check on behalf of that group. David Elliott, board member of the Watoga Foundation, accepted a check for $500 for that organization.
Earlier in the day, the Family Refuge Center received $5,000 from First Energy to help with its work in Greenbrier, Pocahontas and Monroe counties.