Laura Dean Bennett
Staff Writer
I paid a visit to the Marlinton Middle School horticulture class to find out what's going on with that nice, big high tunnel that we all see as we drive past on Rt. 219.
Horticulture teacher Margaret Worth filled me in on the history of the high tunnel, and how it is enriching the educational lives of our young people.
At the close of 2016, then Agriculture Commissioner Walt Helmick was winding up his time in office, but he gave a last gift to the citizens of Pocahontas County – a grant for a high tunnel kit, awarded to Marlinton Middle School.
The school had applied for the high tunnel kit grant.
They met the guidelines: the school is located on a main highway, which would help promote commercial agriculture and local food projects.
The 30' x 30' structure kit arrived in January 2017.
It just needed to be constructed and connected to water and electricity.
Sounds simple?
Well, not really.
The Pocahontas County Board of Education had approved the project, but was unable to provide support for the construction of the high tunnel.
However, teacher hours were arranged with a commitment from MMS principal Dustin Lambert and the school staff.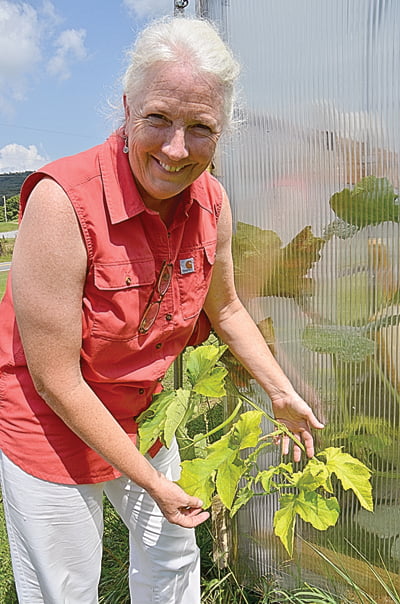 West Virginia University Extension Agent Greg Hamons and Jud Worth oversaw the construction and Joe Mitchell provided the electrical system and water lines.
An Innovation Zone grant obtained by the Pocahontas County Family Resource Network and Grow Appalachia, through its partnership with High Rocks, provided the start-up systems of ground and row cover and soil amendments to get things started inside the tunnel.
Margaret Worth agreed to take on the job of shepherding the middle school students through the process of learning about horticulture and how to grow produce in the high tunnel.
The Innovation Zone grant also pays the horticulture teacher.
In the fall of 2017, community volunteer Jean Srodes obtained Amazon "Donors Choose" grants for shovels, boots and gloves for the horticulture students.
Many donations were received which helped bring the high tunnel into production.
The seeds were donated by parents, teachers and Grow Appalachia.
Little Levels Depot and Buckeye Country Mart donated supplies, and there were many private donations of gravel, lumber, straw and potting soil.
A rototiller was purchased with monies from a Farm-to-School grant.
The horticulture class finally had a home in the high tunnel and began to work in earnest.
The students have been growing fruits, vegetables and ornamentals.
They have been studying propagation techniques, composting, soil conditions, common diseases, pests and weeds, raised beds and trellising and organic managements practices.
High tunnels allow season extension so that schools can plant in the late summer and late winter without the threat of frosts or freezes.
Late last winter, West Virginia University professor Louis Jett provided lettuce plants for class research. In addition, the students have planted cucumbers, carrots and squash.
With the help of Grow Appalachia, they planted strawberries, garlic and have a nice crop of each.
They have been planting pollinators with the assistance of U.S. Forest Service personnel.
USDA Soil Conservation employee Josh Cook advised the class on erosion control.
During the 2018 spring semester, the class planted "Grandma Braun's Green Beans" from seeds saved on Droop Mountain.
They tackled a chrysanthemum project with a High Rocks AmeriCorps volunteer and harvested their very own strawberries for breakfast smoothies.
The class is now ready and eager for local gardeners, club leaders and guest speakers to come and share their knowledge and experience with them.
When asked what his favorite project had been, eighth grader Shameron Friel said, "I really liked growing the garlic. And I'm looking forward to tasting the garlic salt when we get it made."
Waylon Lucabaugh, who is also in eighth grade, admitted that seed planting is a learning process.
"Last fall, when the high tunnel was getting started, I overplanted the lettuce seeds," he said. "I didn't know I wasn't supposed to plant them all at one time.
"And I got to dig a drainage ditch for erosion control," he proudly added.
Mary Murray also enjoys the horticulture class and working in the high tunnel.
"I like it because you get to eat the food that you grow," she said.
"We've had strawberries, beans, pansies, broccoli and carrots. We planted them, and we got to eat them. We even ate some pansies."
Murray had a special experience with the chrysanthemum project, which also included Talon Shuttleworth, who is a freshman at the high school this year.
Last April, a High Rocks volunteer came to demonstrate how to start chrysanthemums from cuttings.
"We got to cut the chrysanthemums and dip each piece in Root Tone and then plant them," Murray said. "And they grew into new plants.
"We grew about twenty of them. Now they are almost ready for us to sell."
When the chrysanthemums are sold, the proceeds will go back to the school for supplies for the horticulture class.
Samuel Williams is in eighth grade this year. He said that he really learned a lot last semester when something started to go wrong with the strawberries.
"They needed more magnesium," he said. "So we had to spray them with a magnesium spray and give them a little extra attention, but we cured them.
"It's great when you can help out the next semester's class in horticulture. And eating stuff that you grow makes you feel good."
Worth admits to having a passion for growing things and for teaching young people about the benefits of horticulture.
"I first learned about high tunnels when Fane Irvine was the Extension Agent, and he taught the master gardener class," Worth explains.
"I attended a few West Virginia Small Farm Conferences and continued to learn about them.
"Farming and agriculture don't get enough credit. We have to invest more in all of our vocational classes so that more of our kids can stay here and make a living.
"We can really grow a whole new economy with horticulture."
Pun intended, I guess.
"With our Master Gardener program being taught by Ph.D.s, our kids can actually get the equivalent of college level agricultural experience," Worth said.
The school system is going to be working on a K-12 horticulture and agricultural educational program.
The FFA, sponsored by Erwin Berry at Pocahontas County High School, is doing their part, too.
They have been growing things in their greenhouse and bringing them to market for a while now.
Worth sums up the horticulture project this way:
"Teaching horticulture is good for our kids, it's good for our community and it's good for our economy."
Clearly, she's right. After all, even an eighth grader knows, "Eating the stuff that you grow makes you feel good."