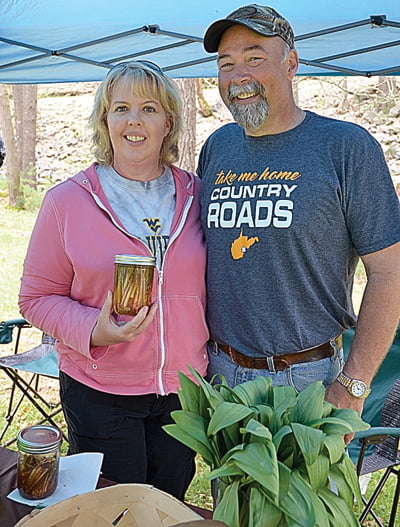 Laura Dean Bennett
Staff Writer
I know I'm not alone when I say what an impression Euell Gibbons made on my generation when he said those famous words in the Grape Nuts commercial, "Ever eat a pine tree? Some parts are edible."
Although my mother taught me at a young age to pick dandelion greens for salads and to sprinkle violet blossoms onto ice cream, I dare say that it was Gibbons who gave me the official okay to admit to people that I came from a family who ate nearly everything that nature had to offer.
Beginning in the 1960s and 1970s, eating "healthy" became part of the popular culture, sparked, in part, by Gibbons' several books on the subject- remember Stalking the Wild Asparagus?
What might have been called a movement back then, has blossomed into a veritable tidal wave now.
Ironically, eating wild foods and organic "health" foods – what might have been called survivalist foraging back then – is now big business in trendy restaurants.
But last weekend at the Wild Edibles Festival in Watoga State Park, it was much more like the Euell Gibons approach.
It was all about taking advantage of the food that nature provides.
For those who wanted to learn more about Pocahontas County flora and fauna, there were a lot of field guides and some local trail experts to talk with, like our own "Watoga Trail" reporter Ken Springer, who brought his ramp chili for the event.
If visitors wanted to take home a taste of the Wild Edibles Festival, there was plenty to choose from: local honey and maple syrup, herbal syrups, ramps, tasty jams, floral jellies and apple cider vinegar.
This is the second year Watoga Naturalist and event coordinator Chris Bartley has organized the event.
"This year we moved it from the activities building to the picnic area," Bartley said.
"And I think we have gotten a better response from our vendors and visitors. We have eighteen vendors this year.
"We had 47 people in attendance Friday night for Geo Derick's presentation, "Wild Medicine: the Art and Science."
"We're definitely making plans for the festival to grow. I wouldn't be surprised if we have 300 visitors here today [Saturday], and we're hoping to have many more next year."
"We'll be including food vendors next year so people won't have to leave the park to find lunch."
Kailey Price led a nature hike Friday evening for 38 guests who wanted to learn more about edible plants.
Bartley explained that the state park encourages visitors to pick some things along the trails – within reason.
"We don't let people pick just any flowers and plants, but you may pick edible plants – things like greens, mushrooms and berries- as long as it's done responsibly," Bartley said.
"We tell people that mushrooms they find in the park are pickable for personal use only, but they can't take large quantities.
"But they have to be careful. If you don't know what a plant is – don't touch it- ask someone who knows first."
At the festival, visitors could spend time with many people well versed in medicinal, herbal and edible plants, and all manner of natural and wild foods.
There were vendors, demonstrations, guided nature/edible plant walks and live music.
"It's a wonderful event, and we're proud to have it here at the park," Watoga Assistant Superintendent Josh Feather said.
Visitors enjoyed the eclectic mix of bluegrass and country music played by local band Sugar Run, as they sampled everything from ramp chili and garlic mustard pesto to herbal teas and red bud jelly.
Dawn Baldwin was offering samples of her wonderful selection of home-grown, Brightside Acres, herb teas.
Just reading their names makes one feel healthier. There is soothing sassafras, cool catnip, radical red clover, courageous coltsfoot and necessary nettle, just to name a few.
Baldwin also offered herbs, homemade goat milk soap and tea supplies.
Wayne Pollard, Watoga Foundation member and treasurer of the Pocahontas County Beekeepers Association, was educating visitors about the importance of honey bees and how to raise them.
His beautiful photos of bees and bee hives would "be" inspirational to anyone interested in learning more about how to keep bees.
There was a medicinal herbalist display with Geo Derick on hand to educate about the healing powers of certain wild plants across from a display of live, potted, edible greens.
There were three "Talk, Walk and Eat" edible plant hikes scheduled that day.
Watoga Foundation member Mary Dawson and two Marlinton/White Sulphur Ranger District AmeriCorps Division of Forestry/State Lands Program members, Jenna Happach and Kristina Kuss, were on hand to discuss invasive wild plants – and the fact that some are edible.
They offered samples of delicious homemade wild mustard pesto sauces – one with ramps and one without.
The mustard pesto sauce was made by Dawson and the ramps and mustard pesto sauce was made by Sam Parker, superintendent of Droop Mountain, the Greenbrier River Trail and Beartown State parks.
They also offered lots of recipes for edible invasive plants. Oh yes, they assured me, you can eat Japanese Knotweed.
Kermit Friel was passing out samples of his excellent, unfiltered and unpasteurized apple cider vinegar.
Bob Sheets brought lessons from American history and artifacts from his revolutionary-era fort, Ft. Warwick, to share with visitors who were not only interested in what's growing in the ground in Pocahontas County but what is also being unearthed through an ongoing archaeological dig.
For those who love ramps and can't get enough of them in the spring when they are growing wild in Pocahontas County – and even for those who had never tasted them before – the pickled ramps that Bob and Heather Simmons brought were a taste sensation.
The Simmons' pickled ramp recipe calls for chili flakes, making it a piquant and spicy delicacy.
They came by the recipe in an interesting way. Their son, a senior at Glenville College, had been taking pickled ramps to school to share with classmates every spring.
A couple of years ago, one of his friends shared his family recipe for pickled ramps, and they liked it so well they have been making it ever since.
"We dig the ramps and clean them – it's really the cleaning that takes the most time – and get them ready to be canned," Bob Simmons explained.
"It takes about four or five hours to produce about a dozen jars."
While her youngsters, Sherry and Hayden, played in the little creek behind her tent, Ann Walker showed me her unusual selection of home canned "wild" jellies.
There was red bud jelly – a jelly in an unusual and pretty shade of pink – violet, lilac, sunflower, dandelion and mint jelly.
Each was a delicate taste of spring.
For those who like to enjoy their wild foods with some spirited liquid accompaniment, Kirkwood Winery and Isaiah Morgan Distillery from Summersville, was on hand to provide samples of their wines and whiskey.
In the rustic picnic shelter, Valerie Chaney tended a cast iron Dutch oven nestled among the hot coals in the wood burning fireplace.
And the smell of cobbler baking was inviting.
Chaney, a naturalist and activity coordinator from Cacapon Resort and State Park, is a friend of Bartley's and had come to help out with the festival.
Chaney and her mother, Melinda Chaney,  came from Fort Ashby and spent Friday night in one of Watoga's newly renovated cabins, Cabin 15. Both said they really enjoyed the experience.
"I just love Watoga," Valerie said. "Chris showed me how to do the Dutch oven cooking the last time I was here at Watoga, and I liked it so much that I took the idea back to Cacapon."
She was baking one blackberry cobbler after another the way the settlers did – right over the fire.
The recipe calls for using a yellow cake mix and a can of Sprite – so I guess you could say it wasn't exactly the way our ancestors did it – but festival visitors were enchanted to taste the cobbler as it came right out of the cast iron skillet.
Festival goer Rebekah Lilly, from Alderson, tried a piece of the blackberry cobbler and said it "was delicious."
"We've come to the Wild Edibles festival for four years now," Lilly said.  "We really enjoy it. It's growing and changing. We like it being later this year, when everything's blooming."
Bartley often demonstrates over-the-fire dutch oven cooking for Watoga visitors. His recipe was printed and handed out to those who wished to try baking a cast iron cobbler of their own at home.
Cast Iron Dutch Oven Blackberry Cobbler
1 lb. fresh blackberries
1 box yellow cake mix
1 can Sprite
White sugar
Line a Dutch oven with foil. Mix cake mix and Sprite in the Dutch oven. Pour blackberries into batter and sprinkle some white sugar on top.
Let bake until golden brown.