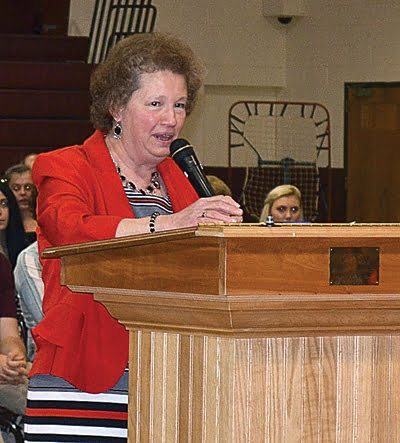 Suzanne Stewart
Staff Writer
Monday evening was a time of celebration for Pocahontas County Schools. Celebration of the achievements of students and the outstanding efforts of both professional and service personnel.
Superintendent Terrence Beam led the event, recognizing students in grades three through 12, as well as the Service Personnel of the Year nominees and winners and Teacher of the Year nominees and winner.
The Pocahontas County Teacher of the Year is Marlinton Middle School math teacher Teresa Rhea. Rhea was introduced by MMS principal and her former student, Dustin Lambert.
"For the past thirty-eight years, Mrs. Rhea has been a dedicated, passionate teacher in Pocahontas County, serving as a high school and middle school math and business teacher," Lambert said. "I personally know Mrs. Rhea as one of her students and, now, as a colleague in education. As a math instructor, Mrs. Rhea has worked diligently to acquire some of the highest test scores in seventh grade math in our state.
"Mrs. Rhea uses a multitude of resources to bring 21st century learning to the classroom and sets an expectation of excellence to empower students with the tools necessary to master the most complex equations and scenarios in math," Lambert continued.
In her time at MMS, Lambert said that along with providing an education for the students, she has also found ways to reward the students for good behavior. Rhea was the founder of the program COPS – Catching Outstanding Productive Students – which is a positive support system rewarding students for going above and beyond as students and friends to one another.
"The program was developed to intentionally seek out constructive behavior in our students and openly reward them as teachable moments for others," Lambert said. "Today, Mrs. Rhea has successfully secured hundreds of dollars through community partnerships to ensure our program is successful and meaningful to students."
Before he turned the podium over to Rhea, Lambert asked all audience members who had Rhea as a teacher –either at MMS or at Pocahontas County High School – to stand. Nearly the entire audience was on its feet, showing that Rhea has touched many lives in her 38-year career.
"It is wonderful to see so many former students," Rhea said. "I appreciate every one of you. [Superintendent Terrence Beam] told me I had to give a speech. It's so easy to stand in front of a classroom, day after day, and be able to talk, but it's a whole different story to talk in front of you guys, so I'm going to give it my best shot. I promise not to talk too long because I think this evening really needs to be focused on our students and their outstanding accomplishments."
Rhea began by thanking God for leading her on her path, and her family for always being by her side. Her husband, DeWayne, children, Matthew and Jessica, and her grandchildren, Cooper, Brody and Cambree have been there through thick and thin.
"My husband, DeWayne, stood beside me those thirty-eight years," she said. "Like my dear friend and teacher Cammy Kesterson always says, 'when you marry a teacher, you marry the profession and everything that goes along with it.' So I appreciate the many times my husband put aside things that we could have been doing together while I was sitting at the dining room table grading papers, hours after hours.
"Then my mom and my sisters, who've always been my cheerleaders and have always had my back," she continued. "Next, I'm extremely proud of our two children who have both become outstanding teachers in their own rights. Our son teaches in Virginia, and coaches, and our daughter, Jessica – I have the honor teaching side by side with every day at Marlinton Middle School. I truly admire the rapport that she has with students."
When Rhea graduated from Fairmont State College in 1981, she said she spent five years as a substitute teacher in Pocahontas County before becoming a business teacher at Pocahontas County High School.
"I often say that I think every teacher should substitute at least one year after college because you learn so much substituting in those classrooms," she said. "The next twenty-seven years of my life, I spent here at Pocahontas County High School, where I graduated."
For 14 years, Rhea taught keyboarding and typing, then moved on to math when she was informed that the county would no longer have two business teachers at the high school.
"In 2000, when my son went to college, I went back to college, as well," she said. "Three years later, I received my math certification and for the next thirteen years, taught math at Pocahontas County High School. During that time, I also served as a coach, athletic director, yearbook advisor, class director, FBLA advisor, etc., etc., etc. and had the privilege of going to prom and graduation twenty-seven times."
Six years ago, Rhea made a bigger change by taking the seventh grade math position at MMS – a decision that has been beneficial for the staff and students, as well as Rhea herself.
"Every time Mr. Beam sees me at MMS, he says that he can tell I've really found my niche and, although I loved the years at Pocahontas County High School, I have to totally agree with him," she said. "Marlinton Middle School operates as one big family and I feel very fortunate to be a part of that situation."
Rhea said that one of her favorite interactions is with former students who approach her and thank her for getting them through school and helping them find their own paths.
"What makes it all worth while to me is when former students come back years later and say thank you for something you've taught them or something you did for them," she said. "One time, a former student of mine, who is now a lawyer, came and told me that out of all the courses he's taken to become a lawyer, his high school keyboarding class was by far the most beneficial. Then a student, who is graduating this year, recently thanked me for not giving up on him in seventh grade math, pushing him beyond what he thought he could do because he ended up taking advanced courses and is now graduating with honors."
In closing, Rhea offered a few words of wisdom and again thanked everyone for the recognition of her teaching career.
"My personal philosophy is to plan, plan and re-plan for what you think might happen in your classroom and in your life, but then take one day at a time and try to make the most of it by being a positive influence on as many people as possible each and every day," she said. "I feel truly blessed, humbled and honored to represent the wonderful staff of Pocahontas County and especially those who are here representing their respective schools – the best of the best."
Teacher of the Year nominees were also recognized for their achievements at their respective schools – Hillsboro Elementary School, Shannon Alderman; Marlinton Elementary School, Kristy Tankersley; Green Bank Elementary-Middle School, Elaine Sheets; and Pocahontas County High School, Jennifer Nail.
The Service Personnel of the Year nominees were honored for their service at the schools – Pocahontas County High School, Sarah Hedrick; Marlinton Middle School, Tonja Armstrong; Marlinton Elementary School, Heather Simmons; and co-Pocahontas County Service Personnel of the Year, Green Bank Elementary-Middle School's Joe Warder and Hillsboro Elementary School's Sondra Vaughan.
Only one individual from each county is able to represent the county on the state level and so a tie-breaking vote was made and Vaughan was selected to represent Pocahontas County as the Service Personnel of the Year.
An article featuring all the nominees will be in next week's edition of The Pocahontas Times.
Superintendent Beam announced that this year has resulted in the most Super Scholars since the inception of the event nine years ago, with 181 students receiving the honor. 
Beam explained that in order to be a Super Scholars, students must be in grades three through 12; achieve an overall cumulative average of 90 percent at the end of the third nine weeks in the core subjects of language arts, mathematics, science and social studies and have at least a C average in any other non-core subject. PCHS students much attain a 3.8 average.
Hillsboro Elementary School principal Rebecca Spencer recognized the following students: Kegan Calhoun, Oliver Campbell, Willa Hardy, Asa Marks, Kenslee Lane, Camden Gregory, Riyan Gladwell, Molly Cook, Penelope Campbell, Damien Blankenship, Silas Beezley, Ramona Hardy, Aylah Manahan and Mackenzie Sewell.
Marlinton Elementary School principal Phillip Anderson recognized the following students: Lillie Cassell, Eli Lee, Taylor Morrison, Irelyn Withers, Halleigh Teter, Roy Vanburen, ReeAnna Alderman, Natalee Sewell, Cayden Johnson, Rylynn Barlow, Dominick Barnes, Lexie Burdette, Kimberly Fitzgerald, Hemi Hammons, Ronald "RT" Hill, Hailley Hoke, Carly Robinson, Emma Sacca, Savana Sharp, Kaidence Cutlip, Ember Cowan, Carter Faulknier, Allison Fitzgerland, Tanner Smith, Heidi Jordan, Paul Jordan, Gavin Malcom, Nolan Street, Luke Gainer, Aspen Hissom and Brady Carpenter.
Green Bank Elementary-Middle School principal Ricky Sharp recognized the following students: Tessa Johnston, Nadiya Kerr, Duncan Sizemore, Tristan Sizemore, Thomas Arbogast, Amber Defibaugh, Haley Moore, Allyson Taylor, Jade Arbogast, Taylor Arnold, Miranda Gum, Ella Johnston, Easton Nelson, Willie O'Ganian, Gracie Sisler, Mackenzie Taylor, Mileya Bircher, Ashley Bussard, Madeline Ray, Mackenna Shinaberry, Olivia Vandevender, Loreli Wolfe, Isabella Bauserman, Grace Beverage, Melinda Beverage, Caitlin Mallow, Austin Morgan, Max O'Ganian, Emma Riffe, Emily Rimm, Mason Solliday, Sara Stull, Kelsi Taylor and Logan Wimer.
Marlinton Middle School principal Dustin Lambert recognized the following students: Hannah Beverage, Brianna Cochran, Dillon Dunz, Kirsten Friel, Miya Johnson, Shaylee Landis, Ella Markl, Abigail McClure, Mallori McCoy, Ryleigh Parker, Riley Pollack, Kaylee Pritt, Eden Smith, Trevor Tuskan, Courtney Waugh, Mya Workman, Andrea Alderman, Jessica Armstrong, Cameryn Boss, Hannah Burks, Clayton Burns, Cheyenne Dean, Jordan Faris, Elizabeth Friel, Taiylor Hoke, Correanna Jordan, Kimberly Underwood, Kynlee Wilfong, Benjamin Withers, Amanda Burns, Christy Casey, Braedan Hayhurst, Kassidy Long, Waylon Lucabaugh, Robert Pritt, Sydney Puffenbarger, Haley Spencer, Jazzlyn Teter and Samuel Williams.
Pocahontas County High School principal Joe Riley recognized the following students: Rachel Burns, Benjamin Dunz, Max Ervine, David Gibb, Iam Johnston, Cassandra Moats, Hazel Riley, Macaden Taylor, Sarah Warder, Sienna Bircher, Ty Cochran, Emmalee Dean, Alan Gibson, Cassidy Hardesty, Chloe Hardesty, Emily Henderson, Tessa Kiner, Autumn Lane, Savannah McMillion, Jennalee Meck, Silas Riley, Maria Workman, Kira Bircher, Brody Buzzard, Laila Calhoun, Emily Casto, Kylian Dennison, Daphanie Duelley, Faith Johnson, Hallie Kane, Sarah Kelley, Sage McLaughlin, Charity Morrison, Kelly Pyne, Dakin Rexrode, Sierra Rodriguez, Alexa Taylor, Ryleigh Vaughan, Charity Warder, Emalee Arbogast, Shalyn Arbogast, Noah Barkley, Savannah Beverage, Lindsay Browning, Arianya Cagle, Hannah Carper, Benjamin Davis, Josey Faris, Gabrielle Hoke, Jacob Jones, Cody Kiner, Jarod Liptrap, Colton Massey, Brianna Morgan, Brianna Neilsen, Lynsey Paulowski, Brandon Puffenbarger, Elijah Robertson, Hunter Shafer, Irish Simmons, Mathias Solliday, Taylor Tegtmeyer and Logan Woodruff.
Beam also recognized the county Golden Horseshoe Winners, Robert Pritt and Mason Solliday; as well as the Board of Education Student Representatives Taylor Tegtmeyer and Jarod Liptrap.