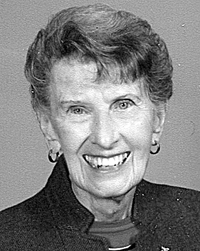 Evelyn Margaret "Peg" Greenlee, age 95, of Charleston, went home to be with her Lord and Savior Tuesday, February 1, 2022. 
Peg was born February 5, 1926, in Jonesville, Michigan.
She was a 1947 graduate of Michigan State University (where she met Joe Greenlee) and became a teacher of Home Economics.  In 1949, she married Joe, and in 1951 they moved to Charleston. Peg taught kindergarten in Charleston at the Baptist Temple preschool for 10 years, as well as working with "Keep A Child in School" (12 years), "Meals On Wheels" (15 years), and serving as Baptist Temple church hostess for 30 years, where she was in charge of all meal services.  She was also active in the American Baptist Women's groups serving in many different capacities including Circle leader.
Over the years, Peg and Joe enjoyed ballroom dancing, skiing, white water rafting, extensive traveling and their log home on the Greenbrier River in Pocahontas County.  Peg loved her family, friends and gardening, but nothing came before her faith and love for God. She was always a wonderful example to others in doing God's work.
Peg was preceded in death by her parents, Donald and Marian Espie; sons, Steven and Ronald Greenlee; and a sister-in-law, Betty Warner; and many friends.
She is survived by her loving husband of 72 years, Joe W. Greenlee; niece, Connie Warner (Dr. Alan Carroll); nephews, Brent Warner (Cris Doria), and Tim Warner (Barbara); close friends, Kathy Lester, Donna and Bob Hoff, Archie and Linda Snedegar, Carolyn and Frank McCarty and Charlotte Sahley, all of Charleston; Frank and Teresa Miller, of Washington; and many others. 
She is loved by all.
The funeral service was held Friday, February 4, 2022, at the Charleston Baptist Temple with Pastor Jim Hewitt officiating. 
In lieu of flowers, memorial donations may be made to the Charleston Baptist Temple at 209 Morris Street, Charleston WV  25301.
Friends may send condolences to the family at www.barlowbonsall.com
Barlow Bonsall Funeral Home in Charleston has been entrusted to handle the arrangements.