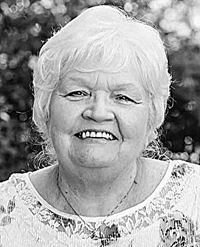 Dorothy Reynolds, 74, of Beverly, passed away Wednesday, March 14, 2023, at United Hospital in Clarksburg, surrounded by her husband and children.
Born August 4, 1948, in Phoenix, Arizona, she was a daughter of the late Fredrick and Alicia Simmons Burghout.
Dorothy was a loving wife, an amazing mother, and a wonderful grandmother to all her children and grandchildren.
She taught Sunday School and Children's Church for many years; she never met a stranger and was loved by all. Dorothy was a graduate of the Randolph Tech School of Nursing, and a retired nurse from Anthony Correction Center. She had also worked as a Kitchen Manager at the Inn at Snowshoe and had worked at Youth Health Services in Elkins. While living in Georgia, she was a Girl Scout Troup Leader and Avon Representative.
In addition to her parents, Dorothy was preceded in death by a grandson, Gerald "Little Gary" Reynolds; and great-granddaughter, Peyton Faye Reynolds.
She is survived by her husband, Reverend Gerald "Gary" Reynolds; daughters, Debbie Jane Mick (Kenton), of Bartow, Rebecca Renee Hannah (John), of Beverly and Alicia Ada Reynolds, of Frank; sons, Wayne Spencer Reynolds, of Weston, and Mark Daniel Reynolds (Angie), of Houston, Texas; grandchildren, Meghan Rey-nolds (Donald Miles), Andrew Reynolds (Ashley), Cody Reynolds, Joe Mick, Daniel Reynolds, Marcus Reynolds (Gracie), Jessica Gladwell (Brent), Matt Kidd (Casey), Lily Tran, Allie Tran, Dustin Reynolds (Carly), Cody Hannah (Lacey), Brooke Mascola (Louis), Austin Cottle (Crystal), Lylia Cottle (Jordon), Nathaniel Cottle (Chasity), Talleighia Reynolds and Emmilynn Reynolds; numerous great-grandchildren; brothers, William Fredrick Burghout, of Meza, Arizona, and Gerald "Jerry" Burghout (Judy), of Glendale, Arizona; and sister-in-law, Betty Cochran, of Craftsbury, Vermont.
Funeral service was held Saturday, March 18, 2023, at the Frank Church of the Nazarene with Dr. Mervin Smith officiating.
Online condolences may be shared at www.WallaceandWallaceFH.com