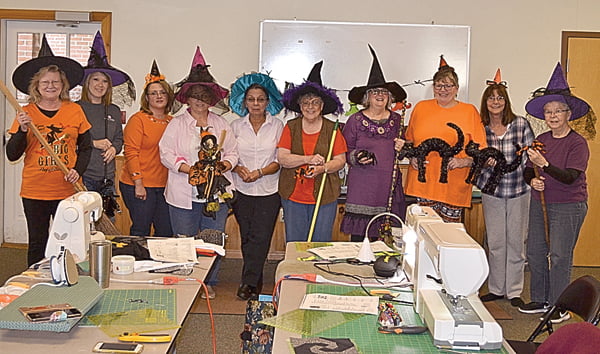 Laura Dean Bennett
Staff Writer
In the spirit of the spooky season, the Cranberry Piecemakers let their in-ner magic out at a Halloween-themed meeting, or- ganized by Cheryl Taylor Dean.
Flying in on their brooms must have been difficult, as they were carrying not only sewing baskets, machines and supplies, but also delicious soups for a potluck luncheon.
The ladies each worked on a Halloween wall hanging, aptly named "Any Witch Way."
Attendance at the Piecemakers' events varies – sometimes there are four witches, er, ladies, and sometimes 10 or 11.
The group has been quilting together since the 1990s.
They first alternated their meetings between the Hillsboro Library and McClintic Library in Marlinton.
But when a construction job began at the Hillsboro Library, they met exclusively in Marlinton and have been doing so ever since.
"The table space is ideal for our projects," Carroll Barlow explained.
One of the projects that the ladies have been working on recently is their "fire quilts," quilts that they make for families in the county who have had a fire in their home.
"We make our quilt blocks at home, then put them together and tie them as a group," Barlow said.
"We're now in the process of planning for our winter projects. One thing we'll be doing this winter will be making quilts for lady veterans.
"Were learning and sharing ideas. It's like an old- fashioned quilting bee. It's not just about quilting, but it's also socializing and having fun.
"We always have a good time," member Carol Swiger said, "and we'd love to have new members!"
Cranberry Piecemakers meet at McClintic Library in Marlinton the first Thursday of every month at 1 p.m.
New members are welcome.