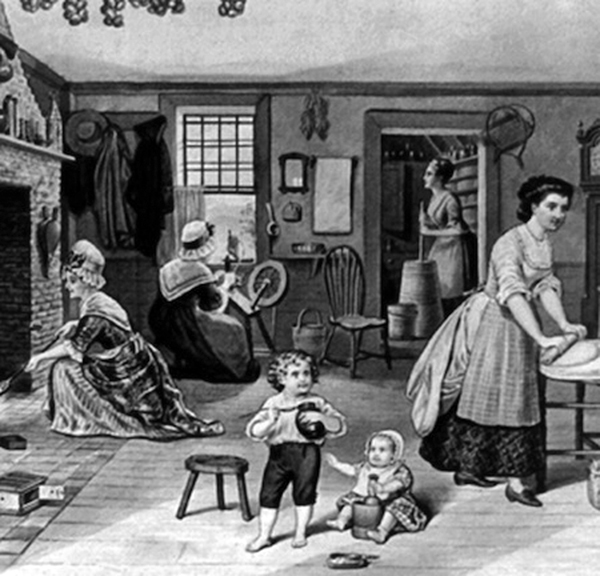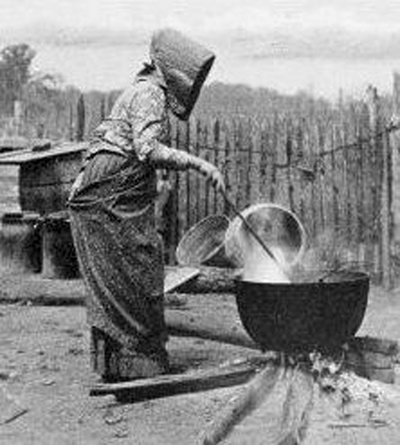 Melondy Phillips
Staff Writer
During colonial times, every member of the household was an asset. Each member had certain roles to perform which were necessary for survival.
More men than women made the journey to the new world, which led to an unbalanced gender ratio. There were simply not enough women to ensure that every man would marry and have children. Even as late as the American Revolution, few men in the southern colonies could be confident of passing property to any sons, due to either not marrying or death.
Colonial woman were highly sought after.
The practiced family structure of an "ideal" family home in Europe, with the husband being head of the family and business, disintegrated as settlers moved to the new world. Surviving daily life meant everyone participated in the same work. Men and women alike farmed their land, working hand in hand with each other, hired help and even servants.
The Puritans in the northern colonies were among the few who held strict religious and gender roles after coming to the new land.
Women had very few rights, if any, in the new world. Due to social and economic pressures girls as young as 13 or 14 would marry.
The only time women owned property, with rare exception, was due to the death of her husband. Once married, or remarried, their legal identity was erased in a tradition known as femme covert or "covered woman." Her husband then controlled all the property, wealth, legal representation, and even control over her and the children. At the point of marriage she could not own land or even have guardianship of her children.
This was also true about any property she may have had from a previous marriage. In the eyes of the law, the couple was seen as one person with the husband the sole representative. But because women had very few legal rights, most widows would remarry.
Women who chose not to remarry and owned land and other assets were seen as a threat to men's masculinity and superiority. These women faced heavy fines for minor indiscretions in amounts more than four times what men would be charged. Often times they could be accused and fined without evidence. This was one way the male leaders would attempt to drain her assets, making her once again dependent upon another man.
Even though the contribution of women to the survival of the colony was essential they remained secondary to men in all aspects of society. As harsh as this may seem, many husbands appreciated their wives' opinions and actively sought it – since she tended to all of the household affairs and had a better understanding of how things were going. Women were the glue that held the family and communities together.
Woman had a hard, backbreaking life of work from sun up until sun down every day, but nevertheless most of them gladly took on the responsibilities for the good of everyone.
Few women had any formal education since most did not work outside of the home. Women were expected to marry, have lots of children, and live a life of service to her husband and family. Some women in the newer developing middling class would help her husband in his business: inn keeping, shoe making, flour production, etc. This would be in addition to her normal household duties unless they could afford to hire help.
In addition to childbirth, the main job for women was to manage the household. Some of the work they were expected to do was: sewing; baking; cooking and food preservation; the education of younger children (homestead skills); herbal preparations; making candles, butter, and soap; tending to the livestock; as well as many other chores.
While men usually planted and worked field crops, such as corn, wheat and potatoes, women grew and maintained kitchen gardens. This garden, often close to the house, usually consisted of items such as herbs, cabbage, carrots, melons, lettuce, etc.
The day's work began before sun up. She gathered fruits and vegetables and maybe a bit of meat from the smokehouse, started or refreshed the fire, and prepared breakfast for the family. Breakfast usually consisted of something simple like porridge or mush (made from cornmeal, oats or beans) and sweetened with honey or molasses.
The largest meal, called dinner, would be served around noon to 3 p.m. Soups and stews were common for this meal since it took little tending and allowed her time to complete some of her many other tasks. These stews could be kept going for days, simmering in the back of the hearth, as she added fresh vegetables and herbs daily.
The evening meal would be light and usually consisted of leftovers from dinner. A bit of meat and cheese and some bread with butter or jam could also be served.
Water, cider or beer accompanied most meals.
When sheep were sheared, women cleaned the wool and young children helped card and make roving. She could then spin the wool into thread or yarn. A skilled spinner could spin up to six skeins of yarn in a day on a walking wheel. The constant back and forth walking, while using a walking wheel to spin six skeins of wool, was the equivalent of walking about 20 miles.
Spinning was a rare honorable occupation for women in colonial America. A woman who spun for a living and typically remained unmarried was called a spinster.
Fall was the busiest time for women and the most important to ensure her family had enough food through the winter.
While still preparing daily food for her family and completing the long list of other chores, she now had the added responsibility of prepping foods for the next several months. If she didn't adequately preserve enough food and herbs to carry them through the winter, her family could die.
Apples and pumpkins were prized for their versatility. Both could be stored whole, in a root cellar or cut up and dried.
Apples made into applesauce could be easily stored in barrels, making it readily available to eat at any time and it lasted for months. Stringing up apples after they were dried and hanging them from the rafters made for easy snacks and pies.
Pumpkins became delightful pies and healthy and filling additives to stews.
Some fruit, such as berries, needed to be foraged for, which took time away from her other chores.
Men and women butcher-ed and smoked meat from farm animals. Women made and preserved sausage from slaughtered hogs.
Since some crops matured more quickly than others, some food preservation could take place earlier if she was fortunate enough to have a root cellar or springhouse.
Making the move:
Some women came to the colonies as indentured servants or enslaved. These women had it harder than most others. Not only were they enslaved or servants but also women, this meant they had no rights whatsoever. Indentured servants, both men and women, could not vote, get married, leave the house without permission, or even buy or sale anything.
Women, who were indentured, were expected to spin, cook, weave, milk cows, or work in the fields with the men. Many women who found themselves in this situation would be harassed by their masters. If she became pregnant during her time as a servant, often times, years would be added to the length of her servant's contract.
By contrast, male indentured servants may have been lucky enough to be given skilled jobs, such as cobblers, tailors, brick layers, coachmen, butchers and carpenters.
An enslaved woman had it the worst. In addition to being abused and harassed, she had to work from sun up until sun down for her owner, care for her own family and all the duties that came with that, and was expected to have lots of children – more enslaved workers for the owner.
Why would someone subject themselves to these conditions?
Some who became indentured servants were criminals sold into the servant's life to cover their debts and other expenses.
To many, who were in poverty and without any hope, it was a way to escape their current situation and have a fresh start. Their contracts covered the cost of the voyage to America and away from a life they wanted to escape. The contracts also promised free room and board and "freedom dues." The freedom dues would be given to the servant at the completion of their serving term. Items such as a piece of land, a gun, clothes or food sounded enticing and promising to help them get started in their new home of freedom.
But things aren't always as they appear.
Only about 40 percent of indentured servants survived the full term of their contract.