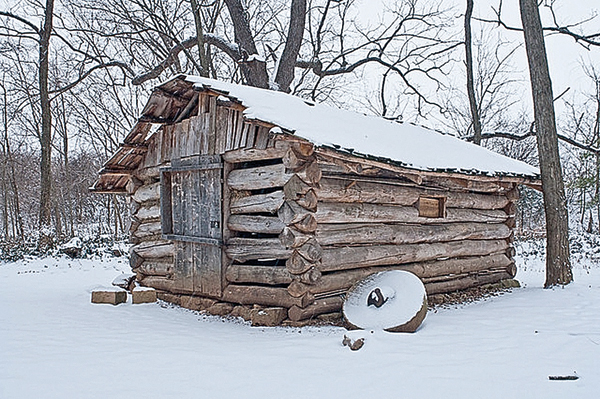 Winters on the
Colonial Frontier
Winters long ago were not much different than winters today – but comforts of home and survival techniques have certainly changed.
Faith Silliman wrote concerning the weather in December 1835: "…with a fire in the hearth, things will freeze in the sideboard [dining room furniture having drawers and shelves] and with the largest fire we can make in my room, water will freeze within six feet of it."
In many journals from the 1700s to 1800s, statements of the face and back never being warm at the same time seemed to affect people of all economic circumstances.
The feeling of "warmth" in a home often referred to temperatures around 45 degrees Fahrenheit.
In January 1810, William Bentley wrote that on the side of his bed chamber, farthest from a brisk fire, the thermometer read "16 below freezing."
Although many people believe fires are a nice source of heat and are great for cooking, fireplaces are not good for warming rooms on a cold winter's day.
A fire pulls a draft as part of its fuel to stay lit. This means outside air will be pulled inside from every little crack available, as most of the warm air it puts off rises up through the chimney. Since hearths and open fireplaces were the main sources of heat, other measures had to be used to ensure the pioneers didn't freeze to death during the winter.
Cabins were often small one-room buildings with a low ceiling. Due to irregularities in the surface of logs and because of their natural taper, chinking and daubing cabins was essential. Chinking gave the daubing a structure to stick to and the two together helped seal the cabin and served as a barrier against rain, wind and vermin. 
Even members of the higher class, who had larger homes, closed off any room they could in an attempt to contain as much heat as possible in a small area.
Settlers often brought small farm animals into the cabin with them when the weather got really cold. This not only kept the animals safe but created extra body heat to keep the family warm.
Stockpiling enough wood to last through the winter started in early spring. Wood constantly needed to be cut and split. The wood was used for building or repairs, fences, tools and equipment, and, of course, the daily fires for cooking. Getting an adequate supply of wood for winter was not an easy task.
Having sheep meant you could spin wool and either weave or knit warm blankets and clothing for the following year. This also took a considerable amount of time and much of that happened during the winter, when outside chores were minimal. 
If pelts from animals taken during hunting were not needed to buy other supplies, they could be made into warm head coverings, shawls, stoles or capes. 
Most of the clothing that was worn consisted of handmade wool or cotton cloth that was thick, heavy and worn in multiple layers for maximum warmth. Being active helped keep up body heat but moving around in the numerous layers of heavy clothing in and of itself could be laborious.
Windows in the cabin had to be sealed for the winter, because most windows were just holes in the cabin walls. Glass was expensive and hard to come by so it was rarely used in cabins. Newspaper or cloth coated with grease or half dressed deer hides were sometimes used to cover the windows during the warm months. These items allowed needed light inside but kept out the rain. Shutters sealed the windows during the winter to keep out some of the winter winds. 
Sealing up the windows meant candles had to be used for light, even during the day. Candles, mainly being made in the summer and fall, needed to be plentiful enough to last throughout the winter. Rendered animal fat, tallow from beef or lard from pigs, with a cotton cord in it sufficed as a candle when beeswax was not available. 
Producing and storing enough food to survive the winter began in early spring and didn't stop until late fall. Much of life revolved around the production of food. Droughts, wild fires, insects, animals, villains and thieves, and flooding, etc. could easily destroy a year's supply of food. Making food to feed yourself was only part of it. Raising fodder and grain to feed your animals was also important. If food fell short, that often meant the loss of needed farm animals, as they had to be eaten as a means of survival. 
This is just a small part of the colonial life.
Everything centered on surviving, but they also knew how to enjoy life and how to love one another.
Even with all the conveniences life now has to offer, hardships will still find their way into our lives.
Are we making a positive mark on society by building relationships so we are able to reach out to help our neighbors when hard times come?