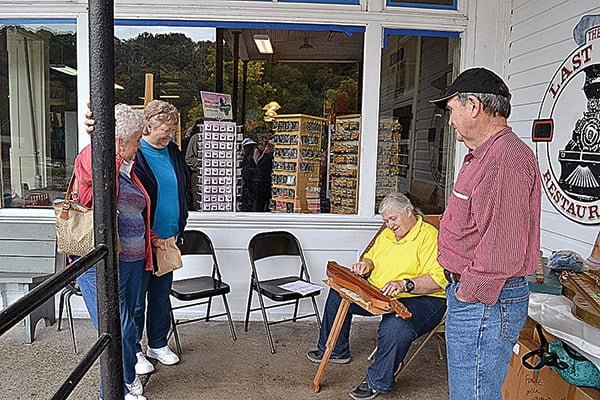 Suzanne Stewart
Staff Writer
The air was crisp, and the leaves were colorful as locals and visitors gathered at Cass Scenic Railroad State Park to celebrate Harvest Day.
The festivities began Friday evening with a square dance with music by Juanita Fireball and the Continental Drifters. Callers Ellen and Eugene Ratcliffe taught the traditional moves to seasoned veterans and brand new dancers, who filled the dance floor at the Community Center.
Saturday saw a great mix of traditional crafts and music, as well as good food and shared memories from the Cass of the past.
While youngsters were entertained with harvest inspired projects, crafters shared their wares. Crocheted items by Veronica Swink, photography by Josey Bolling, crafts by Nancy Rexrode and Fay McCarty, colorful mums harvested by David and Cindy McLaughlin and a pumpkin patch got visitors in the mood for fall in West Virginia.
Those with a sweet tooth were in for a treat with the help of Frostmore Farm's maple syrup and maple products, and Tim and Terry Duff's apple butter.
Demonstrating their talents were the Ye Old Blacksmith Shoppe and dulcimer player Loarine Moore, who played both lap dulcimer and a hammer dulcimer.
Visitors were also treated to demonstrations by Appalachian Mountain Man-Trailing and Rescue blood- hounds and the West Virginia Operation Lifesaver display.
In the Company Store, Ben Dickens, the first superintendent at Cass, shared stories from his time at the railroad and signed copies of his book "Cass Scenic Railroad: Making History Every Day."
Capping off the activities, visitors were welcomed to attend a harvest campfire, complete with a marshmallows roast.
The festivities added something special to the always enjoyable experience of a visit to Cass.