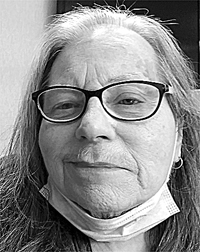 Carolyn Jane Hook, 75, of Marlinton, died Sunday, April 2, 2023, at Pocahontas Center in Marlinton, where she had resided for the past two years.
Born July 12, 1947, in Alexandria, Virginia, she was the daughter of the late Francis Wade Hook and Grace Kinnson Hook.
Carolyn was raised in Gettysburg, Pennsylvania, and graduated from Penn State University.  She practiced interior design in Clarks Summit, Pennsylvania, for three years.  She later graduated from the Carnegie Mellon University Masters of Architecture Program, and pursued a career as a registered architect in Pennsylvania, practicing in the Pittsburgh area.  For several years, she concurrently worked as Assistant Professor of Interior Design at La Roche College in Pittsburgh.
Carolyn moved to Marlinton around 2005.  A devout Lutheran, she became active with the New Hope Church.
Carolyn was fiercely independent, an avid reader and lover of dogs.  A favorite memory of hers was a trip to Spain where she experienced the many works of her favorite architect, Antoni Gaudi.
She is survived by her son, Nathan Hruby; and a brother, Paul Hook.
A graveside service will be held at 1 p.m. Wednesday, April 12, 2023, at Mountain View Cemetery with Rev. David A. Lee officiating.  
Donations in Carolyn's memory may be made to the New Hope Lutheran Church, c/o 726 Seneca Trail, Hillsboro, WV 24946. 
Online condolences and memories may be shared at www.kimblefuneralhome.com
Funeral arrangements are entrusted to Kimble Funeral Home in Marlinton, West Virginia.