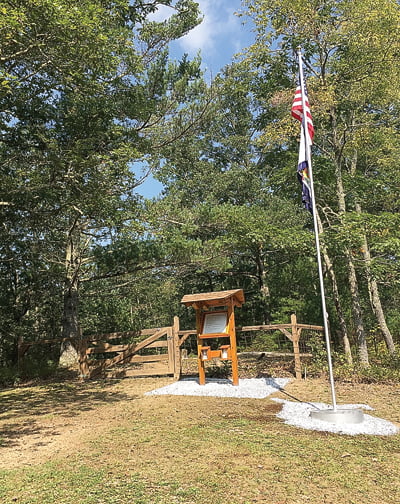 Renovation and restoration of the Calhoun Family Cemetery located near Boyer is complete. Although not much is known about this cemetery, research conducted by Ruth Wilfong Horner from records provided by Jan Orndorff, as well as records located at McClintic Library with the assistance of Pam Johnson, and information in the Pocahontas County Courthouse indicate the cemetery is located on property originally owned by Rev. Allen and Mary Kathryn Vandevander Calhoun.
In addition to the Calhoun family, children and grandchildren, members of the Brewster, Lambert, Whitmire and Wilfong families are buried in this cemetery.
Work and materials for the renovations and restoration were donated and erected by Hunter Wilfong, of Bartow, and Terry McNair, of Burke, Virginia. The work included brush removal, fencing, installation of a lighted flag pole with American and West Virginia State flags; and a kiosk with plaque showing the names of all persons buried in the cemetery, and a Visitor Log and associated printed information.
The renovations are dedicated In Loving Memory of Carlos E. "Mac" McNair, who lived in Nutter Fort, and Raymond H. Wilfong, who lived in Bartow.
Cemetery lighting, road improvements and repairs were donated by Bryan Hudkins, of Johnstown.
Anyone with additional information or interest in the Calhoun Cemetery, or restoration of other cemeteries, is encouraged to contact Terry McNair, 703-677-2418 via phone or text; or email terrypmcnair@verizon.net
Persons Buried in Calhoun Family Cemetery
1. Rev. Allen Calhoun, 12-15-1845 – 2-4-1921
2. Mary Kathryn Calhoun, 12-6-1851 – 6-24-1937
Children of Rev. Allen and Mary Kathryn (Kay) Vandevander Calhoun:
3. Ulysses, 7-5-1869 – 1-9-1917
4. Floyd, 9-27-1870 – 6-22-1917
5. Luvary, 9-10-1877 – 1-4-1924
6. Ettie Vanila, 9-16-1884 – 12-3-1908
7-9. Three (3) Children of Luvary: 2 Infants and Oden Calhoun – 18 years old
10. One Child of Vanila and Andy Brewster
Three Children of Adam and Viola (Lambert) Calhoun:
11. Jackson, 5-30-1913 – 9-21-1913
12. Beualaha, 5-3-1920 – 5-14-1920
13. Ezra, 10-9-1896 – 5-9-1917 (1915 on grave stone)
14-15. Two (2) infant children of Andy and May Brewster (May was second wife of Andy Brewster. May is now Mrs. Ray Rexrode.)
16. David C. Whitmire – Son-in-law of Allen and Mary Calhoun, husband of their daughter, Vada. 4-15-1877 – 8-23-1918
Neighbors of Allen and Mary Kathryn (Kay) Calhoun
17. Mr. Emory Eldridge "Ellie" Wilfong Aunt Bettie Wilfong (Ellie's Mother).
18. Infant Child of Nin Wilfong (Nin was daughter of Ellie)
19. Lee Alice Wilfong "Abbie" wife of "Ellie."