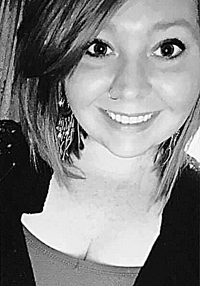 Bree Elizabeth Eberbaugh, age 30, passed away Friday, January 14, 2022, after a battle with COVID pneumonia.
Bree was born August 26, 1991 in Charleston. She attended elementary school in Huntington. After fifth grade she moved to Pocahontas County where she attended Green Bank Middle School and was a 2010 graduate of Pocahontas County High School. Bree attended WVU and later returned to Huntington where she worked in the food industry.
Bree was an avid reader and animal lover. Her smile was bright and contagious. She touched many lives and will be missed by many.
She is survived her mother, Shawn Eberbaugh, of Huntington; grandmother "Mawmaw," Bess Eberbaugh, of Dunmore and Huntington; grandfather, Michael Eberbaugh, of Green Bank; uncle, Mark Eberbaugh, of Tennessee; aunt, Courtney Curran; first cousin, Hunter Curran; great-aunt, Peggy Carpenter; great-uncle, Ben Campbell, all of Dunmore; second cousin, Josh Carpenter, of North Carolina; and many great-uncles, aunts and cousins, of Georgia and Virginia.
Honoring Bree's request, the body will be cremated.
A Celebration of Life will be held Saturday, April 23, at the Mountain Quest. Details will be forthcoming.
In lieu of flowers, memorial donations may be made to the Pocahontas County Animal Shelter, 410 Second Avenue, Marlinton, WV 24954.