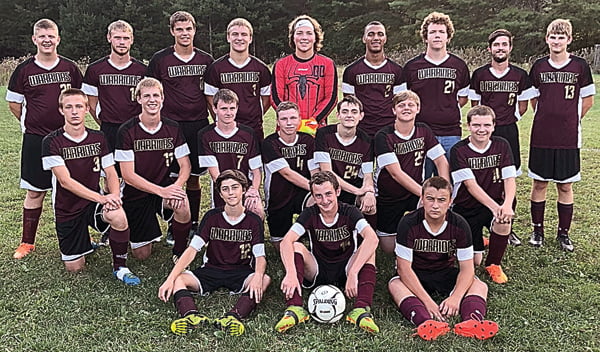 Teresa Kloeker
Contributing Writer
Pocahontas County High School Boys Soccer began its season August 16 with a scrimmage against Shady Springs. The Warriors won that match 3 – 1.
Scoring were seniors Hunter Shafer and Elijah Robertson and sophomore Tony Duncan.
Shafer also had two assists.
The starting defensive line of junior Garret Coleman, sophomores T. D. Sparks, Bryson Cassell and Brandon Price held Shady Springs to just three shots on goal. There were no shots on goal while starting goalie senior Colton Massy was in. Junior goalie Dakota Workman had three saves.
The Warriors traveled to Elkins August 23, and despite the field being a muddy mess, the talented Warrior team fought hard and tied the Tigers 2 – 2. Scoring in that game were Shafer and junior Kolton Alderman, with assists by Robertson and sophomore Jacob Davis. Massey had six saves.
The team took on Midland Trail at Oak Hill High School August 27, where the Warriors dominated Trail in the 93-degree heat, coming home with a 5 – 0 win. Goals were scored by Shafer, Robertson and Davis with one each, and Duncan with two. Assists by Alderman, Duncan and sophomore Hadden Mick on a throw-in. Massey had two saves.
The Warriors came up with another big win when they hosted Bluefield September 1. The final score, 5 – 1, showed that the Warriors again dominated the field. Scoring were Shafer with two, senior Peyton Coleman, Alderman and Davis each with one. Assists by Alderman and Davis. Massey had another good game with eight saves.
The Warriors hosted the Petersburg Vikings September 5. The team came out strong and never let up, winning the game with an impressive score of 8 – 1. Scorers were Shafer with two, Alderman with three, and Robertson, P. Coleman and Duncan each with one. Assists by Robertson and Davis, each with two, and Shafer, G. Coleman, Duncan and freshman Iam Johnston each with one. Massey had a slow night with only four shots on goal, saving three of them.