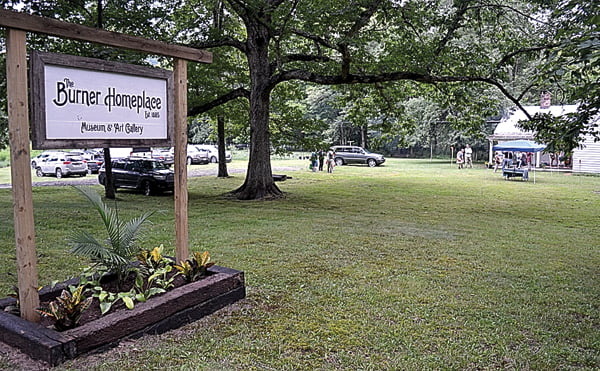 Suzanne Stewart
Staff Writer
In conjunction with the Cass Scenic Railroad State Park Harvest Day celebration, the Burner Homeplace will host an Open Air Market Saturday, September 15.
Located a stone's throw away from the state park, the Burner Homeplace is the oldest standing house in the Cass Historical District and is undergoing renovations to become a museum and art gallery.
Board of Directors president Louise Burner said the event will give the community an opportunity to see the progress on the house, as well as enjoy artwork, displays and locally made products.
"We want the community to be aware that we are making progress," Burner said. "A lot of people have donated money and materials,  and we've been working on things for a couple of years. We're also hoping to make a little bit of money through the donations to continue the work that we're doing. We're putting on the porches and had the house painted. We're putting a yoga garden in the back."
Included in the event will be art activities, a bouncy house, horse rides, book sale, bake sale, giveaways, concessions, artisans selling and demonstrating their work and historical displays, including a sneak peek of some items saved for the Burner museum.
"I have some portraits of the family," Burner said. "I also have a series of letters that were written, mostly by my great-grandmother and my grandfather. I'm going to have some items and some of the artifacts that will be on display in the museum. There will be a little sneak preview of what things will look like."
Although the house is under repair, Burner said there is a possibility visitors will get a chance to see inside the house, but part of it will be cordoned off because the floor is in the process of being replaced.
Burner said her goal, and the goal of the board of directors, is to preserve the house and the history it holds, as well as support the arts community in the county.
"The mission of our non-profit is to not only do the preservation, but to support arts in the community," she said. "We will have an art gallery, but we'll also be providing a lot of community art events and supporting the arts."
The event will be 10 a.m. to 6 p.m.