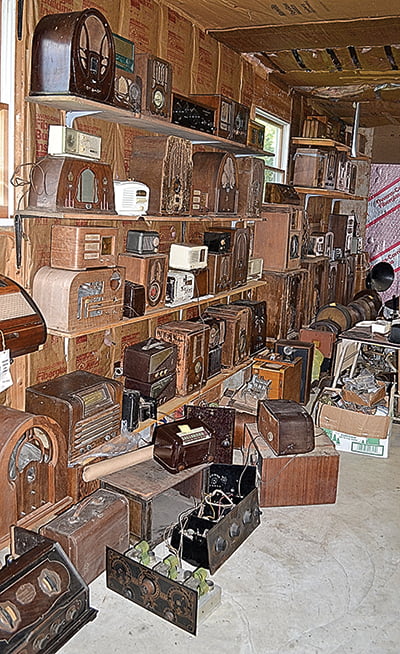 Suzanne Stewart
Staff Writer
It's never easy to lose a parent, but it is easy to share their story. 
For the past three weeks, Susan Crews Scott returned to Arbovale from her home in Alabama to clean out the home of her parents, Fred and Marguerite Crews. Fred passed away May 14 and Marguerite lives in an assisted living facility in Huntsville, Alabama.
As Scott gathered items for a yard sale and put aside other items for an upcoming auction, there was one room whose contents have another destination.
The room, Fred's workshop, is filled with antique radios – from floor models to small desk models – as well as parts, attachments and books filled with information on the inner workings of the old tube radios. The entire collection will go to the Huntington Museum of Radio and Technology where curators will host two auctions for most of the items, but keep a select few radios to add to the museum's collection.
To some, it is just a room of old radios, but to Scott, it's a room full of memories; a room that tells her father's story.
"It all really started when he was in school – at the age of a middle schooler," Scott said. "His librarian let him repeatedly check out a book on repair of radios and televisions. Then when he wasn't helping his family in his free time, he would experiment."
After high school, Fred attended United Television Laboratories in Louisville, Kentucky, where he furthered his education in electronics and radios. Then, he moved back to West Virginia for his first job.
"His first job was with WJLS Beckley, and he was chief engineer for them," Scott said. "Then duty called for the Korean War. He didn't go [to Korea], but, with his experience, he was part of a signal school at the Fort Monmouth Army Base. He became an instructor, and he taught soldiers headed to Korea into so-called battle lines. In the case their radio transmission got messed up and their radios were not working, they would know how to fix them. That was his role in the Korean War."
After his service, Fred returned to his hometown of Crab Orchard and worked for Louis Wright at Wright's Television and Radio Repair Shop.
The perks of working for Wright were the stories that came out of house calls.
On one such call, Fred and Louis were both entering the driveway of a client when her goose charged toward the car. Being Fred's second tangle with the goose, he wasn't about to back down and did not swerve or slow down as the goose approached him. Luckily, the goose did not get hurt because the wheels were high enough that it fit under the car.
The goose was merely stunned and on Fred's third trip to the house, the goose had an entirely different disposition.
"The woman said something like, 'I just don't know what happened,'" Scott said. "'That goose has stopped chasing cars and is the nicest goose you would ever want to see.'
"He learned about the people through his job," she continues. "Through his life, he became quite a storyteller."
It wasn't long before Fred's mother called his attention to an ad for a new National Radio Astronomy Observatory facility in Green Bank with positions available for people with his talents.
"She showed it to him, and his skill level matched," Scott said. "He was one of the first telescope operators – incorporating electronics into the workplace. As the observatory grew, so did his responsibilities and he became the director of the telescope operators."
The collection of radios soon followed. During his time at the observatory, he was too busy with his job to tinker, but by the 1970s, he was ready.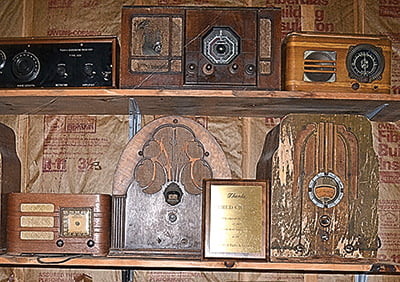 Around that time, a radio club was founded in Charleston and Fred quickly joined, meeting with like-minded individuals and sharing his knowledge and love for old radios.
"There was a lot more networking and a lot of workshops, as well as flea markets and show-and-tell, which was a big thing," Scott said. "Dad loved it – he was an old 4-Her and he liked to win ribbons – so he wanted to be in the show-and-tell."
Crews won several ribbons over the years for his restored radios.
Prior to collecting radios, Fred had acquired a large collection of gas engines – another of his passions – which connected to his radios through the power of, well, power. Fred would use his Delco engine to power Delco radios at shows.
While he was busy with his own collection, he always had time to make repairs and help others.
"He loved teaching, and he loved trying to explain some basics so that others could learn," Scott said. "He was always concerned that the idea that fixing the tube-type radio electronics would be lost, and he had always hoped that a younger person would say, 'I want to learn.'"
Fred became a member of the Huntington Museum of Radio Technology and traveled all along the east coast to shows and flea markets.
One particular show was special to Scott, as she helped her father win a blue ribbon.
During a visit to see Scott in Wichita, Kansas, Fred found a "junk" radio under a tree at a garage sale and took on the task of restoring it.
"He immediately fell in love with it and said, 'I think we can restore it,'" Scott recalled. "He worked very hard and was able to make it work."
Fred fixed the wooden exterior and added black paint to finish the radio's look. After the visit, Scott and her daughters caravanned with Fred and Marguerite back to West Virginia, with a quick stop in Arkansas for a radio show.
"He entered that radio, but he noticed a little chip in the black portion of the painted area and I said, 'Dad, I have mascara in my room,' and I ran down the hall, got my mascara and we smudged it in," Scott said. "He got a blue ribbon. He always called it 'our radio,' and I still have it."
Along with fixing and collecting radios, and winning blue ribbons for his work, Fred also wrote articles for the Huntington Museum of Radio Technology newsletter, sharing his knowledge of repair and the technology behind the different models of radios.
One of the highlights of his time with the museum was when he asked Dr. Grote Reber, the father of astronomy, to give a presentation to the museum members.
"Dad spoke to them about the observatory and one of those times was when Grote Reber was visiting – it turned out to be his last visit to the U.S. – and the museum members were entertained by a lecture by Dr. Reber," Scott said.
To fix the radios, Fred amassed a collection of bulbs, circuitry and knobs. There were occasions, though, where he had to improvise and he turned to the most unsuspecting of individuals to learn a new trick for his trade.
"It's inevitable that your radio, maybe, would not have all the knobs and so, over time, Dad accumulated many, many jars and cigar boxes of knobs," Scott said. "He also invested some time with making an appointment with my dentist where he learned to make an impression like a dentist would for an impression of a tooth. Then, by doing so, using a companion knob that was present, he was able to replicate the missing knob from the original one and try to replicate the finish and patent that might be on there."
Fred also learned how to make speakers with special paper and repair the wooden veneer of the radios.
As she looked around the room at all the radios and parts, Scott said her dad was never in it for money – he simply had a passion for radios and for sharing the history and inner workings of the radios with others.
"He wasn't one to be in it for money," she said. "He wanted to share his knowledge."
While Fred's collection of radios and radio parts are promised to the museum, his collection of gas engines will be part of an auction at the house in Arbovale Saturday, June 23. For more information, see the ad on page 12 of this edition of The Pocahontas Times.
Suzanne Stewart may be contacted at sastewart@pocahontastimes.com