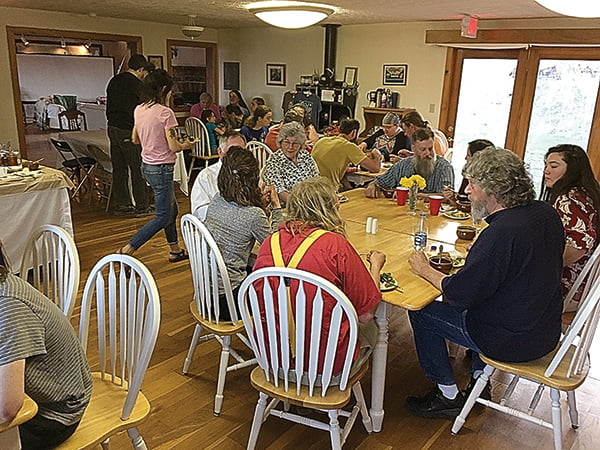 Erica Marks
Contributing Writer
Forest Farming isn't a new idea.  People have been cultivating edible, medicinal and ornamental forest herbs around the world since before technology existed to cut timber.
Forest farming is the practice of growing non-timber forest products (NTFPs) such as goldenseal, black cohosh and ginseng in wooded areas. From planting desirable seeds without disturbing existing plant communities to clearing land under the trees to cultivate crops, forest farmers practice a wide variety of techniques. 
David Cooke, the director of Grow Appalachia in Berea, Kentucky, hosted a meeting about forest farming April 13 at the Yew Mountain Center in Hillsboro. 
John Stock of United Plant Savers and Rural Action in Ohio joined him to talk about opportunities and challenges for forest farming in West Virginia.  Cooke is hosting a series of such meetings across the state. 
"I want to have enough of these meetings to develop a community of leadership from within," he said.
He has support from the Sacharuna Foundation to facilitate the creation of a network of NTFP growers and buyers throughout the state. 
"We aim to represent a diverse range of interests – from growers, to herbal practitioners, to tincture makers…" Cooke said. 
According to Cooke, West Virginia is the only Appalachian state that doesn't have a land grant university and large non-profit supporting the creation of a NTFP economy.  It lags surrounding states in terms of production support and market development for these products. 
"It has to be you guys coordinating and driving this effort," he said "We need a bunch of small producers of seed and plant stock."
Cooke served as an extension agent in West Virginia and coordinated the West Virginia Ginseng Growers Association until 2005.  He said the domestic market has changed for these products over the past 15 years.  More companies, mostly on the west coast, are seeking forest herbs that are verified to be ethically and sustainably sourced.  Currently, much of the demand for ginseng is met by large producers in Wisconsin who grow the plant under shade cloth in a monoculture that requires pesticides.  Increasingly, U.S. consumers want an herbal product grown without chemicals sprayed on it.  
"The demand is huge," Cooke said. "The Appalachian Outlaws reality TV show was just terrible for the industry.  It gave ginseng a criminal reputation and responsible buyers don't want to touch it."
Cultivating wild-simulated ginseng and other sought-after herbs reduces harvest pressure on wild population and can foster a healthy forest ecology. 
Stock talked about the Forest Grown Verification program – a way that growers can demonstrate to buyers that they are growing rather than harvesting NTFPs from wild populations. He told attendees that United Plant Savers and Rural Action have funding to provide technical assistance with site visits in our area to help growers to become Forest Grown Verified.
"It is a great opportunity for landowners who want to start or expand a small business in their forests," Stock said.
"Once you start growing one thing, you become sensitized to what grows where," Cooke added. "People start to diversify and grow other crops. They understand more, and appreciate the value of what grows there. It inspires a multigenerational way to look at the forest."
People can contact the Yew Mountain Center for more information about forest farming:  304-653-2037 or info.yewmountain@gmail.com
Forest Farming events are sponsored in part by the Claude W. Benedum Foundation.