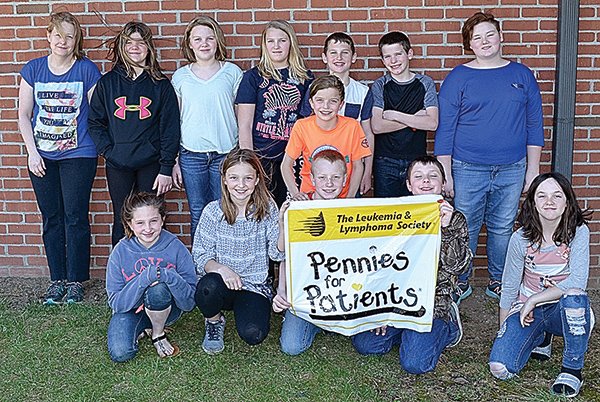 Green Bank Elementary-Middle School's annual Pennies for Patients fundraiser for the Leukemia and Lymphoma Society is in the history books for this year.
The students raised – drum roll, please – a total of $1,075.54, just short of last year's figure of $1,086.61. Considering the number of days school was canceled, the students did very well.
There is a friendly competition between the classrooms each year to see who can collect the most for the cause. This year, Kim Shinaberry's fifth grade homeroom was the winner with $233.68.
"I am so proud of my class and the entire school," Shinaberry said. "They all did a great job."
"These kids are so awesome and have such a giving heart," principal Ricky Sharp said. "Their generosity reflects well on our community."
The students were able to collect such a large amount due to the generosity of the communities in which they live.
To ensure the collection was counted properly, the school enlisted the help of Tonya Jones at First Citizens Bank in Arbovale.
Leukemia is the leading cause of cancer death among children. An estimated 747,465 Americans have blood cancers, and someone new is diagnosed every three minutes. Since 1992, millions of dollars have been raised in pennies and other spare change by more than 13 million elementary, middle and high school students nationwide.
"These students serve as an example to all of us through their commitment to helping others," Brenda Bidwell, campaign manager for the Western Pennsylvania and West Virginia chapter of LLS said. "Their efforts will help local patients and their families along with funding blood cancer research at many local hospitals and cancer research centers."
For information regarding local programs and services of the Western Pennsylvania and West Virginia Chapter of The Leukemia and Lymphoma Society, call 1-800-726-CURE or visit www.lls.org