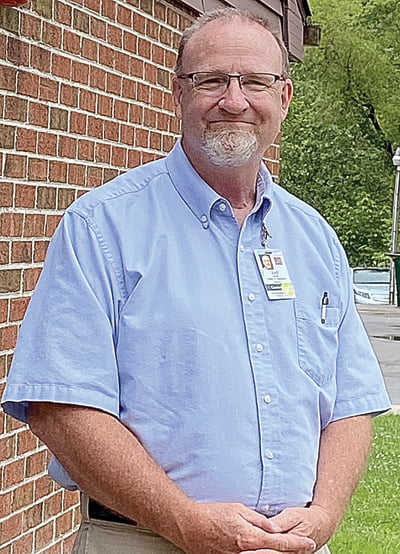 Laura Dean Bennett
Staff Writer
Residents and staff agree, Pocahontas Center won't seem the same without Jud Worth there.
Worth, Executive Director of Pocahontas Center, has been a fixture at the county's only nursing home for 22 years – an empathetic, efficient and cheerful presence who can always be counted on to do the right thing.
Worth has been a licensed social worker for 40 years.
He was hired as Pocahontas Center's administrator in 1998.
He rose to the title of Senior Center Executive Director – a senior administrator with Genesis Health Care – the parent company that owns Pocahontas Center.
Before he came to the nursing home, Worth worked in Pocahontas County in community behavioral health.
He has bachelor's and master's degrees in recreation and a Ph.D. in healthcare administration.   
"The most rewarding aspect of my career has been that I have worked with such amazing people," Worth said.
"At the Pocahontas Center, the workers and the residents are just one big family.
"Everybody cares about everybody else.
"It felt like I was part of a big family.
"When I went to work, I felt like I was going home – we were that close."
Worth was born in Ann Arbor, Michigan, so he's not a native of Pocahontas County, but he feels like the next thing to it.
He first came here some 50 years ago because of Camp Minnehaha.
His grandparents, Johnny and Madelyn Worth, owned Camp Minnehaha from 1945 to 1965, and Worth spent all his summer vacations at the camp.
"Granddad was the high school football coach at Richwood High School," Worth said. 
 
"I came here for all my summers – it feels like from the beginning of time.
"I loved it here, and I always said that someday I'd like to live here.
"My parents, Jim and Sally Worth, ran the camp from 1970 to 1999, so I was here every summer during those years, too.
"Dad was an Environmental Engineer in North Carolina, and that's where I grew up," he said.
"I loved playing in Knapps Creek. Anytime I could, I'd be in the creek for hours of exploring and swimming."
The camp was sold in 2000 to Gordon Josey from Manhattan, who renamed it Camp Twin Creeks.
In 1986, Worth's dream of living here full-time finally came true.
"Pocahontas County is just a very special place," he said.
"In North Carolina, where I grew up and lived for so many years, I could go to the post office, the mall, the grocery store and never run into anyone I knew.
"Here, everywhere I go I run into friends and family.
"Everybody knows everybody else.
"It's such a homey place – it has such a great feeling about it."
Worth remembers meeting his wife, Margaret, like it was yesterday.
"Margaret and I both worked for the school system," he said. "We often crossed paths on the sidewalk outside of school. 
"She was a teacher at Marlinton Elementary, and I had an office next door in the Board of Education building." 
When they met, he was a single father with three adopted children and she was a single mom with one child.
"It was kind of like the Brady Bunch," he said, laughing.
They married and have a daughter together – Sarah Worth.
Jud and Margaret Mitchell Workman Worth live in Edray, not far from the Trout Hatchery.  
They now have five grown children.
Sarah works for the Telluride ski resort, so retirement will undoubtedly mean lots of trips to Colorado.
Son Christopher Worth is a disabilities advocate working in St. Louis, Missouri.
He and his financée originally planned a spring wedding, but like many people's plans, it's been postponed twice due to Covid-19.
Jud and Margaret are looking forward to being there for the wedding and hope that it will be rescheduled soon.
Daughter Katie Workman and her husband, Jake Krack, live in Marlinton.
Katie works for the Mosesso Agency, and Jake works as an electrician in Northern Virginia and, in his spare time, has made a name for himself as a well-known fiddle player.
Katie and Jake gave Jud and Margaret their first grandchild, a three year old darling, named Iris.
"Because of this virus, I haven't be able to hug Iris for three months now, and I miss it… we've just been visiting at a distance over the backyard fence," Worth said.
"It will be a great day when we can have a real visit again."
Like his dad, son Wayne Worth, who lives in Clarksburg, is a social worker with a career in community corrections.
Son, Michael Worth, lives in Fairmont.
With such a large family, and as spread out as it is, it's probable that Jud and Margaret will be travelling all over the country in their retirement years.
Worth had always planned to retire at age 60, so for some time he's been getting himself ready to make the change.
Then came the coronavirus, and everyone's world changed.
"The Covid-19 pandemic has been the most challenging time of my career," Worth said.
"Covid-19 has been such a terrifying thing for my "family" at the center.
"It put us – residents and staff – in grievous danger.
"It presented serious challenges to our residents and everyone in the nursing home industry.
"When Covid-19 hit, there was a lot of soul searching – after all, the staff realized the potential threat to themselves and their families.
"But we have a crew of actual heroes at the Pocahontas Center.
"Despite their personal concerns, everyone stayed the course.
"They stayed to take care of the residents.
"Of course, seeing our "family" at the center in danger every day has been hard.
"We've been self-isolating for three months to keep each other and our residents safe.
"We're still in quarantine – wearing protective eye wear, masks and, in certain areas, gowns – all day long," he explained.
"We're just now allowing limited outside visits for our residents."
To protect the health of the residents, visits will take place outdoors, with everyone wearing masks.
The visits have to be scheduled in advance, with only two visitors per resident, at a time.
"Hard to believe that it's really here, but my last day will be July 21," he said. "I'd originally given thirty-days' notice, but I wanted to stay and make sure we had a successful transition, so we added another forty days on top of that, so it's turned out to be more like a seventy day notice."
Worth's replacement will arrive July 20, so they will have one day working together before he leaves.
As for specific plans for the future, now that he can look forward to lots more free time. He is looking forward to doing some travelling, and he expects that quite a bit of time might be devoted to fishing.
Worth said he has no plans to leave Pocahontas County.
"I've just always thought, when I turn sixty, I'm going to retire, spend more time with my family, do some traveling and a lot more fishing," he said.
Worth, not a trout fisherman, likes to do the catch and release thing.
He fishes locally for small-mouth bass and Lake Moomaw for small and large-mouth bass.
When he can, he enjoys fishing in the bay around Morehead City, North Carolina.
For years, Worth and a buddy from Green Bank have been making a spring fishing trip to the coast.
This year, that trip had to be canceled.
Margaret doesn't care for fishing but, like her husband, she loves to travel.
Besides visiting their children, they plan to go to the beach when they can and perhaps do some trips by rail.
"We'd like to get on a train and go somewhere," Worth said.
"Margaret is still working for the Pocahontas County Libraries and Visitor Information Centers."
She was the Linwood Library librarian and was about to transfer to the McClintic branch when Covid-19 closed down the libraries.
Now she's shuttling between the two branches, which are in the process of reopening – in a limited way.
The staff at Pocahontas Center has already had a retirement party for Worth.
"It wasn't  the usual party, of course," he said, "it was a quarantine party – you know, no guests from the outside and everyone had masks on."
Missy Hamons, Workforce Coordinator at the center, said Worth is well thought of by the staff and residents alike.
"He just goes above and beyond to help out in every department," she said.
"He has such a bubbly personality and he's always willing to lend a helping hand.
"Every morning he visits with every resident, making sure that everyone is doing all right," she added.
"We will really miss him."
And the feeling is mutual.
"I'm really going to miss everyone – especially these amazing employees," Worth said. "They are such a great team.
"Covid-19 will continue to present serious challenges to the nursing home industry and to the Pocahontas Center.
"But I have every confidence our staff will continue to rise to the occasion and meet each challenge with professionalism, just as they have always done.
"I want to drop by sometimes to visit the residents and the staff after I'm retired," Worth predicted. "I'll certainly look forward to that."
And does he have any plans for July 22, the day after he retires?
"Well, one thing I know I'll be doing a lot of this summer – like everyone else – I'll be mowing grass," he said, laughing.
"So, that's what I might be doing that day – mowing grass."