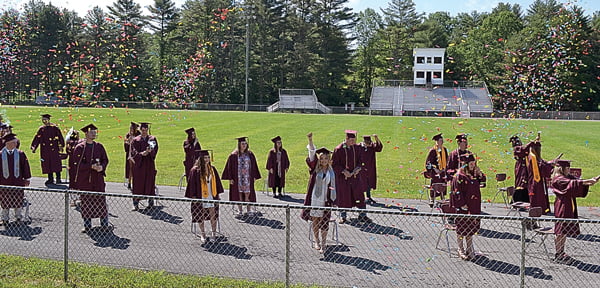 Suzanne Stewart
Staff Writer
Everyone says that their senior year in high school was special or unique, or even one-of-a-kind, but for members of the Pocahontas County High School Class of 2020, it's hard to beat their final year of high school.
Not only were they the first class in PCHS history to have their graduation on the football field – Saturday, June 20, West Virginia Day – they also had the shortest senior year in the school's history with only 145 days of classroom instruction.
But the COVID-19 pandemic didn't stop the class from succeeding. The students continued their studies from home and earned their diplomas, which were delivered to them by the "graduation bus" on May 21.
At Saturday's commencement, the seniors walked to their seats – by way of the track– to the familiar strains of "Pomp and Circumstance." The seniors and guests socially distanced on the track and in the stands, but the feeling of community and togetherness was shared through cheers and smiles.
Four of the five class salutatorians – Alexa Taylor, Charity Warder, Kylian Dennison and Charity Morrison – reflected on the four years of their high school career and the achievements – both academic and athletic. Fifth salutatorian Kelly Pyne did not speak.
As they "put a ribbon" on each year, they shared words of their own with their classmates.
"After witnessing the class of 2020's determination to succeed in everything they do, I am confident that no matter what life throws at us, we will be able to overcome it," Warder said.
"The possibilities are endless, and that is what we need to remember moving forward," Dennison said. "So, dear class of 2020, you can do whatever you set your mind to. We need to remember our capabilities. I wish all of you the best luck on your future endeavors."
Reflecting on the last, and hardest year, Morrison said the students overcame the obstacles in their way and persevered.
"Even though our senior year didn't turn out the way we thought it would, it will be a year that nobody forgets," she said. "We went to our last day of high school without even knowing it. We missed out on several things this year like banquets, prom and spring sports, but there were many things that we got to enjoy."
Morrison reminded everyone that the community and PCHS staff came together to make the year special, reflecting on the graduation bus which delivered diplomas to the students, the businesses and parents who honored the students online and with signs in their yards.
"Four years ago, we walked into this school not knowing what changes to expect," Morrison said. "None of us expected our senior year to change so drastically, but two things stayed the same. [Principal Joe Riley] kept his promise to us that he would be our principal from our first day of high school to our last. And, the undying support from our family, friends, teachers and community never changed."
Valedictorian Kira Bircher addressed the class with gratitude for the past four years and encouragement for the future.
Bircher began by sharing this tale about a old man, talking from his hospital bed:
"He turned to his nurse and said, 'When I was a kid, I was dying to grow up. Then in high school, I was dying to graduate. Then I was dying to finish college. Then I was dying to get married and start a family. Then I was dying to advance my career. Then I was dying to retire, and, now, as I lay here, literally dying, I realize that I forgot to live."
"Don't spend your lives dying for the next thing," Bircher continued. "Instead, live for today. I know how eager we have all been for this day to finally come, but now that it has, it's a bittersweet kind of feeling, and most of us can't help but wish we had more time – more memories of senior year. We were dying to finish senior year – until it was cut short – and we were robbed of countless experiences."
Bircher said the class of 2020 now understands how fleeting life is and how quickly things can change.
"Our class knows as well as anyone how quickly tomorrow can be ripped away; how easily our plans can fall apart," she said. "So, live for today, not in anticipation of the future or in dwelling on the past, but in the spectacular now.
"And, by the end of your lives, whether it be at age thirty or eighty-five, I hope you will be able to say you truly lived," she continued. "The last eighteen years of our lives have shaped us into who we are. Everything we have been through – including this pandemic – has been to refine us into better people. This mess of a year – although hard to understand why – has been a part of God's plan, a greater purpose we do not yet understand. Our lives up to now have set us on the path we are about the take so that we may make the best out of it."
In closing, Bircher reminded her classmates that graduation may be an end, but it's also just a beginning.
"As you go on to college, trade school, the military, the workforce – whatever you choose to pursue – make it mean something," she said. "Keep in mind that graduation is not the finish line. This is only the beginning of great things to come for each and every one of us."
In his address to the class, principal Joe Riley did a call back to his speech for the class of 2019 graduation, but added a new twist for this year's seniors.
"Last year, whenever I gave my speech for graduation, I employed Reece Kelley to do a little research for me and he went back, with a few friends, through all the yearbooks from 1971 and determined how many graduates there were," Riley said. "So, just as a little side note, Kira, you're 4,947, and Devyn Young, you're 5,009.
"So the rest of you fall in between," he added. "You can figure out your numbers."
At school the next Monday after the 2019 graduation, Riley said Elizabeth Hefner complimented him on the speech, but said he would have to up the ante for her class because Riley was the principal at Marlinton Middle School when some of the students were in fifth grade there.
Riley said he thought about it and without realizing it would happen, he managed to give the class a little more than expected.
"We will graduate you with less than 145 days of education in your senior year," he said. "We will graduate you on West Virginia Day. We will also let you have an outside graduation that's never been done in the history of Pocahontas County High School. And, the superintendent and I came to your house or your place of work and delivered your diplomas.
"So, did I do all right, Elizabeth?"
Hefner gave Riley a thumbs up.
Riley continued with quotes from the movie "Remember the Titans."
"Denzel Washington said, 'You only live life once, so spend your life doing something that you feel passionate about. Passion for something that fuels your mind, body and soul. If you are passionate about your life, nothing else will matter,'" Riley quoted. "Keep that in mind as you move forward."
The next quote was "do not fear to fail."
Riley gave examples of how successes are celebrated, but many times, no one realizes the failures that led to those successes.
"Back in the early days of the space program, they needed a way to get moisture out of their space instruments, so they sent some scientists to figure out what they need to use," Riley said. "They came up with something that we all use, very commonly, called WD40. This is a piece of trivia that you will take away from here, WD40 stands for Water Displacement, fortieth try.
As he looked around at the seniors on the track, Riley said he has no worries about their ability to be successful.
In closing, Riley also reminded them to never forget their home among the hills.
Riley then had the class stand and he pronounced them official graduates of Pocahontas County High School. The class turned their tassels, threw their mortar boards in the air and popped confetti cannons in celebration.
The class left their seats to the sounds of Panic! at the Disco's song, "Hey Look Ma, I Made It," followed by John Denver's classic, "Take Me Home, Country Roads."