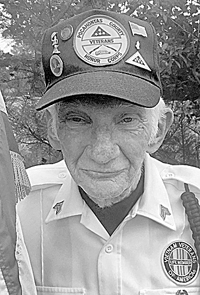 Willard Neil Pingley, 75, of Boyer, passed away Monday, May 3, 2021, at his residence.
Born October 13, 1945, at Norton, he was a son of the late Harvey Ray and Reva Fern Stevenson Pingley.
After graduation from Coalton High School, Willard went to work at the Elkins Community Market before joining the U.S. Army during the Vietnam War era. He served proudly from 1965 to 1967. After returning home, he worked a few months at Mt. Motor Chevrolet until G.C. Murphy's offered him a job as a stockman, and to become an assistant manager, to replace his brother who had joined the service. Following his time at G. C. Murphy's, Willard went to work for Mountaineer Motors. He retired from Sheets GMC in Green Bank where he was parts manager.
He was a member of the Vietnam Veterans of America in Elkins, Pocahontas County Veterans Honor Corps, the DAV- Disabled American Veterans, American Legion Post #117 of Durbin, and the Durbin Lions Club.
In addition to his parents, he was preceded in death by his second wife, Doris Moore Pingley.
He is survived by his son, Jerry Alan Pingley, and wife, Danielle, of Elkins; two grandchildren; sister, Linda Pingley Lemley, and husband, Chris, of Petersburg; brothers, Charles Pingley, and wife, Marie, of Elkins, Ronald Pingley, and wife, Janie, of Elkins; step-son, Glenn Eddie Locky, and wife, Liz, of Norton. He is also survived by special friends, Linda and Suzanne Stewart, Herbie and Angie Fisher, Josh Downing and Paige Fisher, Doug, Jake, Bob, Barry, Brad and members of the Vietnam Veterans of America 812 of Elkins, and the "Best Honor Corps in the State or anywhere, Pocahontas County Honor Corps."
Willard's message is, "I thank all veterans, who made us free. God bless all of you."
Funeral service was held Friday, May 7, 2021, at Wallace and Wallace Funeral Home in Arbovale with Pastor David Rittenhouse officiating. Interment with Military Honors by the Pocahontas County Veterans Honor Corps was in Arbovale Cemetery.
In lieu of flowers, donation may be made to the Pocahontas County Veterans Honor Corps, c/o Norris Long, 619 Smith Street Addition, Marlinton, WV 24954.
Online condolences may be shared at WallaceandWallace.com