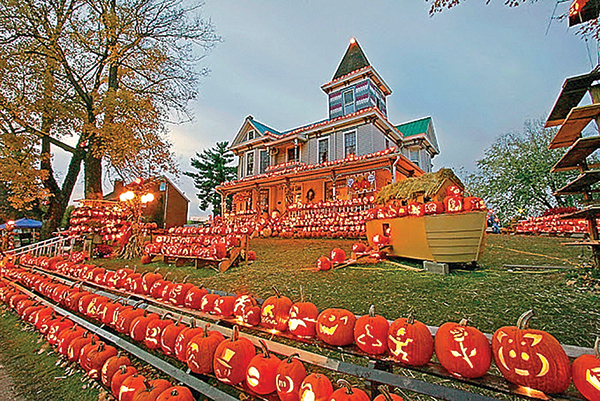 Carol Carrico
Contributing Writer
"I would rather sit on a pumpkin and have it all to myself, than be crowded on a velvet cushion."
~ Henry David Thoreau
Having originated in North America nearly 9,000 years ago, pumpkins continue to grow in our neck of the woods for seasonal food and fun.
Pumpkins began being cultivated by indigenous North Americans who grew pumpkins even before they grew corn and beans. Later, they combined all three crops, growing them together to protect the cornstalks from wind and its roots preventing weeds from taking hold.
The U.S produces 1.5 billion pounds of pumpkin yearly, with the state of Illinois being the largest producer.
Pumpkins are in the gourd family, which includes cucumbers and zucchini, watermelons and cantaloupe, but pumpkins are considered a fruit, not a vegetable.
While pumpkin pies are most everyone's favorite, every single part of the pumpkin is edible – skin, stems, seeds, pulp, flowers and leaves. The fruit is an excellent source of potassium, vitamin A and beta carotene – an antioxidant that gives pumpkins their orange color.
Early American settlers made pumpkin pie much differently than today. They hollowed out the pumpkin, filled the shell with milk, honey and spices and baked it!
Native Americans taught the Pilgrims how to prepare the pumpkins, and they were probably a part of the first Thanksgiving dinner in 1621. The pumpkin was associated with the harvest season long before it became a symbol of Halloween.
Ireland began the practice of carving vegetables (turnips and rutabaga) for the purpose of using them for lanterns. Later, folks realized that pumpkins were much larger and easier to carve and the jack-o-lantern was born.
Not until the mid 1800s were pumpkins even associated with Halloween. Jack-o-lanterns are said to have been named for a fellow named Stingy Jack from Ireland. Later, they became a way of scaring away evil spirits on Halloween and, now, carving pumpkins is just a fun way to celebrate the holiday carving faces, animals, cartoon characters or anything one can imagine.
The international record for the heaviest pumpkin was set in 2021 in Italy where the pumpkin weighed an astounding 2,703 pounds. It might be noted that most pumpkins are a whopping 80 to 90 percent water.
The West Virginia Pumpkin Festival, an annual event in Milton in Cabell County, will take place this year October 5-8, and will feature a parade, pageants, many carved and uncarved pumpkins as well as the heaviest pumpkin winner and lots of great fall foods and pumpkin ice cream.
Another fun fall event occurs around Halloween in Kenova, Wayne County, at the Pumpkin House where thousands of carved pumpkins are displayed at a family home. Volunteers begin weeks before, hand carving all sizes of pumpkins which are then lit up with lights and some are set to music. The event lasts several days and is free to the public.
Whether for eating, carving or displaying, pumpkins are a good and fun staple for the upcoming fall season.
Pumpkin Cake with Cream Cheese Icing
2 cups sugar
2 cups pumpkin
1 cup salad oil
2 tsp. cinnamon
2 cups flour
4 eggs
2 tsp. soda
1/2 tsp. salt
Grease and flour a 9×13-inch pan.
Preheat oven to 350º
Beat the eggs and sugar together. Add oil and beat well.
Mix together flour, spices, soda and salt and add gradually to the wet mixture, beating until smooth.
Add pumpkin, beating at low speed until thoroughly blended.
Pour into the prepared pan.
Bake for 40 to 50 minutes or until done.
Leave in pan until cold.
Frost with the following icing:
8 oz. pkg. cream cheese, room temperature
1 stick butter, room temperature
1 box confectioner's sugar
2 tsp. vanilla or lemon extract
Combine all ingredients and beat until thoroughly blended.
Spread evenly over the top of the cake.
Pumpkin Cookies
1 1/2 cups pumpkin
1/2 cup butter
1 cup sugar
1/2 tsp. salt
1 tsp. vanilla
1 cup chopped walnuts
1 egg
Mix together and add gradually:
2 cups sifted flour
1 tsp. soda
1 tsp. baking powder
1 tsp. cinnamon
Stir in:
1 pkg. butterscotch morsels
Mix all ingredients in order given.
Drop by spoonful onto greased cookie sheet.
Bake at 375º for 12 to 14 minutes.
Raisins, pecans or coconut may be substituted for the butterscotch chips.
Yields 4 dozen.