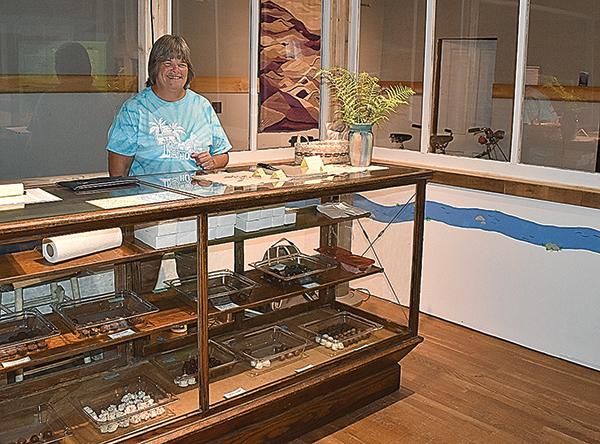 Suzanne Stewart
Staff Writer
Everyone who has lived in, visited or simply driven through the town of Marlinton knows the aqua colored three-story building on Main Street. It was built in 1905 and was home to C.J. Richardson Hardware for more than 100 years.
In that time, it became a landmark – a welcome sight to those who held memories of dipping their hands into nail bins as children or the conversations they had with the late owners Charles "Googie" Richardson and his son, Terry.
When the hardware store closed in 2020, there was a fear that those memories would be lost, and new ones would never be made. Then, along came Revitalize Marlinton, LLC owners Daniel McKee and Bob Safrit. Though they were from North Carolina, Marlinton was a special place to them both.
Instead of tearing down the building and starting anew, the business partners saw the potential for revival. They have already put a lot of work into remodeling the building – now dubbed Rivertown – which has become home to several new businesses and artist studios.
On the second floor of the building, the wide open space was divided into five art studios, a yoga studio, art gallery, souvenir shop and candy shop.
At the top of the stairs, the first shop is Creekside Candy, owned by Lauren Bennett. Better known for her work as director of Pocahontas County Parks and Recreation, Bennett has been a candy maker for many years and has always dreamed of opening a shop of her own.
"I have made candy since my last year of college, which was many, many moons ago," she said, laughing. "That was when I first experimented with the vanilla buttercream. I started doing candy for Christmas gifts for folks and that kind of became my standard every year at Christmas.
"For the past ten years, I've made candy at Christmas and dreamed about my candy shop."
When the Rivertown shops opened, Bennett saw it as an opportunity to get her feet wet and see if she could make her candy shop a go.
Bennett is known for her vanilla buttercream dipped in chocolate, but she has expanded to include several different delectable flavors.
"The vanilla buttercream is what I would say is my specialty," she said. "A lot of them are a similar recipe, but have been altered. So the coffee buttercream has been one of the most popular ones, and that's essentially the vanilla butter- cream, but I use coffee instead of water in the recipe."
She does the same with her raspberry and blueberry buttercreams. She cooks down the berries and replaces the water with the juice. The blueberry, which is a seasonal treat, features berries picked at Frostmore Farms in Arbovale.
In addition to buttercream treats, Bennett has other chocolates she produces, as well as a line of Creekside Creatures – gummy candy – she is working on.
"I have a nougat that I really like – a honey pecan nougat and some caramel," Bennett said. "I'm working on my gummy bears. I'm hoping to have 'Creekside Creatures,' but humidity makes it difficult during the summertime."
While most of her candies are a bon bon shape, with either milk, white or dark chocolate coating, Bennett also has molds she uses that she will alternate depending on the season. For summer, she has trout and sunflower shapes. In the winter, she will switch out to snowflakes and snowmen.
Creekside Candy is open Thursdays and Fridays, noon to 5 p.m. and Saturdays, 10:30 a.m. to 3 p.m.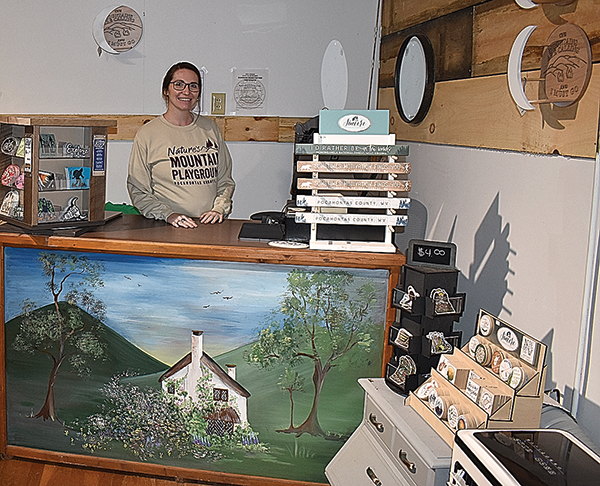 Next door to the candy shop is Mountain Echo Souvenir and Gift Shop, owned by Makinsey Poeppel.
The shop was the dream child of Poeppel and her mother, Brenda Cochran, who both wanted to have a souvenir and gift shop near the Greenbrier River Trail.
The idea was put on hold until after the COVID-19 pandemic, and until the mother/daughter team found the right spot with Rivertown.
"We just wanted to do this because there's nothing like it in the entire county," Poeppel said. "I used to work at the Visitor's Center and we had tourists come in all the time looking for simple things like stickers and postcards, little gifts they could buy."
The shop has a little something for everybody including postcards, stickers, mugs, keepsakes, Nature's Mountain Playground and West Virginia clothing and children's clothing and toys.
Store ownership has been something of a tradition in the family, with Poeppel being the latest of the women in the family to join. Her mother also operates The Snowshoe Hare at Snowshoe and her grandmothers, Shirley Adams and Nancy Cochran, both had stores.
In fact, a remnant from Adams' store is in use at Mountain Echo. The counter at the front of the store has a very special meaning and history.
"My dad and brother were going to build us a counter for the store, and we couldn't really figure out how big we wanted it," Poeppel explained. "He said, 'I don't know why you guys just won't use your mom's counter,' and my mom was confused. He said, 'the counter she had at Cass. It's in my mom's basement.'"
Cochran and Poeppel had spent years looking for the counter everywhere and had no idea that it was in Nancy Cochran's basement all that time.
"I guess when grandma's store closed, my grandma Nancy bought this counter and she had it in her basement for twenty years," Poeppel said. 
"It's super special to us because we have actively been looking for it," she continued. "We all cried when we saw it. We cry all the time when we think about it because it's just so crazy she had it."
The front of the counter has a beautiful painting by Adams, featuring a cottage surrounded by flowers and two looming trees with a bright blue sky in the background.
It once again greets customers at its new location.
Mountain Echo is open Thursday through Monday, 10 a.m. to 6 p.m., except Sundays, when it is open noon to 5 p.m.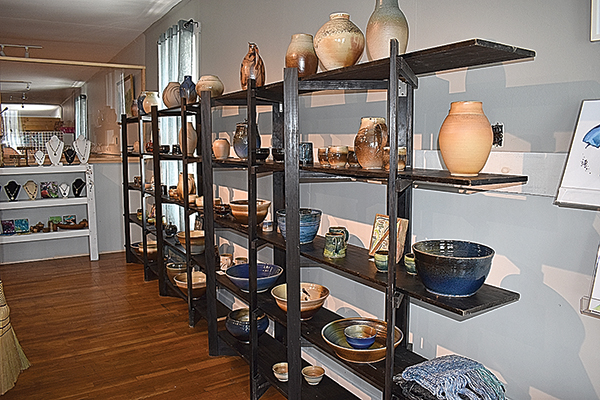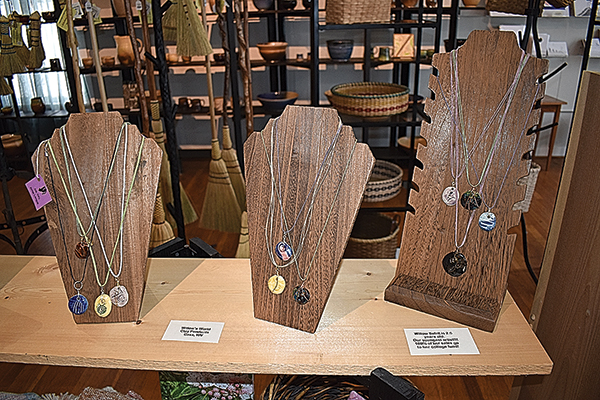 Safrit's wife, Alison, has Alison Pottery Gallery and Studio and is one of two yoga instructors at Little Mountain Yoga.
In the gallery, Alison has artwork and jewelry crafted by Appalachian artists, including herself, her mother, Lou Burner, and her two-and-a-half year old daughter, Willow.
Paintings, drawings, jewelry, pottery, woodworking and more are available at the gallery, which is next to Alison's pottery studio, where she demonstrates on the pottery wheel.
To watch Alison throw a pot or vase is like watching a ballet – her hands expertly shaping the clay into a delicate piece of art.
In addition to Alison's studio, there are three open studios and one photography studio operated by Makinsey Poeppel.
One studio is home to Chaos Acres, owned by Peggy Owens who makes jewelry and glass art. Her pieces are vibrant and, well, chaotic, in design. Owens' work celebrates new life for broken glass and finds the beauty in piecing together the shards.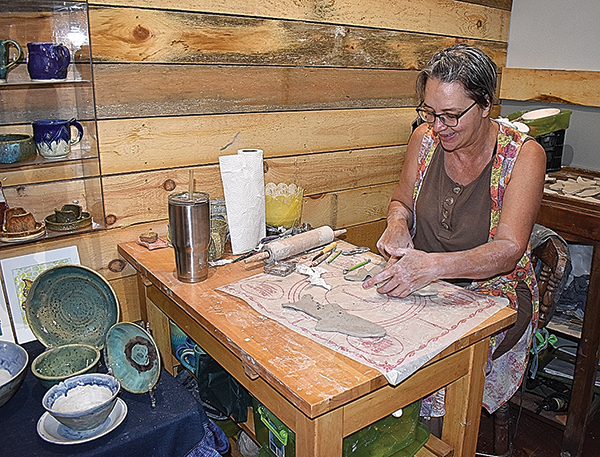 The next studio holds a pair of artists – Cris Bartlett and Cyla Allison. Bartlett is another clay artist and does hand builds as well as wheel work. She makes bowls, plates, mugs and her newest work – trout shaped zesters.
Bartlett's pieces borrow their color scheme from the countryside – earthy browns, blues from the sky and the river, and greens from the vast fields and mountains, with a little white mixed in to remind us of all of the snowy winters.
Allison is a skilled watercolorist who draws what she sees all around her, from structures – abandoned or inhabited – to the flora, fauna and animals of Pocahontas Coun-ty. She also offers custom framing.
The last studio is operated by Bret and Lori Doolittle. Bret is an oil painter, Lori is a sculptor and both are printmakers.
With all the new activity at this lovely old building, memories will continue to be shared and made as a new generation of businessowners serve the residents and visitors to the community of Marlinton.