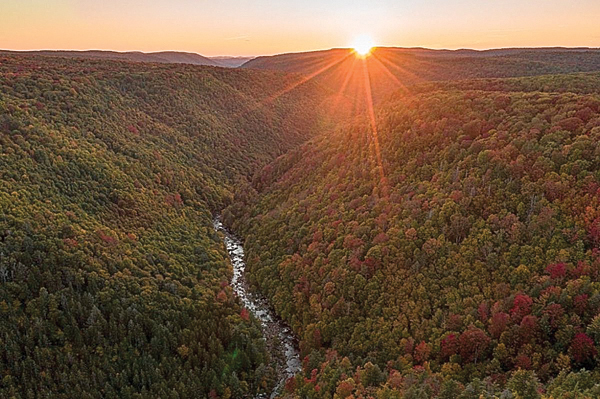 International travel publisher Lonely Planet puts West Virginia tourism in elite class
Governor Jim Justice announced last week that West Virginia was named a Top Travel Region to visit in 2022 by Lonely Planet, as a part of its annual Best in Travel awards. West Virginia, the only state in the country selected, joins a first-class group of international destinations.
"West Virginia is on a roll. I've been saying since my first day in office that we have to tell our state's story, and we're doing just that and it's working," said. "West Virginia is a world-class, four-season travel destination, and thanks to this announcement, travelers around the world will be adding the Mountain State to their travel bucket list for 2022. I'd like to thank the Lonely Planet team for this designation and all they do to promote and support travel and tourism."
West Virginia joins a star-studded lineup of global destinations, like Westfjords, Iceland; Scenic Rim, Australia; Vancouver Island, Canada; and Burgundy, France, in the category for Best Travel Region 2022.
This year's award recipients were selected from a Best in Travel survey shared across the Lonely Planet team, including every staff member, more than 200 travel writers, bloggers, publishing partners and more – who all shared their top travel destinations for the coming year. 
The list was then pared down and sent to a panel of five travel experts. Each destination was judged based on several factors, including its readiness to accept return visitation in 2022 and the judges' excitement to travel there.
Lonely Planet says "2022 is the perfect time to discover West Virginia, a still-uncrowded region with unspoiled mountains and unmistakable heritage where the leisurely tempo of Southern small towns converges with the adrenaline sports that attract adventurers from across the continent."
How are they selected?
According to the Lonely Planet website: Chosen for topicality, unique experiences, "wow" factor and ongoing commitment to sustainable tourism practices, the annual Lonely Planet's Best-in-Travel lists are based first on input from a vast web of contributors around the world and then whittled down by a panel of travel experts to 10 countries, 10 regions and 10 cities.
"The lists celebrate the world in all its wonderful enticing variety," said Tom Hall, Lonely Planet's Vice President of Experience, upon release of the lists. "From the lagoons and forests of the Cook Islands to the waterfalls and mountains of Iceland's Westfjords, via Auckland's natural and urban delights."
This year's release of the Best In Travel lists of destinations could not be more timely, according to Hall. "After an enforced hiatus, it's time to take those long-postponed travel plans off the shelf and make them a reality."