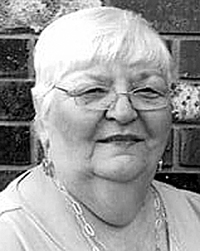 Wenona Shue McNeal, 82, of Augusta, Georgia, widow of the late William E. McNeal, entered into rest Thursday, March 9, 2023.
Born at Spice, and a native of Droop Mountain, she was a daughter of the late Emery E. Shue and Pearlie B. Williams Shue.
Wenona was a loving and devoted mother, grandmother and great-grandmother. She enjoyed cooking, baking, painting and gardening in her spare time. She was the most content when surrounded by her family.
In addition to her parents and husband, she was preceded in death by her son, William I. McNeal; and siblings, Anna Atkins, Daphene Grimes, Irene Shorter, Ella Jo Galford, Darleigh D. Shue and Edna Ray.
She is survived by her daughter, Michele M. Hemingway (Doug), of Augusta, Georgia; granddaughter, Brianne H. Brown (Stephen), of Harlem, Georgia; great-granddaughter, Madelyn E. Brown, of Harlem, Georgia; loving nephew, Condall D. Ray (Cathy), of Augusta, Georgia; and siblings, Berlene Long of Augusta, Georgia, and Vivian Gibson, of Maxwelton.
Graveside service was held Monday, March 13, 2023, at Bellevue Memorial Gardens with Rev. Tom Kalliokoski officiating.
Memorial contributions may be made to a charity of your choice.
Please sign the guestbook at www.thomaspoteet.com