Ken Springer
Watoga Park Foundation
Many communities claim to be unique when it comes to having great numbers of residents who are willing to volunteer their time and efforts to improving the quality of life in that community. But few can hold a candle to the sheer number of volunteer organizations and generous and caring individuals found in Pocahontas County.
I have lived all over the world, and I have never seen such a caring assemblage of folks in one place – people help other people here.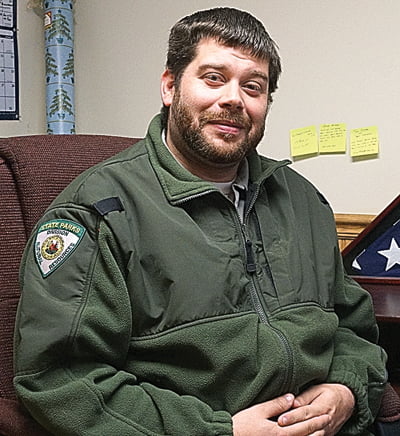 One such individual is Chris Bartley, the naturalist at Watoga State Park. I recently sat down with this unassuming and humble young man from Virginia to find out what brought him to Pocahontas County, and ultimately to Watoga State Park.
Chris comes from a long line of teachers on both sides of his family, including his parents and grandparents. He was literally born into the ideal of teaching others. That ideal took hold in Chris, and as we explore his many endeavors we will see that they all have one central theme – he is unusually motivated to share his knowledge with others.
First of all, allow me to properly introduce this young man to the few residents of our fine county who have not had the pleasure to meet him.
Chris was born in Clifton Forge, Virginia, 32 years ago to Jeff and Dorothy Bartley. He comes home at the end of the day to his wife, Sammantha, and their delightful children Aedan, age seven, and Leeanna age four.  Sammantha is Nutrition Coordinator for the Pocahontas County Senior Citizens, and Chris is presently Watoga State Park's naturalist and activities coordinator.
Chris has been involved with the Boy Scouts for 27 years. After attaining the hard-won rank of Eagle Scout after five years, he went on to serve with the scouts and has been a Scout Master for the last eight years. It is no stretch to say that Chris has spent most of his life scouting. This background, and all of the qualities and skills that come with being a Boy Scout, set Chris on a path that ultimately brought him to Watoga State Park; and our cherished park is all the better for it. 
After graduating high school in 2004, Chris attended Dabney College where he received an Associates in Forestry in 2006. Furthering his education took him to West Virginia University majoring in Recreation, Parks and Tourism Management, receiving a Bachelor of Sciences in 2009. At this point in his life he had committed himself to seeking a career in the field of parks and recreation.
Those who have chosen this career know that it usually comes with spending summers as an unpaid intern, or the relatively few seasonable jobs available. Chris interned at Douthat State Park in Virginia for one summer, followed by three years as a seasonal employee.
Douthat State Park was, like Watoga, built in large part by the Civilian Conservation Corps beginning in 1933, and by 1942 most of the modern-day park was completed. It was here that Chris was tutored by his experienced colleagues about the role of the CCC in the development of many of our state and federal park systems. He absorbed the history of the CCC as it relates to the nation as a whole, and Douthat State Park in particular. As park interpreter he learned very quickly that teaching history to others is much more than "just rattling off facts, you have to tell a story, a story people will remember and connect to their visit."
The honing of this skill took him next to the National Park Service in a position that drew directly upon those skills. As a seasonal park ranger performing interpretive work at both Friendship Hill National Historic Site and Fort Necessity National Battlefield in southwest Pennsylvania, his abilities to guide and edify park visitors was put to the test.
If you have ever been to these historic sites you can appreciate the complexities involved in, not only remembering a vast amount of detail, but conveying this information to the park visitor in a way that illuminates their experience.
Chris passed that test with flying colors, so by the time he came to Watoga State Park he was well prepared to develop and sustain educational programs about the park, her natural history and human history, as well. And, in the two years he has been at the park, he has greatly increased attendance. 
Through programs such as nature hikes, stargazing, night owl prowls, and other interactive learning programs he brought 5,800 new visitors to Watoga in 2017, and the final tally for this year will be 6,800 new visitors, 1,000 more than the previous year. What this does for the continued viability, maintenance and preservation of Watoga State Park cannot be overstated.
It is my pleasure to write about Watoga State Park, and I particularly enjoy writing about those dedicated employees who make this, not just the largest state park in West Virginia, but, by any measure, the best state park anywhere.
Chris Bartley is one of those people, and we, as a community, should be proud of these individuals who dedicate their life to creating an unforgettable experience for the people who journey here to see our park.