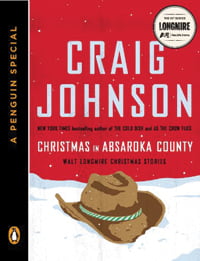 Laura Dean Bennett
Staff Writer
Christmas in Absaroka County
by Craig Johnson
For fans of modern Westerns, my two favorite authors are C.J. Box, who writes the Joe Pickett series, and Craig Johnson, who has written the famous Sheriff Walt Longmire series. Both of these series feature wonderful and quirky characters, and both are set in Wyoming.
I've never been to Wyoming, but I obviously have a thing for it and visiting there is definitely on my bucket list.
Although I highly recommend any or all of C.J. Box's books, and several are available at our local libraries, not one of them is written around a Christmas theme or setting.
That's why I am recommending Christmas in Absaroka County, by Craig Johnson.
If you are a Sheriff Longmire neophyte – never read any of the books or seen the TV series – this book of four short stories will whet your appetite. Trust me, if you like modern Western characters and adventure, you will love the Longmire series.
Johnson's Longmire series is so authentically Wyoming, and so highly thought of, that for three days, the Buffalo, Wyoming Chamber of Commerce welcomed visitors to live for a while in "Longmire Country."
They temporarily changed Buffalo's name to the fictitious town of Durant, Wyoming, where fictitious Longmire has his fictitious sheriff's office.
It's Christmastime in Absaroka County but Sheriff Walt Longmire is still fighting crime and trying to take care of the downtrodden in this collection of four short stories from this New York Times bestselling author.
In these stories – Ministerial Aid, Slick-Tongued Devil, Toys for Tots, and Unbalanced – the reader gets an up close look at the laconic and dry-witted sheriff who is an old-fashioned man trying to do the right thing in a modern world.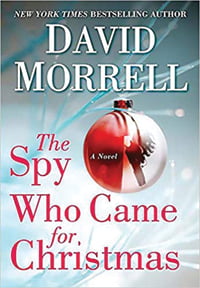 The Spy Who Came for Christmas
by David Morelli
I checked out this novel from the library several years ago and will never forget the delicious guilty pleasure of staying up all night to read it, even though I had a houseful of company and Christmas dinner to cook.
It's set on Christmas Eve in Santa Fe, New Mexico, and the description of the Canyon Road holiday scene was irresistible and so was the plot and the characters.
The reader is immediately drawn in as a desperate spy on the run frantically seeks refuge for himself and a tiny baby he's carrying with him.
And this is no ordinary baby. Agent Paul Kagan's precious bundle is a baby who has the power to change the course of global events.
His pursuers belong to the Russian mafia, and they'll stop at nothing to accomplish their mission.
Kagan must save this baby, even at the cost of his own life. Coincidentally, Kagan meets a pair of unlikely allies – a mother and her son, who have just survived a terrible episode of domestic violence that leaves them home alone, with no means of transportation.
With the skills of a spy and the faith of a weary woman and a disillusioned young boy, Kagan takes on the bad guys.
I won't ruin the ending for you. Suffice it to say, I promise, whether you like spy novels or not, you will love this book!
The Spy Who Came for Christmas is an unlikely Christmas story – but it's a beautiful tale about the strength of the Christmas spirit.
And I'm looking forward to reading it again.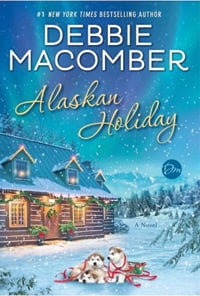 Alaskan Holiday
by Debbie Macomber
For those of you who enjoy curling up with an uplifting romantic story set in an idyllic setting, you probably already know best-selling author Debbie Macomber's books.
This year Macomber takes readers to the Alaskan wilderness for a lovely Christmas story about finding love where it's least expected.
In Alaskan Holiday, when Josie Stewart finds herself with a little time on her hands, she leaves Seattle and takes a temporary job as a cook at a lodge in Alaska.
As Stewart gets to know the community and makes friends there, the town begins to feel like home.
Of course, there's a budding relationship with a handsome and intriguing gentleman and, of course, our heroine must finally decide whether she wants to return home at the end of her holiday or take a chance and begin a new life in Alaska.
I know, it's a little formulaic, but there's a reason why Debbie Macomber's novels are so successful. We all love a happy ending.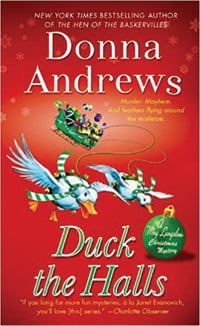 Duck the Halls
by Donna Andrews
Continuing the tried-and-true series theme, here's another terrific series – the Meg Langslow series.
Langslow is a successful decorative blacksmith who just happens to also be a pretty talented amateur sleuth.
Set in Yorktown, Virginia, Donna Andrews' award-winning mystery series features heroine Langslow's hilarious family, a cast of adorable characters and lots of light, hometown mystery fare.
It's a murder mystery written with a light touch – something you can enjoy reading as you bake cookies and get ready for your own onslaught of Christmas activities and company.
In Duck the Halls, Meg and her family are trying to get ready for Christmas, but first, the amateur sleuth has to deal with a suspicious death at the New Life Baptist Church.
It's a fun romp and what I call a "light" murder mystery – yeah, okay, there's a murder, but it's somehow not a really terrible murder, but rather, a fun read – and just right for this time of year.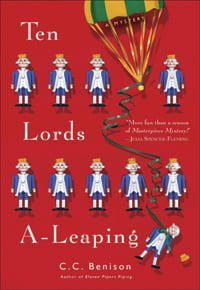 Ten Lords A-Leaping
by C.C. Benison
For anglophiles like me, every once in a while, we just have to have a cozy little story set in a cozy little English village.
And what better time for this than Christmas?
If you like stories set in cozy English villages and Agatha Christie-style mysteries, you'll love this series.
You'll meet Father Tom Christmas in this story from the Father Christmas series.
Father Tom is a widower –with a nine year old daughter – and he happens to be the newest vicar of Thornford Regis, a small town in England.
In this third installment of the series, Father Tom has arranged a fundraiser for his local church.
Sounds simple, but there are a few small complications – like suddenly having to jump out of an airplane with a parachute and solving the murder of someone found dead in a nearby estate's labyrinth.
All in a day's work for our intrepid Father Tom.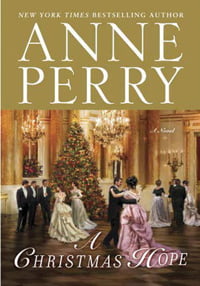 A Christmas Hope
by Anne Perry
Can't get enough of England?
Well, there's more!
This is the 11th book in Anne Perry's Christmas Stories historical fiction series.
And, rather than have one main character throughout the entire series, Perry introduces new main characters frequently, keeping her series fresh and interesting.
This story is set in London in 1868.
As Christmas approaches, Claudine Burroughs feels little joy in the festive social season because she's been helping out at Hester Monk's clinic for desperate women.
It's opened her eyes to a vastly different world than her own, and her husband's disapproval of her working there casts an even colder shadow on Claudine's holiday spirit.
When a woman is brutally beaten during a Christmas party, and a poet friend is accused of the attack, society closes ranks against him and Claudine valiantly tries to prove his innocence.
A Christmas Hope is a look at the underside of life in mid-nineteenth century London.
But more importantly, it's a tale of courage and faith, and a woman fighting for the truth against all odds.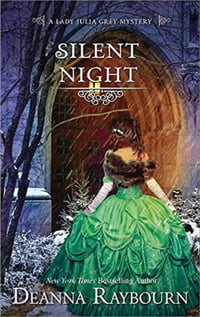 Silent Night
by Deanna Raybourn
This 70 page mystery novel by Deanna Raybourn is perfectly suited to those who only have time for a quick trip back in time.
It's like a Victorian version of "Hart to Hart."
Silent Night is one of several books in a series about Lady Julia Grey, who, as unlikely as it may seem for a lady of that era, regularly solves murders with her gentleman friend, and then, husband, by the name of Nicholas Brisbane.
Lady Julia and Brisbane are charming, urbane characters.
In Silent Night, the erudite couple are visiting her parents and looking forward to a quiet, family Christmas with them.
However, missing jewels and an inconvenient murder complicate their plans – and, as Christmas bells ring, the plot thickens.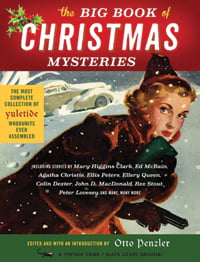 The Big Book of Christmas Mysteries
by Otto Penzler
When you've really had enough Hallmark movies and the sweet sound of Christmas carols, you may be ready to dive into some classic murder mysteries by the masters.
And, if you are a dyed-in-the-wool mystery buff but you love Christmas settings, like me, this book may need to be on your bookshelf.
It's a brilliant collection of 60 classic and hard to find Christmas mysteries, some of which are so rare that you really can't find them anywhere else.
This anthology contains stories by such luminaries as Agatha Christie, Ed McBain, Mary Higgings Clark, Isaac Asimov, Max Allan Collins, John D. MacDonald and Damon Runyon, just to name a few.
And they're all set at Christmastime!
This is the perfect book to read after the kiddies have gone to bed and the rest of the family is sleeping off their turkey dinner – that is, if you're not afraid to be up late, all alone, on a dark and stormy night…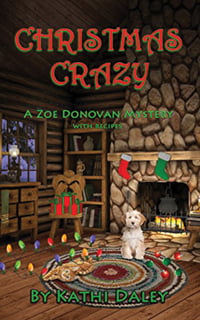 Christmas Crazy
by Zoe Donovan
Christmas Crazy is the third book in the Zoe Donovan Mystery series which features animal control officer, Zoe Donovan.
She's an intrepid heroine who never fails to see the hopeful side of any situation, even when it's hopeless.
In this tale, Donovan has to deal with a town-wide case of temporary insanity that befalls the little town of Ashton Falls when the Christmas Spirit wreaks havoc right before Christmas.
It's a mystery and a side order of romance that makes for light holiday fare with a delicious bonus – a recipe for Cheesy Potato Soup, which sounds so good that I'm planning to make it sometime around New Year's for my houseful of company.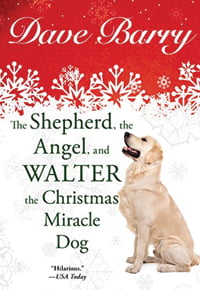 The Shepherd, the Angel, and Walter the Christmas Miracle Dog
by Dave Barry
Now, for those of you who like to laugh out loud while you're reading, this one is for you.
You are undoubtedly familiar with Pulitzer Prize-winning author Dave Barry, one of America's funniest humorists.
In The Shepherd, the Angel, and Walter, the Christmas Miracle Dog, Barry lives up to his reputation as an irreverent story teller who often draws from real life to tell some of the wildest stories you've ever heard.
I am a big Dave Barry fan, and I'm telling you that this is one of his finest books.
It's also one of the warmest, funniest, and most delightful Christmas stories you'll ever read.
Barry takes us back to 1960, and a boy named Doug Barnes who is playing a shepherd in the Christmas pageant at St. John's Episcopal Church.
As stressful as that is in itself, there are other problems, the kind that loom large in the life of a nice young man like Doug.
Doug's fellow shepherds are a naughty lot, causing Mrs. Elkins, the pageant director to speak harshly to all of the shepherds, guilty or not; the girl Doug likes is playing Mary opposite a Joseph who is so handsome, so athletic and so smart- it's really not fair; even worse, the family dog isn't well at all, and how are they going to tell Doug's little sister, Becky (who's playing one of the Host of Angels) and who loves that dog more than anything.
And that's not the half of it – it's an up close slice of 1960s Christmas Americana, told as only Dave Barry can tell it.
Many of these books are available at the library, and can be purchased online in hardback, paperback and e-book versions as well as in most book stores.
And if I got you thinking about reading a book set at Christmastime, but none of these strike your fancy, there are about 600 Christmastime titles available to be checked out at our county libraries.
Happy Reading and Merry Christmas!