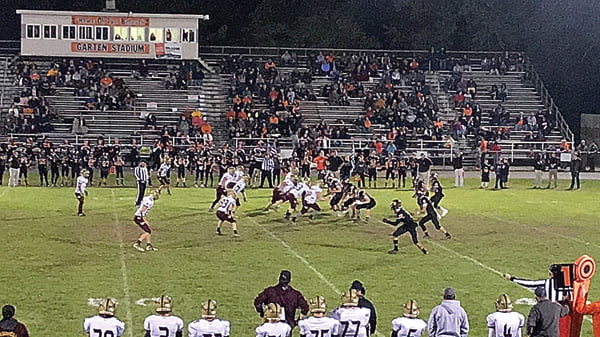 Aaron Pugh
Contributing Writer
Sometimes things just go wrong. Call it failing or chalk it up as a character building experience; however you want to view it, the thing to do after hitting bottom is to look up and start climbing. Sentiments like that will come to mind after week nine when the Pocahontas County High School Warriors fell hard to the Summers County Bobcats.
Pocahontas was able to exert their physicality, being able to largely negate the Summers County run game. But the Warriors had similar difficulty running against the senior heavy Bobcats. When you shut down the run, teams tend to go to the air, and when the Bobcats did that they were able to have unprecedented success in passing – scoring most of their points in the air.
After a three and out, the Bobcats took over and were able to have their one long offensive series, driving down the field against the Warriors, score 0-6.
Summers immediately went to an on-side kick and recovered it against the Warriors.
The Warriors held out, preventing the Bobcats from quickly scoring back to back early in the first quarter. However, the Bobcats were able to bomb a long pass down the field for a touchdown.
A few plays later in the second quarter the Warriors were able to combine their air and ground game in a successful drive, capping it with a short rush by senior running back #34 Jacob Jones and a kick by #6 Dillon Shinaberry to make the score 7-14.
After that it was a runaway game by the Bobcats' air attack, with four touchdowns in the next quarter and a half, with touchdowns either on deep passes or set up by them. The third quarter saw both JV units take the field, final score 7-54.
The Warriors will need to rally to face the 5 – 4 Tygarts Valley Bulldogs in week 10 at home October 26. Kickoff at 7 p.m.