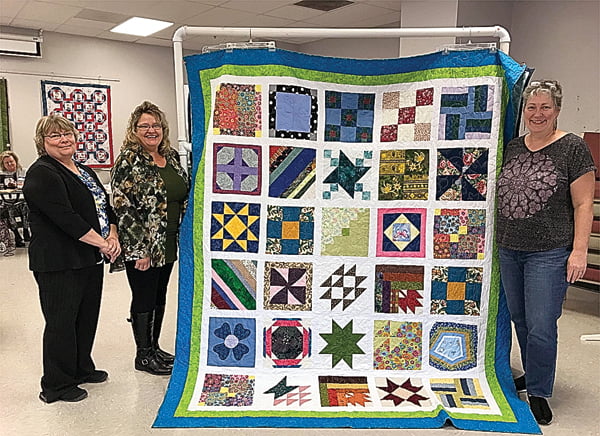 Christine A. Sharp
Contributing Writer
The fourth annual "Fall into Quilting Retreat" is complete. 
For three days, quilters of all skill levels participated in a wide range of classes, learning new skills and techniques.  It was a wonderful opportunity to meet new folks, catch up on old friendships, share projects and stories, laugh and enjoy some delicious meals together.
As there were a number of brand new participants this year, I was curious as to what drew them into the retreat.  For one individual, each year at the same time as the retreat, business brought her to Marlinton and each year she so wanted to attend but felt she lacked the requisite skills to participate.  However, within the last two-to-three months, she had taken the plunge, bought a sewing machine and started practicing on some projects.  So this year, when business brought her to Marlinton, she signed up for a class or two.  Which, by the way, morphed into three or four classes.  In watching her throughout the retreat, listening to her laugh and develop relationships with other class participants, it was amazing to watch her confidence grow.   
For another new attendee, quilting had been on her "bucket list" but schedules, work and life never seemed to allow her the time to pursue it.  Having been primarily a maker of garments, moving into the field of quilting seemed like a natural transition.  All the stars aligned this year, allowing her to attend.  The retreat also afforded her the opportunity to spend quality time with extended family, who were also attending the three-day event.  At the conclusion, both of these new folks seemed to glow with confidence.
Everyone left the retreat with a wide range of completed or near completed projects to add to their ever-growing quilting portfolio, a greater sense of confidence and knowing there will always be someone to help them should a problem arise.
Jane Pritchard, of Charleston, formerly of Marlinton, was the winner of this year's quilt.
While it goes without saying, I think it most important to acknowledge the tireless efforts of Debbie Walker and Diana Beverage, without whom the retreat would not even exist.  Unless you have planned some type of major event yourself, I do not think the average individual has any idea how much work goes into the planning and executing of an event such as this.  Always looking for potential projects for classes, then creating a mockup of each potential project, selecting fabrics, cutting and preparing each individual class participants kit, making arrangements for food and refreshments, securing a venue, the list is endless.  Additionally, there is advertising for the event, brochure preparation, vendor coordination, such as Yellow Creek Quilters, and the endless coordination with potential class participants.  Event planners handle all these details for large events, yet Debbie and Diana manage to handle all aspects of the Quilting Retreats, with the help of some friends, while still managing and working in their own businesses.
We are now looking forward to our annual "Spring into Quilting Retreat" in May 2019 and be on the lookout for some special events being added to the 2019 "Fall into Quilting Retreat" in October.  We sincerely hope to see you there.