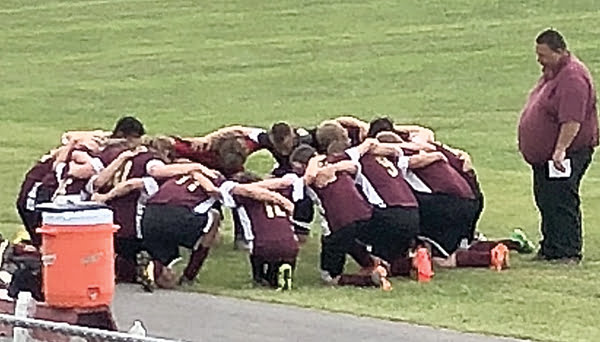 Teresa Kloeker
Contributing Writer
The Pocahontas County High School Warriors boys soccer team traveled to Petersburg October 1 and came home with a 5-0 win.
Junior Kolton Alderman led the scoring with two goals. Sophomores Tony Duncan, TD Sparks and Hadden Mick added one each.
Senior Hunter Shafer had two assists and Duncan had one.
Senior goalie Colton Massey had six saves.
The Warriors traveled to Beckley to take on Shady Springs October 4. The game ended in a 0-0 tie. Massey had two saves.
On October 9, the Warriors hosted Pendleton County.
Nine Warriors scored in the 11-0 victory.
Juniors Jacob Davis and Alderman led the Warriors' scoring with two each. Adding one each were seniors Elijah Robertson, Peyton Coleman and Shafer, juniors Garrett Coleman and Michael Hardesty, sophomore Duncan and freshman Iam Johnston. Leading assist was Davis with two, Shafer, G. Coleman, Hardesty, Duncan and Mick each with one. Massey had two saves.
The Warriors last regular season game was played October 13.
During warm-ups the Warriors lost a senior Captain, Hunter Shafer, with a season ending ankle injury. The Warriors stayed strong and came out with a great 8-0 win over Nicholas County.
Alderman and Davis led the warriors with three goals followed by Robertson and Duncan with one each. Assists by Alderman, Mick, Davis and Duncan.
The first round of sectionals was played October 15.
Warriors were in the #3 spot so they got a home game against Midland Trail, where the Warriors won 7-0.
Robertson, Davis and sophomore Brandon Price each scored two. P. Coleman had one goal. Assists by Alderman and Davis. Massey had three saves.
The Warriors traveled three long hours to Charleston October 17 to take on AA Herbert Hoover in second round of sectionals. Warriors fought hard but lost 1-3.
The Warriors ended their season with a record of 11-4-2. They scored 86 goals with only 18 goals scored against them. Of the 17 games, the Warriors had nine shut-outs.
We are all very proud of this very talented Soccer Team.