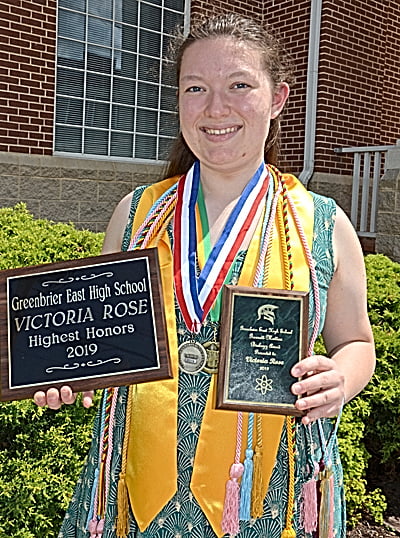 Laura Dean Bennett
Staff Writer
When a young lady who grew up in Pocahontas Coun- ty is literally covered in high school graduation honors and heading for a distinguished college career, we all share in the pride her family feels.
Victoria Rose will graduate Friday from Greenbrier East High School in Lewisburg.
But before she went to school in Lewisburg, she was a Pocahontas County girl.
Victoria began her school years at Hillsboro Elementary, where she attended pre-school through fifth grade before her family moved to Lewisburg.
Nearly everyone in the county knows her family or knows someone who knows someone in her family.
Bruce and Sheila Rose are her parents.
Her dad, Bruce Rose, is a teacher at Greenbrier East High School.
He lives in Lobelia on the family's sheep farm.
Her mom, Sheila Rose, is a psychologist in Lewisburg.
Reta Rose is Victoria's grandmother. Reta taught Phys Ed at Hillsboro and Pocahontas County High School for many years.
Pocahontas County Convention and Visitors Bureau executive director Cara Rose is Victoria's aunt.
When Victoria takes the podium at graduation, she will literally be covered in glory.
She'll have five honors tassels on her mortarboard and will be wearing sashes, honor cords and medallions representing the many honors she has amassed thus far in her academic career.
"I don't even know how all those tassels are going to fit on there," she said, blushing.
Victoria ranks in the top two percent of her class.
Her grade point average is 4.19.
She is graduating third in her class, but to be fair, she's carrying a somewhat heavier course load than those who are graduating ahead of her.
She's been in an accelerated academic program since middle school.
Victoria attended the Johns Hopkins Center for Talented Youth programs each summer after eighth, ninth and 10th grades.
She is a National Merit Scholarship winner, the recipient of the Greenbrier Scholar Commendation, the winner of the Greenbrier East Science Dept. Garnell-Mattox Biology Award and winner of the Tri-M (Modern Music Masters) Award.
For the third consecutive year, Victoria scored at the Silver Award level of the National French Exam and was the highest scoring student in the state at her level of French study.
She is a recipient of the Leadership Award from Greenbrier East High School and the Greenbrier Scholar Award.
In addition to her academic prowess, Victoria also takes high marks in music.
She was the Gold Platoon Leader (the highest leadership position besides Drum Major) this year in the GEHS marching band, and served as the trombone/low brass section leader the previous two years.
She was selected first chair trombone for the West Virginia Southern Regional Band.
Victoria's also a fair hand at mathematics – she was the only 10th-12th grade student from Greenbrier County to represent her region this year at the State Math Field Day.  
She's a member of Mu Alpha Theta, the National High School and Two-Year College Mathematics Honor Society.
Currently, there are only 100,000 student members of Mu Alpha Theta at more than 2,550 schools in the United States and 20 foreign countries.
And she'll represent West Virginia at the National Youth Science Camp this summer.
"I'm looking forward to meeting kids from around the country," Victoria said.
Besides studying, Victoria has also made time for volunteering for some worthy causes.
As president of the Go Global Interact Club – a junior Rotary organization – she has proven her devotion to community service.
"Our 'Go Global' motto is 'Service Above Self,'" Victoria said.
"And I really like that. I think community service is really important.
"The Interact Club is a good organization.
"We volunteer at the Humane Society. We held a bake sale and raised a few hundred dollars, and we gathered up two car loads of supplies for the local animal shelter. It feels good to do good work like that."
Her study of French took her to France during her freshman year of high school. An abbreviated exchange program allowed her and other select French students to spend 13 days in France. They visited Paris, Lyon and had a weeklong "home-stay."
She's also visited the French-speaking Caribbean island of Guadaloupe.
"I really enjoyed those trips," she said.
"And I'm looking forward to continuing to study French and maybe another language."
Victoria loves traveling and meeting people from all over. But she's always been a country girl at heart.
Since her family raises sheep, she's been involved with lambing, feeding, and caring for them.
She likes horses, swimming in the creek and being outdoors.
"I like critters," Victoria said with a smile.
"Fish, snakes, and especially toads. I like studying them. I've always had tanks and habitats on the porch full of little critters."
Even now, she has a kiddie pool at her dad's house for raising tadpoles.
"When I was little, I was obsessed with bugs," she said.
She recalls that when she was in pre-school, her teacher pointed out an insect and called it a "Walking Stick."
Five year old Victoria quickly pointed out that it was not a walking stick, but a praying mantis.
The junior entomologist wouldn't be satisfied until the class looked it up and found that indeed, it was a praying mantis.
She laughed when she told me that she put the anecdote in her college admissions essays.
Victoria applied to 19 colleges and universities and was accepted at 10 – including Columbia University and Duke University.
But, this August, Victoria will be heading up to Providence, Rhode Island, to settle into campus life at Brown University.
Not everybody who applies to a prestigious school like Brown gets accepted.
For students who entered Brown University in the 2018-19 academic year, the school had an acceptance rate of 7.7 percent.
This means that for every 100 applicants, eight students were admitted while 92 received rejection letters.
Alumni from Brown include John D. Rockefeller, Jr., Emma Watson and JFK, Jr.
Not too shabby for a little girl from Pocahontas and Greenbrier counties.
"I chose Brown because their campus had a relaxed atmosphere, and the student body seemed less competitive and more collegiate than some of the other schools," Victoria said.
"My dad would much prefer that I go to an in-state school so I wouldn't have to go off so far from home.
"But my mom understood about wanting to move away and have new experiences, so she feels better about it," Victoria explained.
"I dearly love West Virginia.
"And I'll miss it when I am up in New England, but I want to see more than what's here."
"One of the reasons I first got interested in Brown is because I met a friend at the Johns Hopkins CTY program who was going there."
The Johns Hopkins Center for Talented Youth (CTY) program offers gifted and talented students summer programs focusing on academic enrichment.
Victoria doesn't know exactly what she wants to major in yet, but Brown won't require her to choose a major until the end of her sophomore year. Right now, she's especially fond of French and Science.
I jokingly suggested that she might consider being a French scientist.
Victoria countered that she might rather want to be a research scientist and focus on climate change or environmental issues.
She will definitely want to continue playing her trombone.
Brown doesn't have a marching band.
"It was one of the only drawbacks about Brown," Victoria said.
"But I'll do as much music there as I can. They have a Trombone acapella group called the Bear Bones. The Brown mascot is a bear.
"I'll definitely be interested in joining that.
"I want to experience everything.
Once Victoria is an upperclassman, she will be able to live in the French House. But, starting out her freshman year, she will live in a dorm, with an as yet unknown roommate.
"It'll be interesting to see who it is," Victoria said.
This last summer before college, Victoria will be going to 4-H camp, where she's gone every summer since third grade.
She'll have a week off and then be back in Thornwood for the National Youth Science Camp.
When the summer is over and she heads off to New England, she'll be taking several scholarships with her.
Victoria won the National Merit Scholarship, the Greenbrier County Education Association scholarship, the Lewisburg Rotary Scholarship and the Greater Greenbrier Valley Community Foundation Scholarship.
When she leaves for college she says she'll miss her family and she knows her parents and her 16 year old brother Lanty will miss her a lot.
"Well, Lanty might not miss me so much," she laughed.
Like most young people these days, Victoria will mostly keep in touch with the folks at home by texting.
"Well, not my grandmother," she said. "She doesn't do texting.
"I'll be home for Thanksgiving and Christmas and vacations," Victoria said, "but I guess, basically, I'm kind of really leaving.
"When I was deciding where to go to school, I heard a lot about how cold the winters were up north. Well, they don't have much on us. We're used to bad weather around here."
"I'm glad to be finished with high school. And I'll miss band a lot, but I'm thrilled to be moving on with the next chapter of my life," she added.
Victoria didn't have much advice for young people, except to say that they should "keep working hard. It will pay off."
"I'm probably not the best person to ask about advice for kids," she said. "I am a bad procrastinator.
"When I have a deadline, I wait until the last minute, but then really buckle down and get it done."
Although she says she'll miss West Virginia, Victoria is looking forward to exploring the wide world that's waiting for her after graduation.
"I say, 'West Virginia, my home among the hills, it's time for me to go. I'll be back soon, but I'm excited to go!"