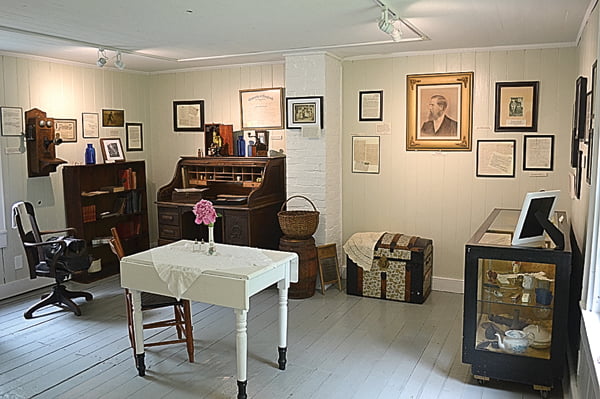 Suzanne Stewart
Staff Writer
Memorial Day weekend is a time to reflect on the sacrifices and contributions of those who have gone before us, so it was a suitable time for the grand opening of the Burner Homeplace Museum and Gallery in Cass.
As the oldest house in Cass, the Burner Homeplace is reminder of the way things used to be, while incorporating the present.
Led by Burner descendants Louise Burner and her daughter, Alison Flegel, a board was founded to preserve the house and transform it into a museum that would honor the lives of the Burner family, and provide gallery space to exhibit the works and talent of today.
It has taken two years and a lot of elbow grease, but the homeplace is so close to completion that the board held a grand opening celebration Saturday.
Although one section of the house is still under construction, the museum and gallery are finished and were opened to the public.
As Burner showed visitors through the museum, she explained the artifacts on display – all tied to a series of letters written by her great-grandmother, whom the family referred to as Aunt Jenny.
"I based the museum on that series of letters," she said. "I tried to tie it with history and things that have happened. She wrote poetry. She wrote letters. She wrote to all her kids when they were away and her husband when he was away and somehow these letters got saved."
Framed reproductions of the original letters hang among family photos in one corner. In another corner, the life of Allen Eugene Burner is honored.
The original desk from his office in Durbin is filled with notebooks and ledgers; and photos and books from his practice are on display.
"His first job as a physician was to be the camp doctor at a couple of logging camps," Burner said. "That was in Dunlevie. Dunlevie is now Thornwood. What the workers did, they would pay so much a month – it was kind of like insurance. They would pay $1.25 and then you came to the doctor and you never had to pay anything else. You had home visits, medicine – everything was taken care of."
Later, when he opened his practice in Durbin, Dr. Burner continued to do home visits for his patients.
The second story of the Burner museum features photographs and belongings of other members of the Burner family.
"It's all tied together with those letters and the family," Burner said. "Behind this door, I'm going to put up a family tree, so when people come here – and they're part of the family – we can add to our tree."
The grand opening attracted a few Burner descendants. One gentleman said his grandfather built the homeplace.
"He's one of the sons of Allen, and he walks in here and says, 'I'm a Burner,' and I said, 'of course you are,'" Burner said, saying he looked like the Burners.
In the gallery side of the homeplace, Flegel's pottery is displayed along with work by other Appalachian artists who were invited to join the gallery.
In addition to having artwork for sale, the gallery will have a featured artist each month.
This month's artist is Gerry Mosier, a quilter, from Durbin.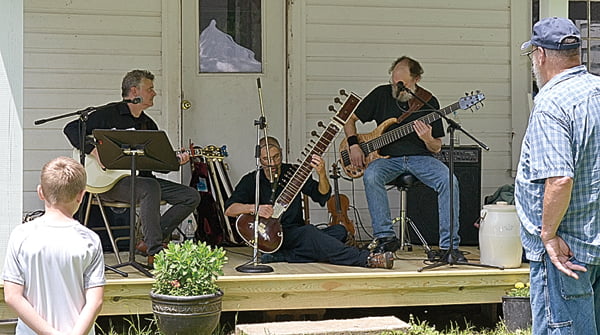 As part of Saturday's celebration, local artists filled the homeplace yard and welcomed guests to join in the fun.
Musical entertainment was provided by Juanita Fireball and the Continental Drifters, Elk River Ramblers and Uncle Gary and the Porch Pickers.
The Burner Homeplace will be open now through September, Friday through Sunday, 11:30 a.m. to 5 p.m. There will also be art classes – open to both adults and students – offered the first Saturday of each month.
For more information on upcoming events, visit the Burner Homeplace Facebook page.