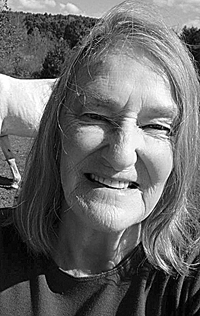 Vaughn Bogdan Basine, 80, of Marlinton, left this world Monday, June 14, 2021, after becoming ill with cholangiocarcinoma.
Born February 9, 1941, in New Britain, Connecticut, she was a daughter of the late Joseph and Regina Basine.
After graduation from Loomis Chaffee High School, Vaughn studied sculpture at Rhode Island School of Design. She held a Master's in English from Yale University and a Master's in Psychology from University of Houston Clear Lake.
Vaughn was variously employed as an art teacher, a teacher of English as a second language, a parole officer, an elementary school teacher in an inner city public school, and a psychologist. 
She was an artist, a member of artistic organizations and created the log creature at Buckeye Bend. She loved to play music and sing. She performed throughout her life and often attended music festivals. She was "horse crazy" and couldn't get enough of riding, showing and breeding horses. She was an active member of the Religious Society of Friends for much of her life. Peace, animal welfare, global warming, women's rights and vegetarian diets are just some of the issues she championed. She spoke several languages, enjoyed traveling abroad and had friends from around the world.
She is missed and remembered by many.  
In addition to her parents, she was preceded in death by her sister, Diane Damore; and a brother, Joseph Basine. 
She is survived by her husband, Gerald Campbell, of Galveston, Texas; a brother, Robert Basine; her daughter, Mary Williamson, of Marlinton; step-daughters, Aine Hawthorn and Hannah Campbell; six grandchildren; and many beloved nieces and nephews.