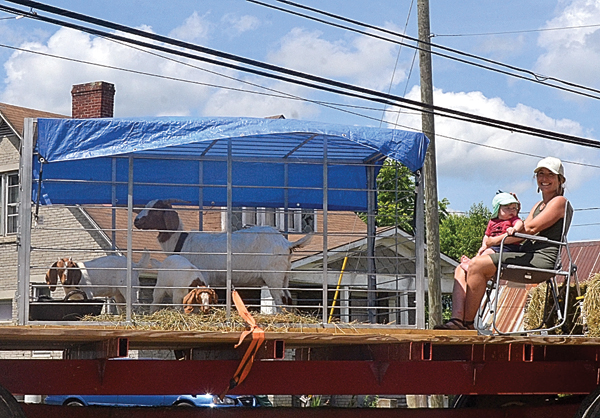 Suzanne Stewart
Staff Writer
A sense of community and freedom was felt last Saturday as the Little Levels Heritage Fair attracted visitors from all over the country to enjoy – once again – gathering with friends and familly free of face masks and social distancing.
The day was filled with good food – pork tenderloin and pulled pork sandwiches provided by the Community Club and kettlecorn by the Marlinton Woman's Club – and good tunes – Viney Mountain Boys, Juanita Fireball and the Continental Drifters, Richard Hefner and Friends, Snakewinder and the Porch Pickers.
Youngsters enjoyed games while the adults visited and bought handmade wares from local crafters.
A pie baking contest was held with entries in a fruit and berry category, and a cream and creative category.
Last year's overall winner, Connie Rose, won again with her strawberry rhubarb pie which took first place in the fruit and berry category. Second place went to Suzanne Stewart and Vernon "Dagwood" Walker won third place.
In the cream and creative category, Anne Workman won first place with her coconut cream pie, second place went to Susie Workman and Kristie Dinkins won third place.
In the afternoon, the crowd moved from behind Hillsboro Elementary School to Main Street to enjoy the farm equipment filled parade.
Winners of the day were: 
Farm equipment – first place, Dustin Simmons; second place, Eric Rose; and third place, Joe Hollandsworth.
Motorized vehicles – first place, Sammy Williams.
Junior – first place, Jolleen Workman; second place, Jennifer Taylor; and third place. Madeleine Burns.
Event coordinator Ruthana Beezley was thrilled to see the community come together and enjoy a good old- fashioned county fair.
"It was heart warming to see our community out again to celebrate this Hillsboro tradition," she said. "It felt very much like a homecoming. The Heritage Fair board was beyond pleased with the turnout, and we thank all involved for its success."
Not one to set back and relax, Beezley said she is open to hearing from anyone who is interested in participating in next year's event.
If you would like to be involved or offer ideas for the 2022 Little Levels Heritage Fair, you may contact Beezley at rmbeezley@gmail.com