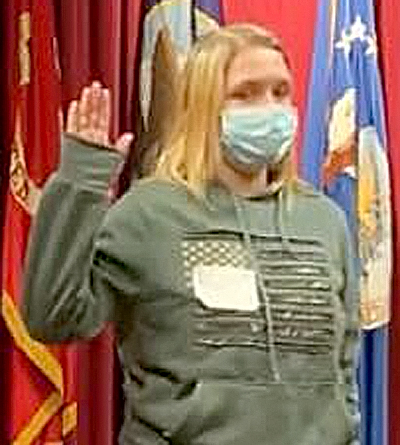 Pocahontas County High School seniors Carmen Matheny, left, and Bryson Cassell will enter the military after they graduate this coming spring. Matheny was sworn in to the Navy and Cassell joined the U.S. Army National Guard. Both attended swearing-in ceremonies in Beckley in November.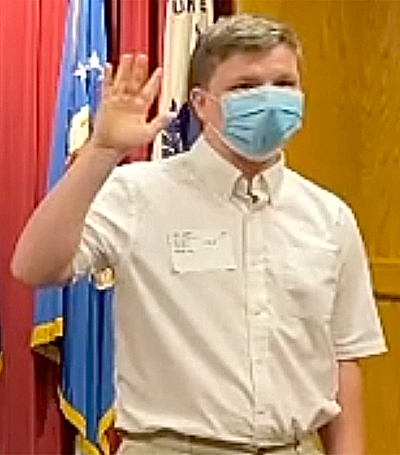 Suzanne Stewart
Staff Writer
While it is often difficult to formulate a plan for the future – especially during a global pandemic – two Pocahontas County High School seniors have taken a giant step toward their plans by enlisting in the military.
Carmen Matheny, of Arbovale, and Bryson Cassell, of Cass, will take their leave of Pocahontas County this coming summer to begin their military endeavors.
Matheny chose to join the Navy and will go to boot camp July 27.
"For awhile, I really wanted to be a cop, but I recently changed my mind," she said. "The job that I picked [to do] is to make sure everything is right on the ships."
Matheny said she is still considering a career as a police officer and hopes to return to Pocahontas County after her service in the Navy.
Matheny is the daughter of Rusty Matheny and Jessica Bennett.
Cassell joined the U.S. Army National Guard and will leave for Fort Jackson, South Carolina, June 16.
As a junior, Cassell took the ASVAB test – Armed Services Vocational Aptitude Battery – and did very well, leading to his interest in the armed forces.
"I actually scored pretty high, and I started talking to the recruiter then," he said.
With the ASVAB, the scores on each portion of the test determine the individual's eligibility for a MOS – Military Occupational Specialty.
"Right now, I'm going to be 13 Bravo, which is artillery," Cassell said. "If they have another ASVAB at school, I think I'll take it again, because I missed the MOS I wanted by one point. I wanted combat medic."
Cassell will serve in the National Guard for eight years, at the end of which he may decide to continue his military career or move on to college or the work force.
"I did this to give me more time to figure out what I want to do," he said.
At PCHS, Cassell is an active member of the FFA Chapter and is a former member of the soccer team.
He is the son of Wayne and Scarlett Cassell.