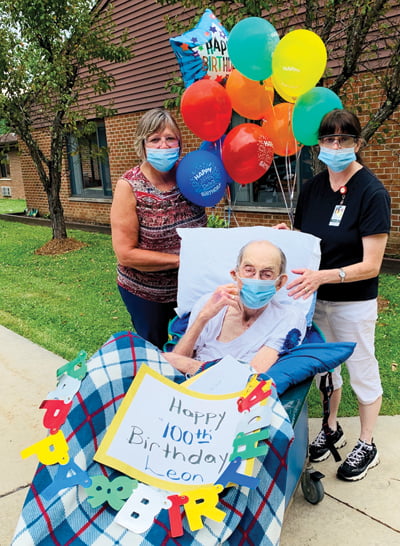 Laura Dean Bennett
Staff Writer
Pocahontas County has another centenarian – Leon Hannah just recently celebrated his 100th  birthday.
Because of the COVID-19 pandemic, birthdays and many other occasions are being celebrated a little differently this year.
Leon was in good spirits as he was wheeled out in front of the Pocahontas Center by Sharon Moore, the center's Director of Social Services, and Activities Director Jackie Friel.
The "drive-by party" – a term we've all become familiar with – was an opportunity for Leon to have a visit with his family –wife, Ann, son, Freddie, and his wife, Joy.
They stayed in their vehicle, sending socially-distanced love and best wishes his way.
The rest of Leon and Ann's family would have liked to have been there for the big day, but they live out of state.
They include, a granddaughter, Sheila Moynihan; two great-granddaughters, Megan and Kaitlan Moynihan; and a great-grandson, Owen.
The occasion included a birthday card from the White House, signed by President Donald Trump, and a presentation of a Birthday Boy badge, a banner and balloons from the staff at the Pocahontas Center.
Leon has been a resident at the Pocahontas Center since July 2015.
Leon's family always visited him regularly. Since the Covid-19 restrictions has kept them apart, it's been hard on everyone, and they've really been missing each other.
Ann has seven decades of good memories and her crocheting to help pass the time, but she misses being able to visit Leon. 
"I really have missed spending time with Leon," she said.
"Freddie and Joy and I used to go every week to see him, and we all miss that."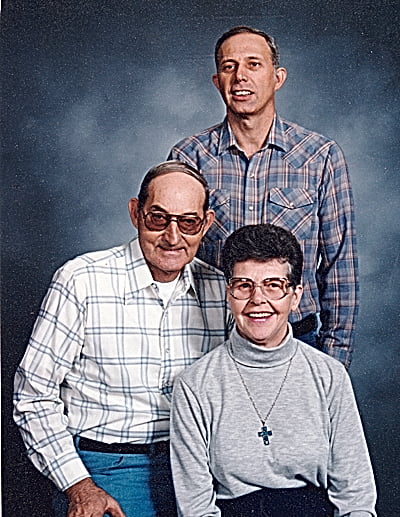 "Leon is a wonderful husband and father. 
"He never once had a cross word with any of us," she added. "He never had anything bad to say about anyone."
Leon was born on July 6, 1920, at Colton and moved to Slaty Fork when he was about six years old.
He had three older brothers – Eugene and twin brothers, Harley and Arley.
Leon and Anna Lee Sharp were married at the Edray parsonage by Rev. Skaggs on October 27, 1941.
Beginning with work in the coal mines on Sharp's Knob, Leon moved on to work at the tannery and later retired from the Department of Highways, more commonly known as the State Road.
The couple made their home on Jerico Road, where they farmed and raised cattle. Ann continues to live there today.
Leon was a member of the Masonic Lodge, and Ann was in the Eastern Star.
This coming October, Leon and Ann will have been married a remarkable 79 years.
They did a lot of traveling over the years, visiting Canada and most, if not all, of the United States, including Alaska.
Leon has long been known for entertaining family and friends with his guitar playing.
He was an avid hunter and angler and enjoyed raising a garden.
At the Pocahontas Center, he's known to keep a positive outlook on life. 
"He's always got a good attitude, and he has a sweet personality," Moore said.
If you would like to send Leon a belated birthday card, address it to Leon Hannah, Pocahontas Center, 5 Everett Tibbs Road, Marlinton WV 24954.