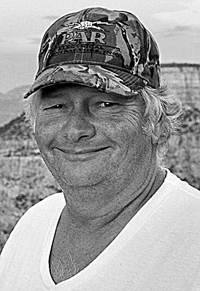 Tommy Ray Corbett, 67, of Dunmore, passed away Thursday, October 28, 2021, at the VCU Medical Center Hospital in Richmond, Virginia.
Born October 21, 1954, in Marlinton, he was the son of the late Ray Omar and Mae Kathleen Gay Corbett.
Tommy attended Frost Methodist Church, was a self-employed logger and farmer as well as a member of the International Brotherhood of Electrical Workers Local #317.
He is survived by his wife of 45 years, Joyce Simmons Corbett; daughter, Elissa Corbett, of Roanoke, Virginia; son, Chad Corbett, and girlfriend, Christine Ireborg, of Dunmore; and step-grandchildren, Hillary and Jesse Taylor; mother-and-father-in-law, Wallace and Norine Simmons, of Dunmore; brothers-in-law, Dennis Simmons, and wife, Kim, of Arbovale, and Mitch Simmons, and wife, Daphene, of Dunmore; sisters-in-law, Cindy Wade, and husband, Larry, of Marlinton, Anita Simmons, and Randy Rob-ertson, of Pennsylvania, and Patty Harrell, and husband, Gary, of Radford, Virginia; aunt, Jean Gay, of Harrisonburg, Virginia; several nieces and nephews; and many cousins.
Funeral service will be Saturday, November 6, 2021, at 2 p.m. at the Corbett Farm on Warrior Way Road in Frost with Pastor David Rittenhouse officiating. Burial will follow in Corbett/Gay Cemetery on the farm.
Friends may call one hour prior to the service.
In lieu of flowers, the family will plant a memorial orchard for Tommy. To contribute a tree to the orchard, contact Charles Young at 304-799-6503.
Online condolences may be made at Lantzfuneralhome.com