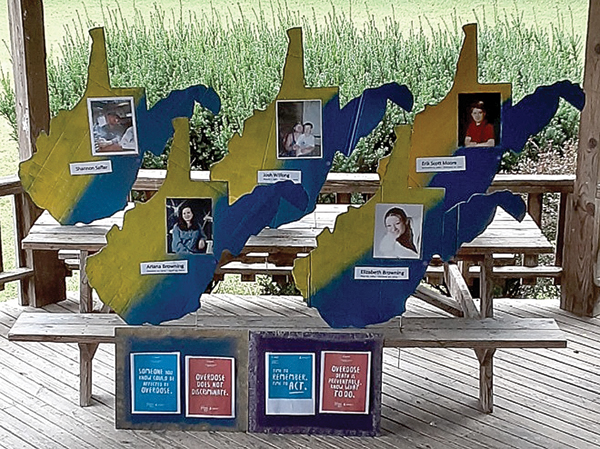 Eleven people participated in a Memorial Color Walk August 31 to acknowledge and remember those in our community who were lost to overdose.
As part of a larger annual event, International Overdose Awareness Day (IOAD) seeks to create better understanding of overdose, reduce the stigma of drug-related deaths and create change that reduces the stigma and harms associated with drug misuse.  
By holding an event this year, the people of Pocahontas County are joining themselves to a global movement for understanding, compassion and change to raise awareness of one of the world's most urgent public health crises – one that, unfortunately, is only getting worse.  International Overdose Awareness Day is convened by Penington Institute, an Australian not-for-profit.  
Locally, this project was organized and planned by the Pocahontas County Day Report Center.  
According to the UN Office on Drugs and Crime's most recent World Annual Drug Report, 585,000 people around the world died as a result of drug use in 2017.  Statistics for the 2020 calendar year show that the situation has become even more critical since the current pandemic began, decreasing tolerance of people who use drugs and disrupting both services and the drug supply chain.
"We held this event to remember and learn from those we lost because of an overdose," Day Report Director Reta Griffith said.  "By coming together to remember them, we stand together to say that more needs to be done to end overdose in our community."
Overdose can affect anybody and one of the messages of this day is that the people who overdose are our sons, daughters, mothers, fathers, brothers and sisters – they are loved, and they are missed. No family should ever have to go through the pain of losing a loved one because of overdose.
"We are thankful to the families that gave us permission to include their loved one in our display," Griffith added. "We encourage members of the community with lived experience to reach out so we can form partnerships moving forward to stand in solidarity with the men and women who have been personally affected by overdose.  We intend to make this an annual event to raise awareness and help prevent this from happening in more families."
If you would like to become active in a community partnership to address substance misuse issues, contact Pocahontas County Day Report Center at 304-799-6650 or by email at dayreportpocahontas@gmail.com