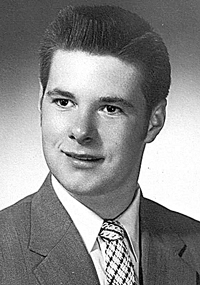 Tiffin Rinehart Mullenax, Jr., 81, passed away Tuesday, September 21, 2021, in Abilene, Texas.
Born April 7, 1940, in Arbovale, he was a son of the late Tiffin R. Mullenax, Sr. and Letha V. Armentrout.
"Junior" was the youngest of six children in a farming family in West "By God" Virginia. He moved to Larwill, Indiana, in 1950, and graduated from Larwill High School in 1958, where he was president of the FFA and a member of the ECV Mountain Charlie Chapter.
He enlisted and served in the United States Marine Corps from 1958 until 1961. He met and married the love of his life, Alice Oryall, May 13, 1961, in Beaufort, North Carolina, after just one blind date in San Francisco, California. He worked as a mechanic in San Francisco, California, for United Airlines from 1968 until 2000.
Tiffin had unmatched love, devotion and enthusiasm for God, family, friends, country and a damn good time. He was loved, admired and respected by all who knew him. Among his many interests and loves were classic cars, semi-pro motorcycle racing, camping, white water rafting and taking his family on road trips to show them this beautiful country he loved.
He was preceded in death by his brother, Thorald Tiffin (February 4, 1928 – December 30, 1947); father, Tiffin Sr. (September 4, 1894 – January 10, 1984); mother, Letha V. Armentrout (December 13, 1905 – February 16, 1983); brother, William Kay, on February 28, 2007, and sister, Letha Carol Waybright on August 31, 2007.
He is survived by his wife, Alice Oryall; son, Tiffin "Chanse" III; daughter, Tonya, and husband, Eric Rendon; daughter, Tamara, and husband, Glenn Edwards, Jr.; brother, George Fry, of Colorado Springs, Colorado; sister, Fannie Margaret Davenport, of Graff, Missouri; 13 grandchildren and 17 great-grandchildren.
Funeral service was held Saturday, September 25, at Hamil Family Funeral Home in Abilene, Texas. There will also be services in Columbia City, Indiana under the direction of Smith & Son Funeral Home, and also in Central Valley, California, both dates to be determined.
Memories may be shared and condolences submitted online at www.HamilFamilyFuneralHome.com