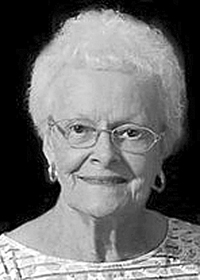 Thelma Gray Totten Mullens, 90, peacefully passed away after a long battle with dementia.
Thelma was born in Hillsboro/Mill Point, May 16, 1932, to her beloved parents Bernard and Birdie Nelson Totten.
She lived in Virginia for most of her life until moving to Florida five years ago. While in Virginia, she was a devoted member of The Church of Nazarene in Colonial Heights and worked as a school bus driver for Prince George County for more than 27 years. She married Johnny Mullens September 2, 1951. Johnny and Thelma celebrated 42 loving years together before his passing in 1992.
Thelma was the glue that held her family together. She loved her grandchildren and was always cooking for her family, making sure they ate. She'd be described as the perfect grandmother.
Thelma enjoyed spending her time with her family, of course, but also loved puzzles and knitting afghans – everyone in her family has at least one! She also loved to eat ice cream, take naps and travel. She had been on several cruises and traveled overseas.
Thelma will be missed and fondly remembered by many for being a sweet and humorous woman, always trying to make others laugh.
She is survived by her children, Gary Mullens, of Alderson, and Brenda Dasef, and her husband, Mark, of Sneedville, Tennessee; five grandchildren, Matthew Mullens, Steven Holden, Daniel Holden, and his wife, Taryn, Wes Mullens and Russell Mullens; and two precious great-grandchildren, Travis Pegram and Julian Holden.
In addition to her parents and husband, she was preceded in death by two brothers, Elvern Totten and Denzil Totten.
A graveside service will be held Saturday, January 21, 2023, at 11 a.m. at Ruckman Cemetery in Buckeye.
Online condolences may be left on the Tribute Wall at www.steversonhamlinhilbish.com