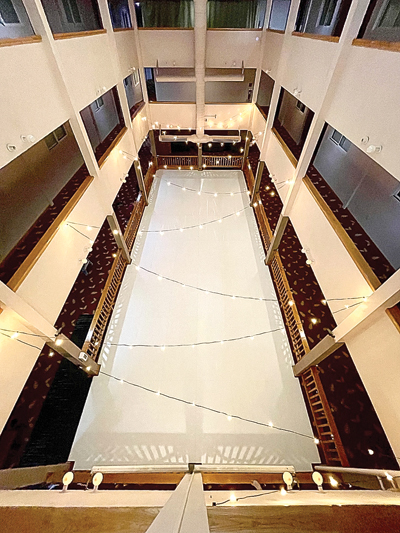 Suzanne Stewart
Staff Writer
Most people know the scene from A Charlie Brown Christmas – all the kids are ice-skating on a frozen pond, enjoying a chilly day during Christmas break. 
While it may spark a yearning to go ice-skating, it's also a reminder that winter sports are fun, but it's sometimes too cold to enjoy them.
But, hold on…
It is now possible to ice skate indoors at the new skating rink at Mountain Lodge at Snowshoe Mountain Resort. The atrium between Ballhooter and Allegheny Springs exit has been transformed into an ice skating rink with the use of Glice – an eco-friendly synthetic ice.
"The outdoor activities here are amazing, but when the weather is not cooperative and, of course, when people need a break from skiing and tubing, a nice indoor activity was something that we really wanted to be able to provide, different from what's already here," Mountain Lodge's Lisa Cutlip said.
"Ice skating just seemed like a no brainer."
The rink can be rented for private parties and is also open to the public. Individual skaters or private parties of up to 19 skaters can reserve a 50-minute or a 110-minute session on the rink.
Skaters can bring their own skates or rent a pair from the front desk at Mountain Lodge. 
The rink opened in December and has already had a fair share of skaters of all ages.
"It's been very busy, and the comments that we've received from the guests have been phenomenal," Cutlip said. "Everybody's been excited, and they think it's a great activity – an additional activity to do on the mountain."
For more information on the ice rink, visit skatesnowshoe.com or call 304-572-2020.